Happy Monday lovelies! I hope you've had a wonderful weekend, to start the week off perfectly we are heading down south for a gorgeous wedding in Dordogne Valley.
I love weekend weddings, it's such a fabulous way to spread out the wonderful wedding celebrations. It's an even greater idea when you have family and friends travelling to your destination wedding, the perfect excuse for a short break! Me and my husband back in 2013 also planned a few days after our relaxed garden party wedding in Vendee, France. The day after the wedding we woke up in my parents guest house, had breakfast over looking the stunning views of their gardens and then played croquet & tried our hand at the coconut shy which had been set up from our wedding, we opened our gifts and ate some yummy food with some of our wedding party. It was a fabulous way to unwind after the big day.
We even planned an evening with our guests before they left to go home so we could all watch the first viewing of our wedding film together, created by our wonderful friend Emily, it was truly magical!
Today's wedding, planned by FWS vendor Marry Me in France is bathed in beautiful french sunshine and certainly looks perfectly relaxed and full of love.
I'm going to hand you over to our stunning bride who will walk us through her Romantic Wedding in Dordogne Valley…
"My husband had always liked the idea of getting married abroad, and having a relaxed wedding where our guests could feel like they were on holiday. Dermot being Irish and me being English meant that half the wedding party would need to travel overseas to come to our wedding anyway… so why not get married in the lovely South of France with it's gorgeous weather, romantic atmosphere and fairytale chateau?! (not to mention the great food and wine)."
"We wanted to marry somewhere both our families could stay and get to know each other. I found the chateau where we married online. It sleeps 31 people which was ideal for our families, and it looked perfect – a beautiful old family chateau amidst the lovely Dordogne countryside. There were also the idyllic villages of Beynac and Sarlat nearby to accommodate our guests, and several airports within a few hours drive."
"Altogether at the chateau the day before our wedding, both sides of the family worked together hanging lanterns, arranging flowers, decorating the ceremony area… then cooling off in the pool or over several glasses of wine. That night, we arranged for some food and drinks in a square in Sarlat, where most of our guests were staying, to welcome everyone and kick off the weekend!"
"We both wanted a relaxed wedding, but one that would complement the romantic, elegant surrounds of the chateau and it's views. We had 95 guests which felt like a nice size, and aimed to spend as much of the day outdoors as possible."
"The morning of the wedding was rather busy (to say the least!) with me making a few finishing touches before getting ready, and my husband popping into town in search of pink pockerchiefs and to finalise his speech over a beer with his future father-in-law… Thank goodness for our fantastic wedding planner who had all the main things covered! The Big Day started to feel all the more real when, at 2.30pm, from my bedroom window, I saw our guests arrive – so exciting!"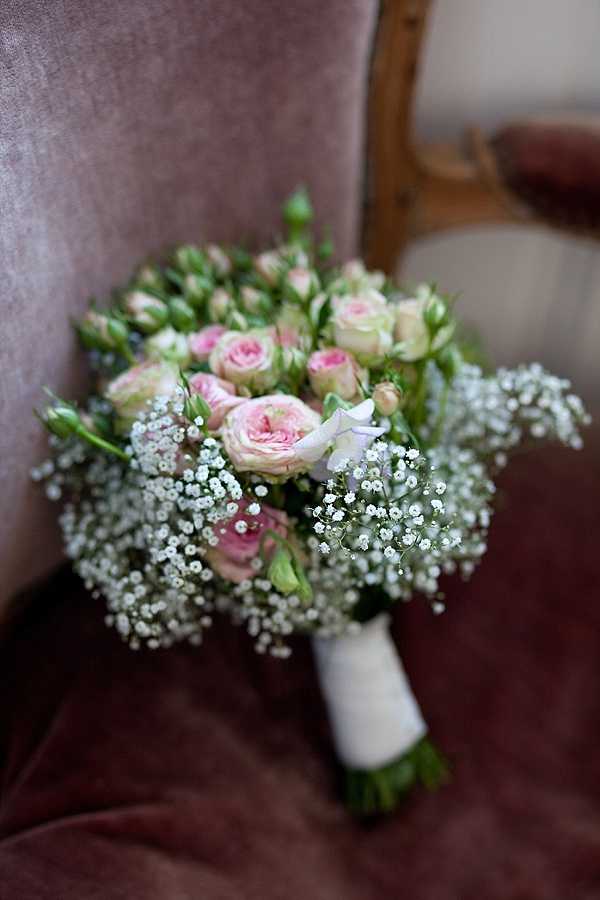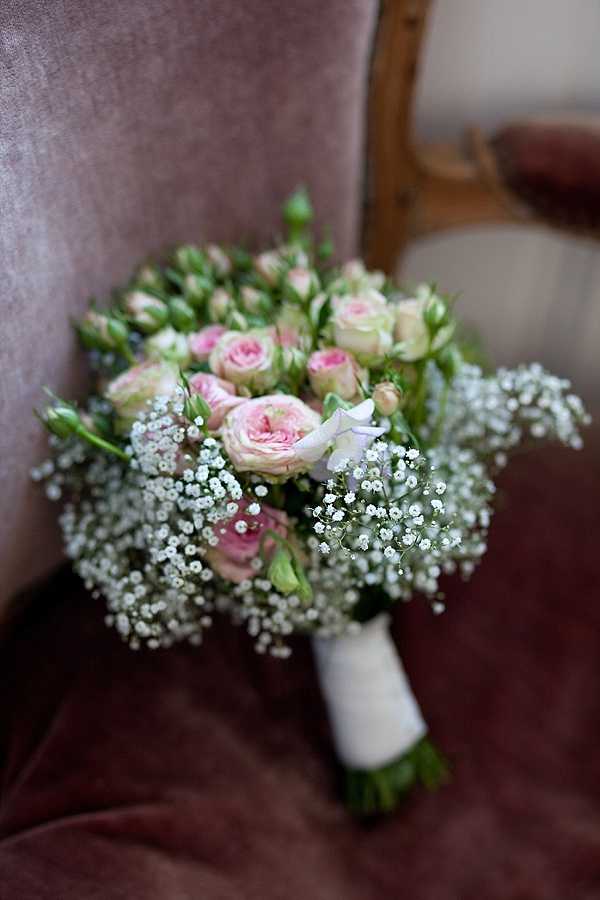 I have fallen in love with our brides stunning sheer back Patrick Casey wedding gown, its just sublime! It's shown off beautifully in this stunning photograph taken by the talented Katie Byram Photography.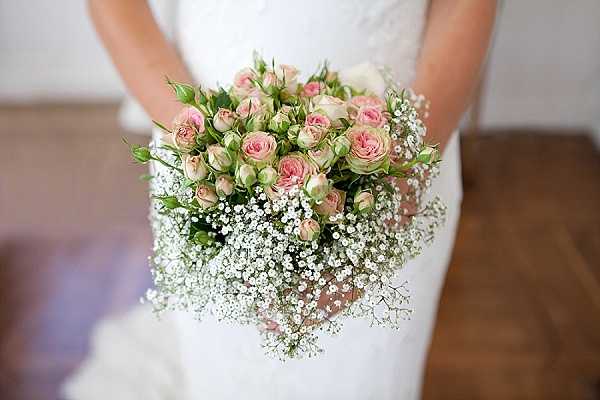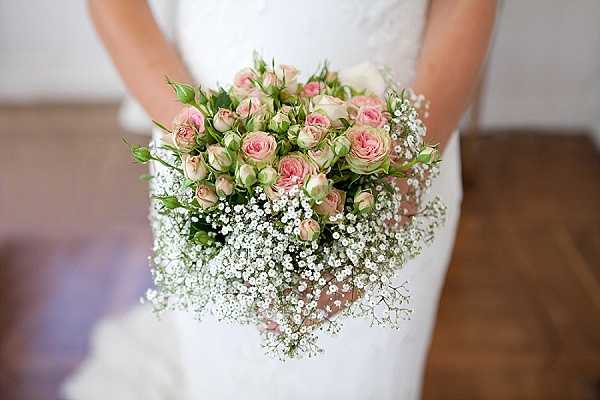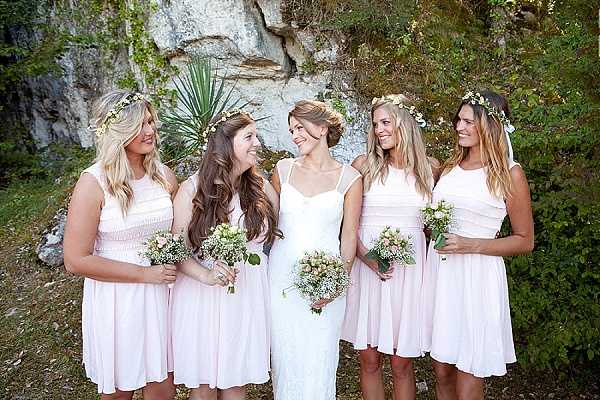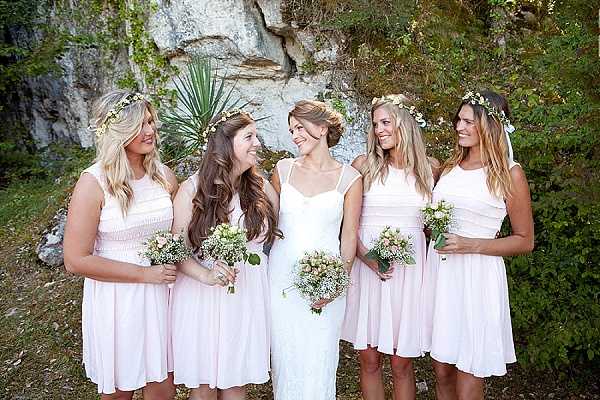 "Neither my husband or I are religious, but wanted a meaningful and thought-provoking ceremony that our guests would enjoy. We were lucky enough to have great weather on the day and were married outside overlooking the brilliant countryside views."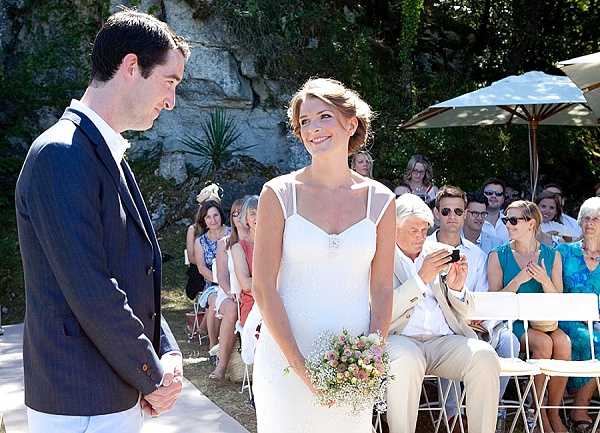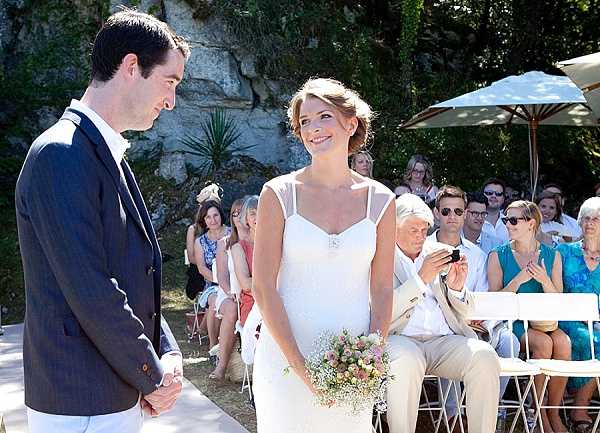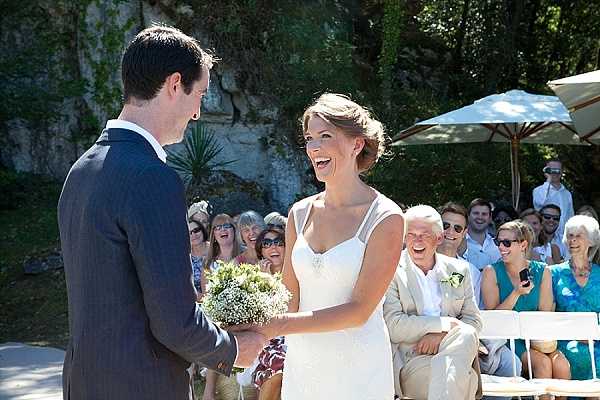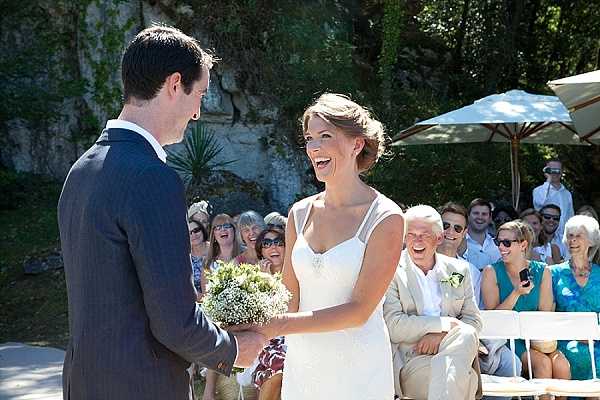 "We asked my brother and my husband's sister to be our celebrants, which we thought worked well as could tailor the ceremony to what we wanted, and the service felt very personal."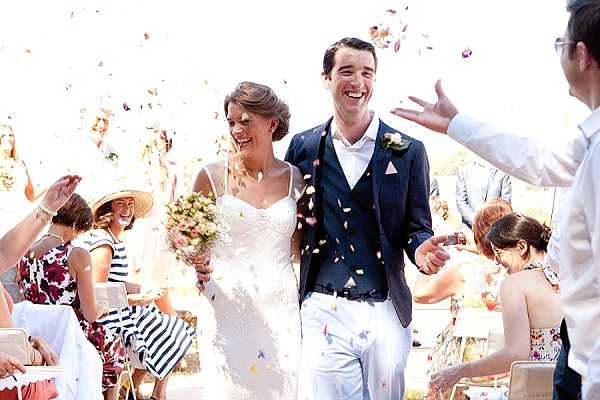 "We came into contact with our fantastic photographer, Katie Byram after Dermot put an advert online,  advertising for a photographer for our wedding in France. Katie was immediately up for the challenge, and after seeing the work on her website, and chatting away for over an hour on the phone, it was confirmed! We are still thrilled with our wedding photos, which really catch the mood of the weekend, and take us back to those wonderful moments. Katie, and her friend (and fellow photographer) Vanessa Adams, were an absolute pleasure to have at the wedding, at the same time going almost unnoticed whilst snapping away!"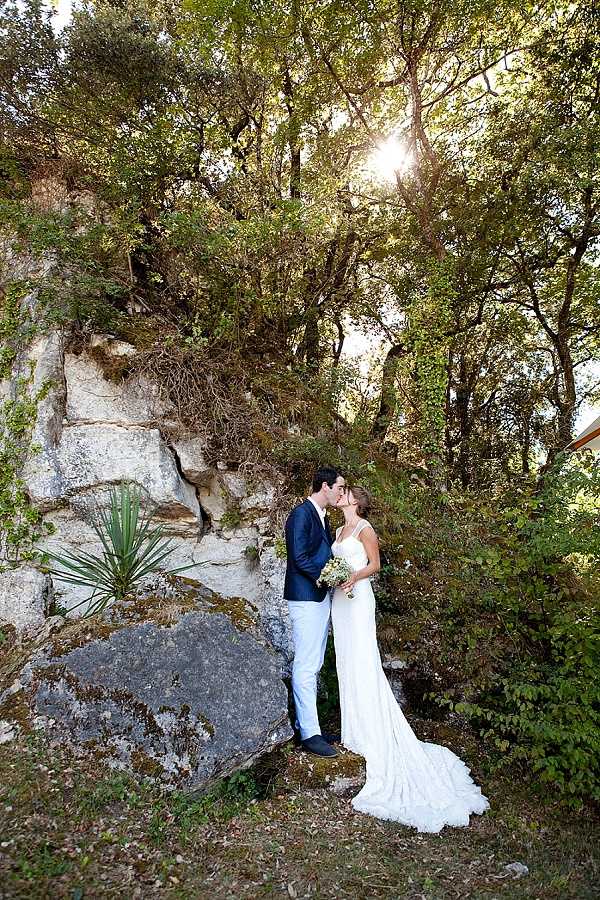 "Getting married in France does make planning the wedding a little more complicated. Most of these issues can be solved by getting a wedding planner, particularly if you don't speak fluent French. This is definitely something we would recommend! 
Being officially married at home beforehand wasn't something that bothered us, but this could be an issue, particularly for religious couples. We did find that getting married in France was a bit more expensive than it would have been at home. This was mainly because we wanted to make the weekend as comfortable as possible for our guests given they had come all the way to France. We therefore arranged transport and supplied all the food and drink for the weekend. We also hired the chateau for 4 nights to accommodate our family. This allowed us to make a holiday of the occasion too!"
"Through Marry Me In France we were fortunate enough to be put in touch with Louise Ham, a wedding planner in the South of France. Louise is English but has lived in France for several years and is a world of knowledge and contacts when it comes to organising a wedding! Louise had worked on several weddings at the chateau previously, and put us in touch with caterers, bands, florists, and beer and wine suppliers. She organised coaches to transport our guests, all the equipment we needed, and arranged for other staff to help on the day.
Her presence on the day was invaluable, ensuring that everything ran smoothly and we didn't have to fret about a thing (Louise even snuck me from the chateau up to the look out point, where the ceremony was being held, in her car so I didn't have to walk!)."
"Following the ceremony, my husband and I stayed at the lookout point where we were married for some photos, before joining our guests in the rose garden for drinks and canapés. This was our chance to greet all our guests, as husband and wife, and join in the fun! Then followed a wonderful paella cooked outside in front of our guests, by the brilliant chef, Joss Geneste, who also provided our canapés (which we still hear praise about!) and amazing selection of desserts. We had been introduced to Joss at his restaurant, Domaine de la Vigne. Then, lots of laughs (and a few tears) at the speeches, and plenty of dancing!"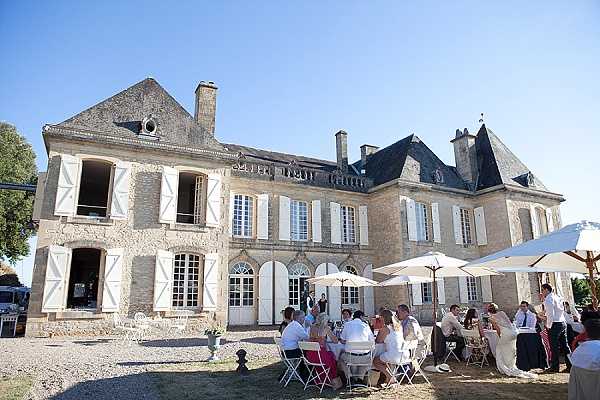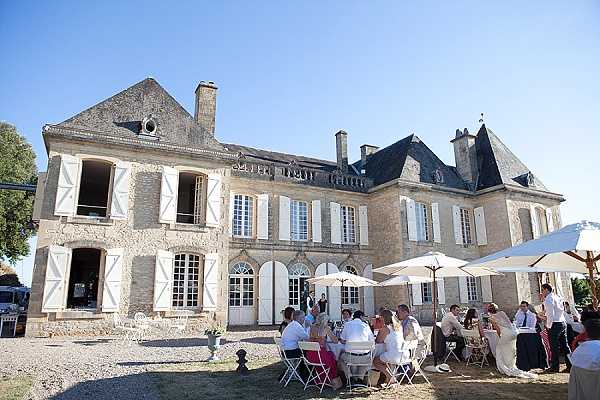 "The party continued the next day with our friends returning for a hog roast (the first compromise of the marriage being myself a vegetarian), chilling out by the pool, playing barefoot football and wandering around the sunny chateau grounds. I wish we could do it all over again!"
Are you planning a long weekend wedding celebration? For more inspiration and beautiful Dordogne weddings click here.
Have a great week!
With love,
Christina x
Relaxed Romantic Wedding in Dordogne Valley Snapshot
Wedding Vendors:
Chateau: The Grand Chateau | Photographer: Katie Byram | Wedding planner: Marry me in France | Chef: Joss Geneste, Domaine de la Vigne | Dress: Patrick Casey