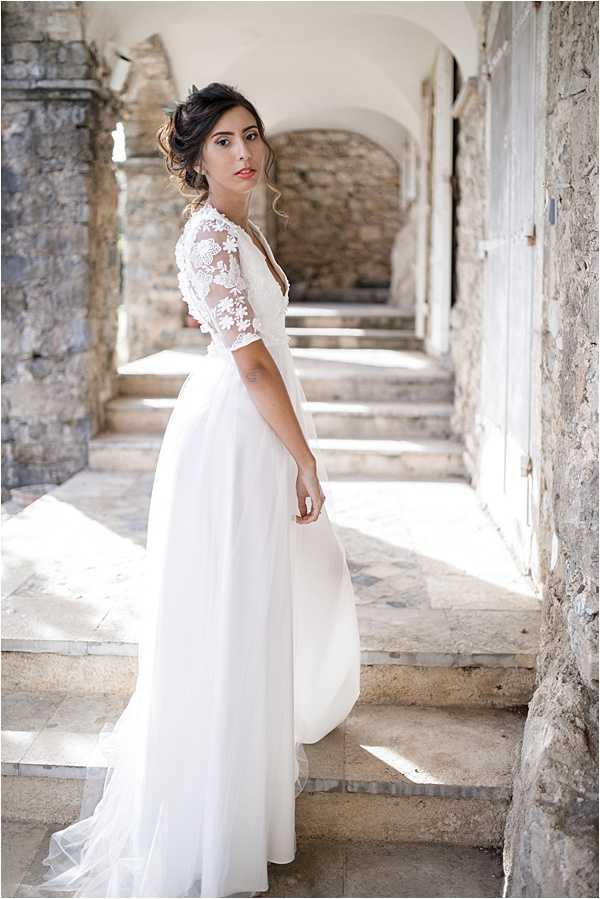 If you're looking for an elusive yet one of a kind Italian and Provencal inspired wedding design, then this dreamy Tuscan-themed photoshoot will give you a new taste of inspiration and reasons to say "I Do." Every detail is unique and packed with elegance and style by our master wedding planner Emeraude & Coton.
This photo shoot was shot against the stately manor of Domaine du Rey. Ludovic Lieffrig of 4L Photographe brings out the elegance and the makings of a perfect, olive-vy galore, to the romantic setting of France in every frame. So scroll down and bear witness as inspiration unfolds right before your… well, eyes! Wedding planners Emeraude & Coton tell it all…
Our agence Emeraude & Coton planned a new inspirational photo shooting with Italy and Provence cultures. For this summer mood, we choose the nice Domaine du Rey. All the lovely flowers were designed by our expert florist Fleurs Design by Faustine.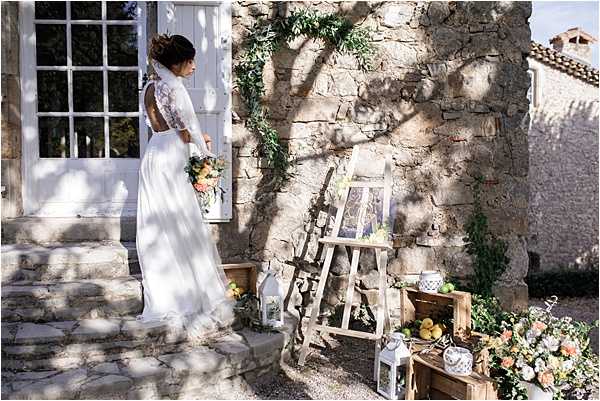 A Madonna Bride with Italian allure
Localized in Cevennes area, the Domaine du Rey was ideal for this project. This big stone mas with its arcades and tiles, its rooms with an old-fashioned design, have lot of advantages. Around, we find fields of olives, that immediately gave an Italian atmosphere.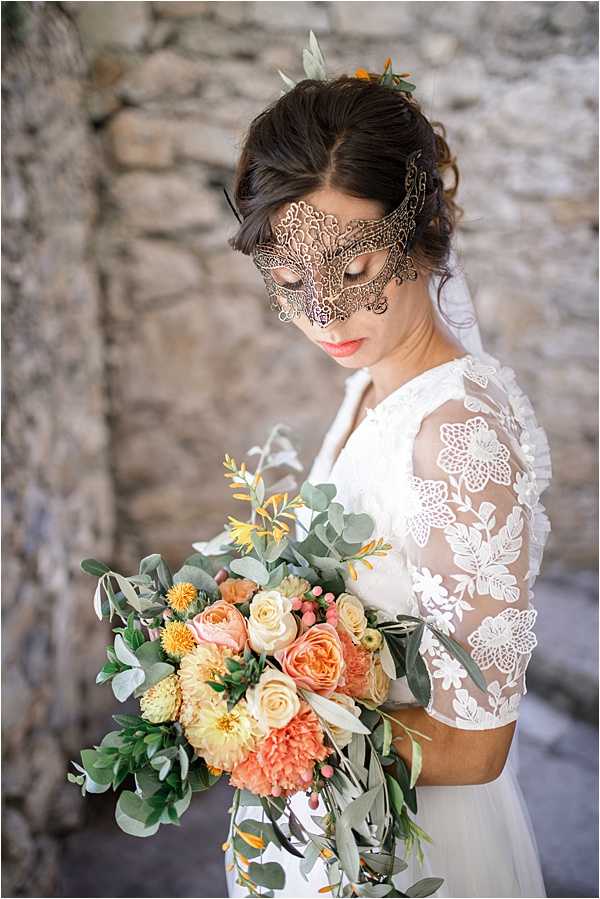 For this session, our model Ophelie was prepared by Flavy Make up Artist with nude tones, and a touch of peach. Our hairdresser and artist Nanoo realized a fuzzy bun with a nice floral touch. Yes, we love it!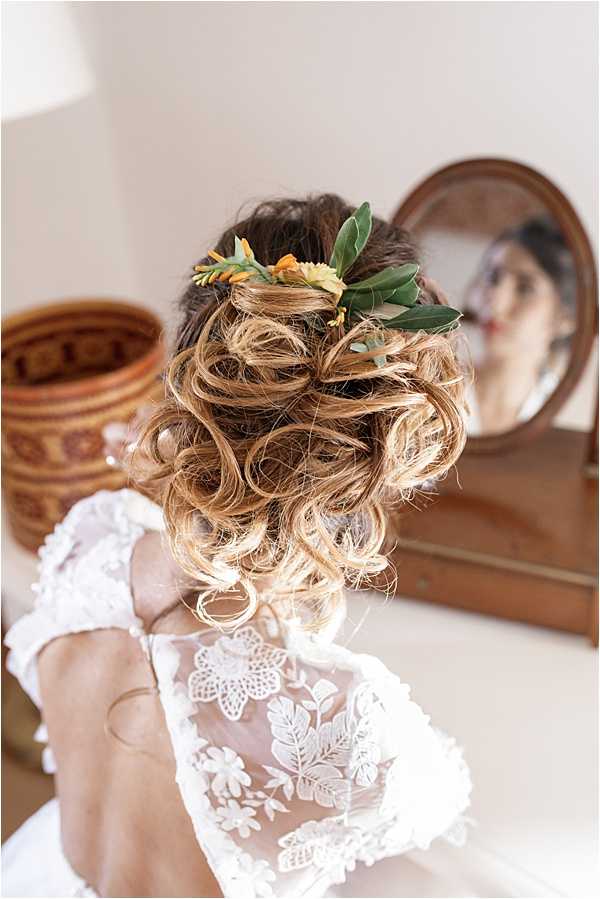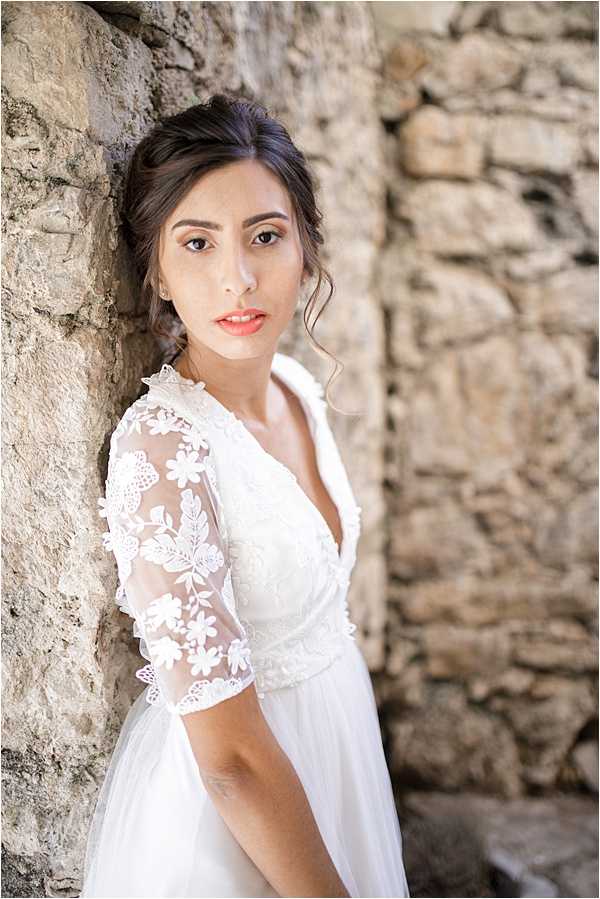 Bridesdresse's creator Eleanor Cottet imagined a look elegant and vaporous with a top embroidered with lace flowers, with pearls and a long skirt of tulle. 
To perfect the style of this bride Madonna, a short veil decorated with floral motives, was designed, and added to the dress. The touch completed for our roguish and incredibly graceful bride.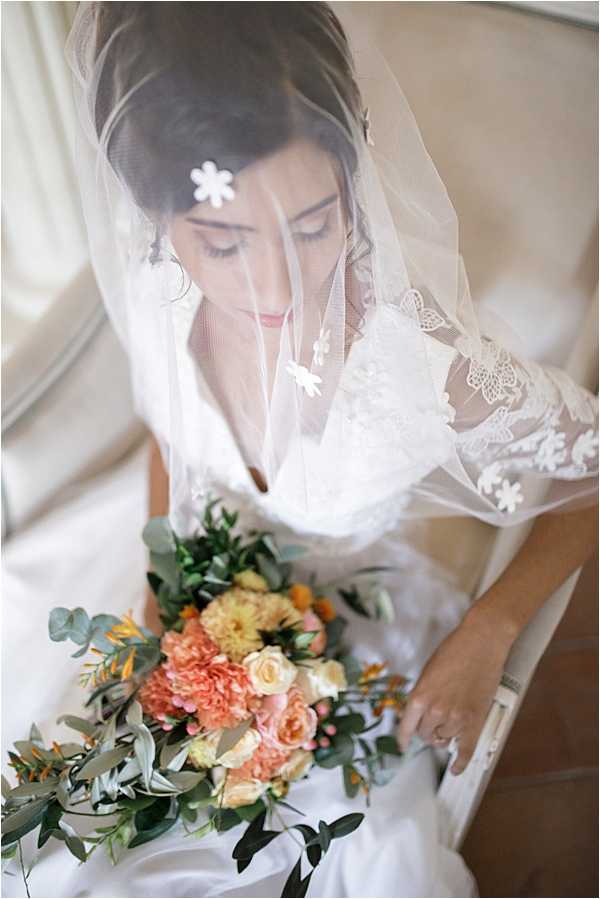 A Dolce Vita Casual Reception
Having immortalized the preparations, our photographer Ludovic Lieffrig was able to capture our Bride with a nice golden hour light.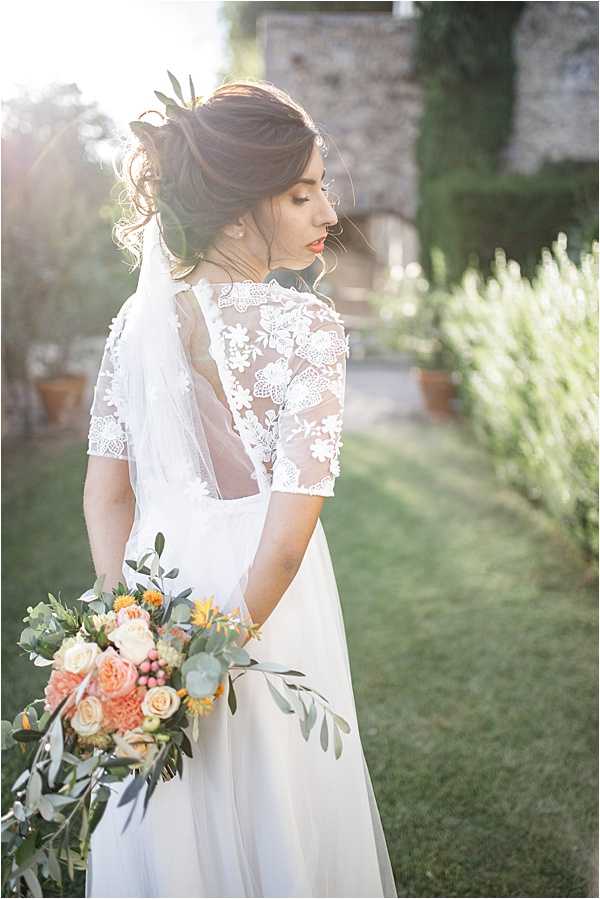 The scene was completely imagined by Maeva, who wished a romantic atmosphere, and warmth. So epic!
At first, a welcome point was imagined, with a sign transparency by Frédérique, our partner from The Small Papers of the Happiness. Every detail, the arc of foliage in semicircle, wooden trays, flowers in the yellow and orange tones, was thought to make us travel in Italy..
For this Italian inspiration, we set up a bar with olives and other delicious specialties. It was mixed with beautiful small phials of Limoncello and their labels personalized, ideal as invited presents original. For the floral touch, we opted for beautiful vases médicis white, and with vague compositions made by roses, eyelets, dahlias, crocosmia, olive trees, but also of spurge, snapdragons and craspedias. A small touch of mint and it's perfect for an Aperitivo in the shade of olive trees!
Then, we find the sweetness of this wedding theme in the table of the dinner, intimist, decorated with a flower arrangement on a glass cup. A nice vintage crockery, hand-made stationery, some candles .. The lemon yellow, and the olive green lend give a good atmosphere to this outdoor wedding.

Finally, for the party's area, we took up the bar situated in the renewed bar, situated on the main hall of the venue. We also took care of decorating this bar with vegetables and sublime one bright curtain. This sweetened greedy buffet consisted of Amarettis, Prosecco, a slightly acidulated naked cake and leads to predict a fashionable Italian party.
It's such a treat to see these stunning display of beautiful photos of inspiring Italian-French wedding theme!
Dolce Vita Italian and Provencal Inspired Wedding Snapshot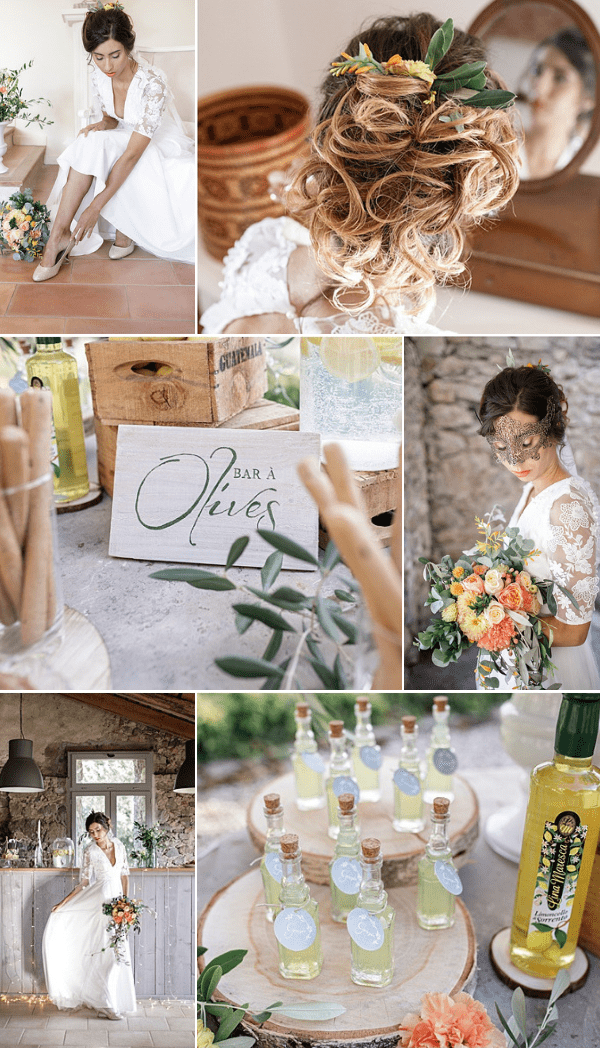 Vendor Details:
Venue: Domaine du Rey | Photographer: Ludovic Lieffrig 4L Photographe | Designer / Florist: Fleurs Design by Faustine | Stationery: Les Petits Papiers du Bonheur | Wedding Dress: Eléanore Cottet | Hairdresser: Nanoo Moov | MUA: Flav Mua Les Coulisses | Model: Ophélie Bonnet | Cakes: Laure Barbaza | Planning: Emeraude & Coton