I am amis for my lack of DIY projects recently so I am hoping to make up for it with a scrummy project that is ideal for a DIY wedding or as a christmas centrepiece, a meringue cake!
I know from the emails that I receive that many brides getting married in France are looking for DIY solutions to wedding cakes.  If you are not a fan of the croquembouche or are finding it difficult to find a baker to make an English or American style wedding cake in your area of France, then a DIY solution is fun, budget friendly and you can create your favourite flavours.
So yesterday I ventured into the kitchen to create a DIY wedding meringue cake, perfect for rustic French weddings and you can serve it as dessert!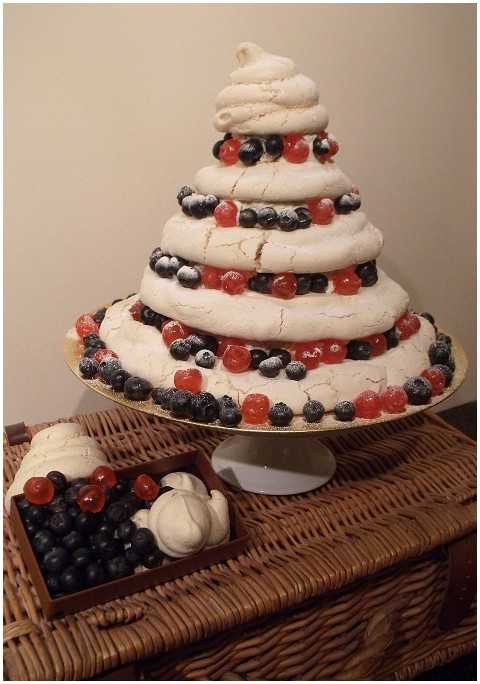 Ingredients & Equipment:
9 egg whites – I used Two Chicks cartoon of egg whites
18 oz (525 g) caster sugar
Whipping or double cream
Vanilla essence
Fruit and chocolate for decoration
Baking Parchment
Baking trays
Piping Bag
Metal bowl and mixer
Circles or round pans as templates
Firstly, decide on what size tiers you are going to make for your cake, I used the pans I had available to act as templates so I drew circle templates for 10, 8, 6 and 4inch meringues on baking parchment paper. Turn the oven on to 150C.
Now, most people have their methods of making meringues, if yours is different by all means use your recipe and join in later for creating the cake.
Separate your eggs, or measure out your egg whites and place them in a clean metal bowl, with the sugar measured and ready.  Using a mixer whisk the egg whites until they form soft peaks, the test is turning the bowl upside down without them falling out.
Start to add the sugar in 1 tablespoon at a time, whisking after each addition until the sugar is all mixed in.
Use a small bit of meringue mixture to stick the parchment to the baking trays.  Spoon the mixture onto the circles and using the back of the spoon gently manipulate the mixture to the end of your outline.
For the very top meringue, put some mixture into a piping bag and pipe a pyramid to create the apex at the top.
Place the baking trays in the oven and turn down to approx 140 and leave to cook for 45 mins for the bottom two layers and for 30 mins for the top two layers.  Once cooked leave to cool completely.
Now the fun part of assembling.
It is up to you what filling you want to put into your meringue cake, depending on the time of year and your tastes.  I used double cream and added a little vanilla essence whipped together.  Then I chopped up some blueberries and grated chocolate and mixed through.
Lay out all four layers (not the top one) and place the filling into the layer, be careful to not put the mixture to the edge.  This is so that you can fill the layers with your choice of fruit.  If you were using strawberries then place them on the layer before adding the layer above.
Then gently start to assemble your meringue cake decorating each layer as you go.
Once you have finished, dust with some icing sugar and you're done!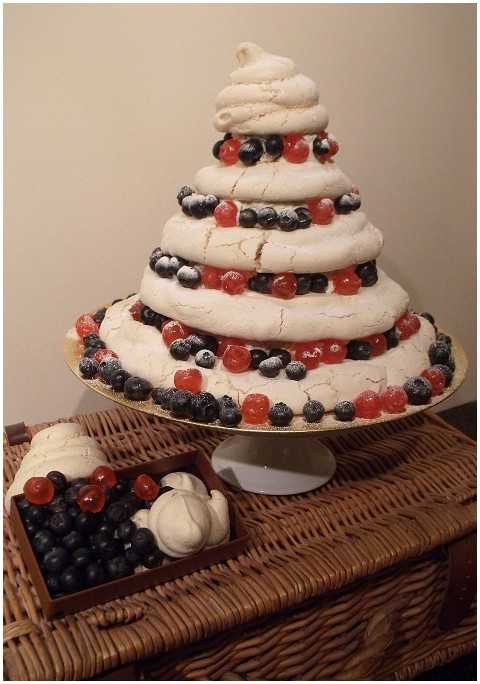 And how do you eat this delight?
No waist lines were hurt in the making of this post, purely for illustration purposes.