We are off to the beautiful Cote D'Azur for some wedding inspiration at Chateau Saint Georges featuring haute couture bridal gowns by Bowen-Dryden.
Back in October 2019, British wedding suppliers were invited to Chateau Saint Georges in Grasse to be part of the Wedding Royal event, taking part in the Atelier and attending the WedTalks event, which also featured British speakers such as French Wedding Style's very own Laura Payne Stanley. With this in mind, a simple photo shoot was arranged with a view to creating an Anglo-French collaboration showcasing the glorious dresses of haute couture bridal designer Sharon Bowen-Dryden. Photographer Lina Orsino-Allen of Lina & Tom was brought to the Cote D'Azur to capture the coming together of the British and French talent, having worked with both Bowen-Dryden and wedding planner R and F Weddings a number of times it was a wonderful team to bring together.
We'll now pass you over to Lina who will be walking us through this Cote D'Azur wedding inspiration at Chateau Saint Georges…
We were thrilled to meet Hair and Make-Up dream team that are Julien Matha and Amandine Poisson for the collaboration, who introduced us to the beautiful models Marie Avines and Manelle Souahlia. Manelle recently competed in the Miss France and was the 4th Dauphine finalist, we were cheering her on from the UK
With the shoot itself we used the beautiful interior of the top floor suite in Chateau Saint Georges for a little Cote D'Azur glamour as well as showcasing the striking grounds and ceremony potential. We wanted a shoot that showed off the dresses in a joyous and fun way, enhancing the message that you can enjoy yourself on a wedding day rather than the moodier trends of late. Bowen-Dryden's gowns seem a perfect choice for the Cote D'Azur bride; modern yet fun designs with a nod to nature, romantic but still cutting edge and style conscious. They are a complementary fit to the Cote D'Azur landscape. Bowen-Dryden gowns may be haute couture, but I wanted to show they are so fun to wear and hopefully our wonderful models felt this too – they certainly seemed to enjoy wearing them!
Amandine created beautifully natural looking make-up which is a big trend in the UK for brides, and she is leading the way in bringing this approach to French Riviera brides. After creating relaxed yet glamorous hair looks which showcased the cut of Bowen-Dryden's gowns, Julien was even persuaded to put his pins down and don an Aux Corps Anonymes suit for some fun couple shots in the sunshine too – we think he's a natural!
All in all this was a great way to make some great connections between British and French suppliers, a key theme of the Wedding Royal event, and we certainly hope our new French friends enjoyed the collaboration. Hopefully we will work together again in the future with the growth of destination weddings.
To see more of this gorgeous Cote D'Azur wedding venue Chateau Saint Georges check out this real wedding:
ROMANTIC CHÂTEAU SAINT GEORGES WEDDING IN GRASSE
Cote D'Azur Wedding Inspiration at Chateau Saint Georges Snapshot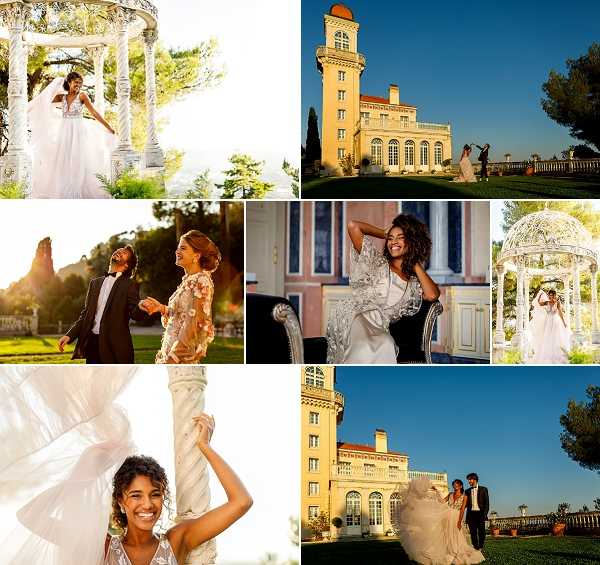 Wedding Vendors
Photographer Lina Orsino-Allen of Lina & Tom | Brides Dress Bowen-Dryden | Hair Julien Matha | Make Up Amandine Poisson | Planner R and F Weddings | Grooms Outfit Aux Corps Anonymes | Venue Chateau Saint Georges