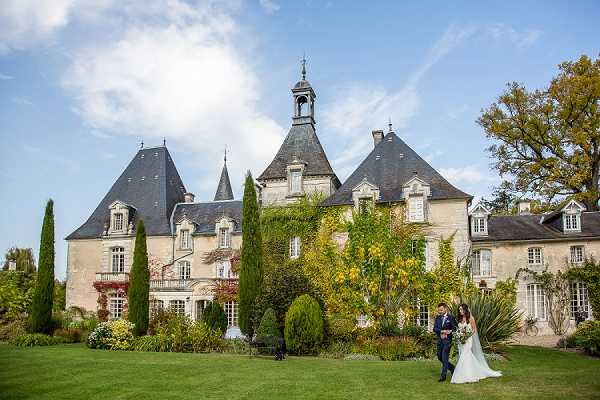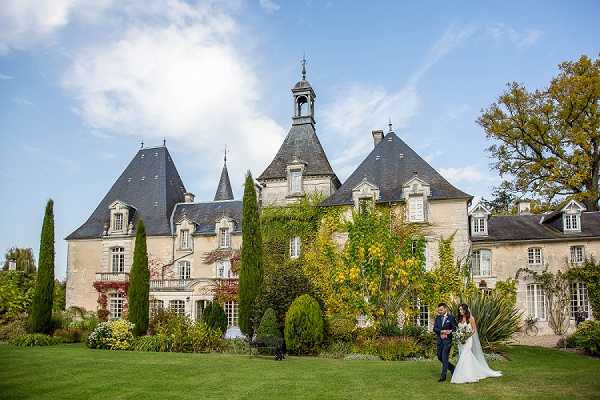 Happy Monday French Wedding Style readers, we hope you've had a great weekend? This week on the blog, we're revisiting some of our gorgeous Real Weddings of 2018, and we're starting off with this corker from January of this chic Chateau Mas De Montet real wedding.
Chateau Mas De Montet is full of renaissance charm and luxury perfect for any special occasion and certainly a great choice for a weekend wedding for you and your guests.
Not only did this wedding include a beautiful French chateau it also included one of our very talented FWS vendors French Flower Style. Lisa Gatenby is passionate about creating bespoke floral designs, which perfectly compliment the mood of her clients special day and this was certainly true for Laura and Stephen's day we absolutely love Laura's elegant bouquet!
We'll now pass you over to our gorgeous bride Laura who will be walking us through her big day…
"I married my husband, Stephen, on 14th October 2017 at the beautiful Chateau Mas De Montet in the Dordogne region of France. I'd always wanted a wedding abroad, somewhere where the sun shines, with lots of beautiful countryside and plenty of wine. Stephens parents have a house in France, he spent a lot of time there growing up and it's where we had our first holiday together so we decided it was the perfect place and quickly began looking for the chateau of our dreams."
"As we both have busy jobs and with less than a year from our engagement to our chosen wedding date, we decided to use a wedding planner and contacted Joanna from A Dream French Wedding, she was super helpful and sent us photos and information about lots of potential venues but we fell in love with Chateau Mas De Montet as soon as we saw it. We decided to spend a weekend there not long after and had a lovely time food and wine tasting, meeting the photographer and 'on the day' wedding planner and I also had my hair and makeup trial."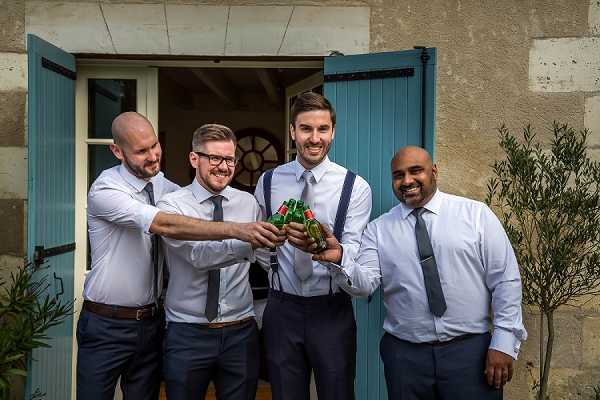 "My dress is by a designer named Shamali, the resident designer at Daisys Bridal Couture in London. She was amazing and really went above and beyond to bring my dream dress to life. My shoes are Jimmy Choo and Stephen wore a Ted Baker suit."
"The day itself really was perfect, a very sunny and warm 27 degrees. Unfortunately I lost my Dad very suddenly in February, so it was an emotional day, but knowing that he knew we were getting married and saw photos of the Chateau made it easier, he was so pleased his little girl was marrying the man of her dreams. My brother walked me down the aisle and did a speech in his honour, something that I will always be thankful for, he was amazing."
"Our ceremony was conducted by Moira, it was a humanist ceremony and Moira captured our story perfectly."
"We wanted a rustic theme wedding so with the help of a bridesmaid and my mother, we decorated lots of jam jars with lace and hessian and we sourced wooden tree slices for the centerpieces. For our table names we used love quotes from some of our favourite films or books, and for our table plan we used wine bottles. Our flowers were done by Lisa from French Flower Style, I particularly loved the vintage bike with flowers she did for us."
"Our photographer, Lydia Taylor Jones was fantastic, not only did she capture some beautiful photos, she also made it fun."
"We had speeches before the food by my brother, bridesmaids, new husband and his best man, followed by delicious food by Joss."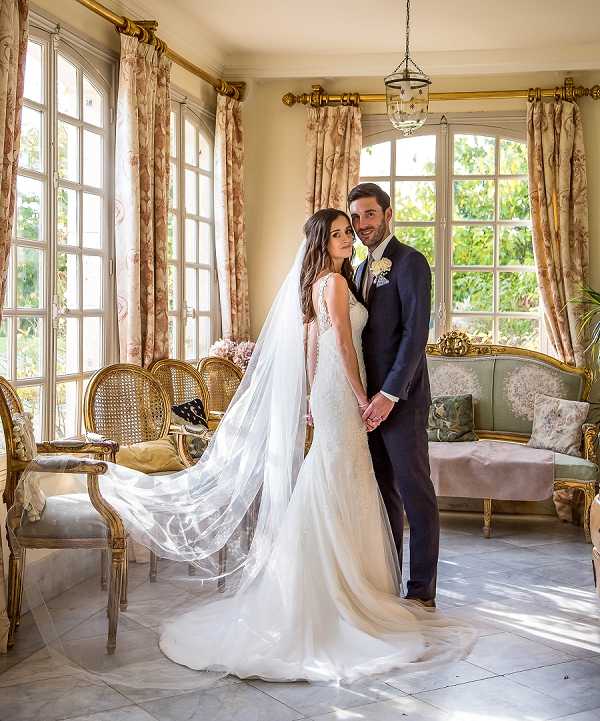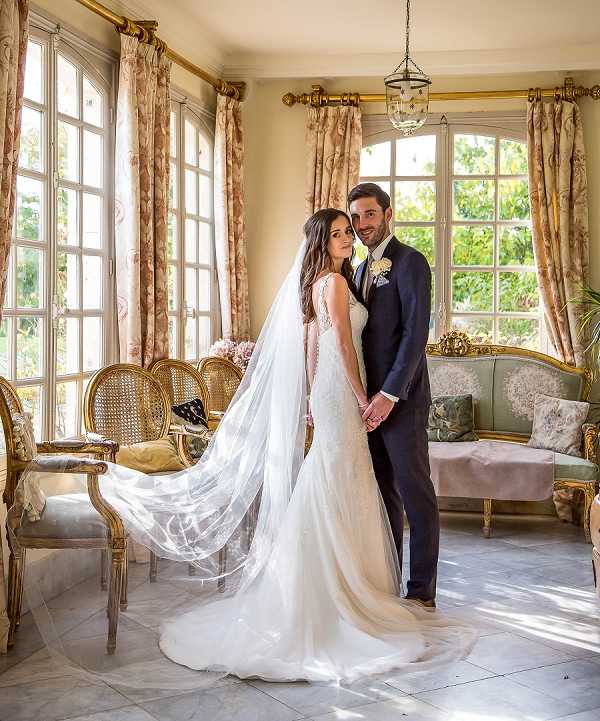 "You and Me by The Wannadies was our first dance. It starts off slow and then goes fast, so it was the perfect song to get our guests up and dancing. Not that they needed much help with that, everyone was in very good spirits with the help of a lot of French wine. The party went on until late!"
"We had the Chateau over the weekend, so the next day our guests came back for a BBQ so we could reminisce over the perfect day, drink more delicious French wine, in the most perfect setting with the sun shining down on us."

Congratulations Laura and Stephen from everyone here at French Wedding Style!
For even more Chateau Mas De Montet wedding inspiration check out this Dordogne chateau real wedding.
Chic Chateau Mas De Montet Real Wedding Snapshot
Wedding Vendors
Ceremony Venue: Chateau Mas De Montet | Photographer: Lydia Taylor Jones | Planner: Joanna Burgess | On the Day Coordinator: Fabienne from Elian Concept Weddings & Events | Brides Dress: Shamali from Daisys Bridal Couture | Shoes: Jimmy Choo | Grooms Suit: Ted Baker | Hair and Make Up: Jane Emerson | Florist: French Flower Style | Celebrant: Moira Stephens | Videographer: Ellie Wheeler