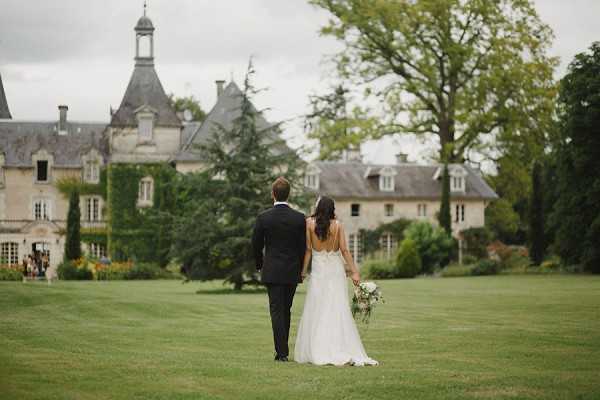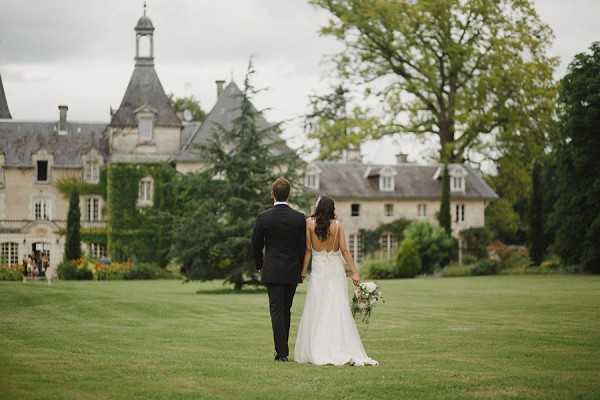 Happy Thursday folks, we are coming to the end of another wonderful week here at French Wedding Style. Today we are sharing with you a Dordogne Chateau Real Wedding that has really captured our hearts and also includes two of our fabulous FWS vendors including Wedding Music France.
We must begin this beautiful day with this stunning wedding film created by the uber talented FWS vendor Chris of Zen Film Works…
Here are a few words from our gorgeous bride and groom about their much loved captured memories…
"Chris of Zen Film Works has a bright and trusting personality. He makes you feel comfortable to open up, and to share stories and emotions that are typically reserved for those we trust the most. That is the magic of Chris – he's genuine and caring, and has a true ambition to share your love story. The end result is magic. He is somehow able to capture all your emotions just as you experienced them, and your perfect day just as you saw it."

"Mitch and I met at McMaster University during our first week of studies. From the very beginning we were inseparable, and we spent the next couple of years being each other's best friend. But, it was never meant to stop there; without any effort at all we fell in love. Anyone who knew us always knew it was inevitable, and can attest to the immediate and powerful connection we had that inevitably brought us to our big day.
Mitch and I have travelled many places in the world together. Experiencing new cultures and appreciating their differences has become a passion and theme in our lives. This curiosity for new has led us to our biggest adventure of all, moving abroad to France. This has been a very difficult challenge as we have uprooted our life, learning the French language, habits and rituals. But what makes us able to do so is how we find stability in each other. For us, truly, "home is where the heart is."
"Mitch and I were born and raised in Toronto, Canada, and our wedding took place on Canada Day, July 1, 2016…but in France! The reason behind this decision was to be able to tie our old Canadian roots to the new roots we've planted here in France."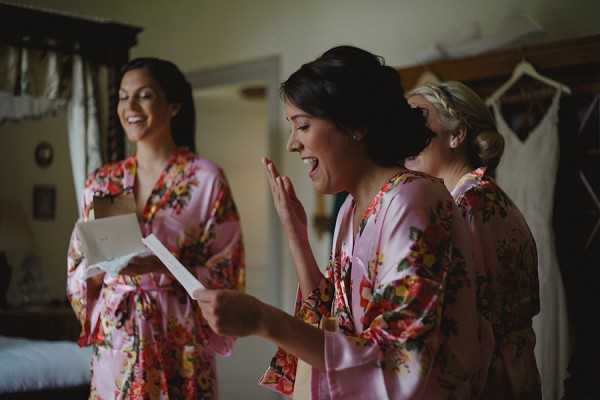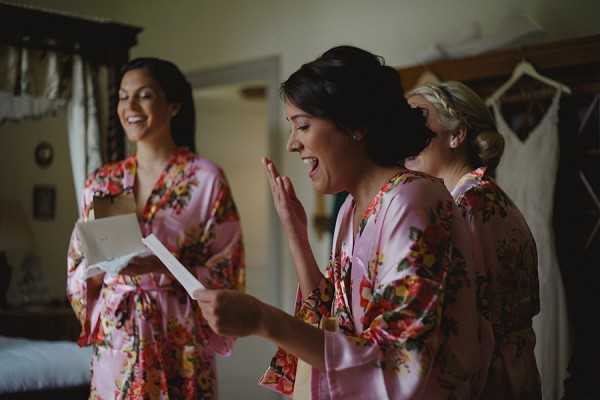 "On Canada Day, we were joined by 50 of our closest friends and family to celebrate our wedding at a beautiful Chateau in the Dordogne region, in the South of France. It was the first time we were reunited with our family and friends since our departure from Toronto, making the day so much more special."
"Mitch and I knew we wanted to get married at a French chateau, ideally in the south because of it's beautiful ambiance and warm weather. The Dordogne region is one of our favourites in France because it's so charming and quintessentially French. Upon speaking with our planner she was able to recommend a few chateaux in the region she thought we would like. Of course once we saw the Chateau Charmant we knew it was perfect for us – the chateau is stunning, with lush gardens and grounds. It really spoke to us and our vision."
"Our wedding planner, Zoe Leak from Marry Me in France,  was a book of knowledge with lots of experience about which vendors suited our style and budget. Having a wedding planner was especially useful for us because we were new to living in France. We didn't know the region very well, and also had to factor in language barriers – as our French is just intermediate.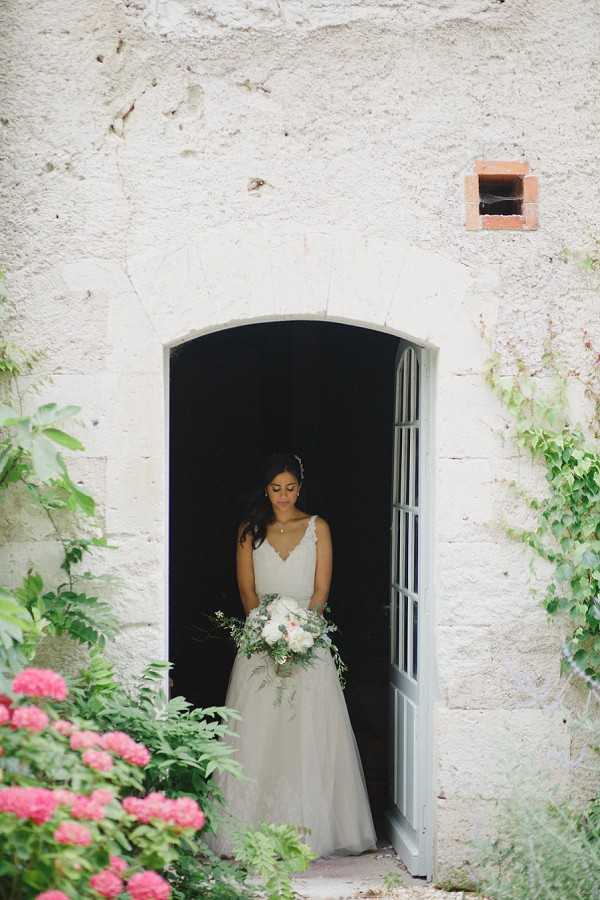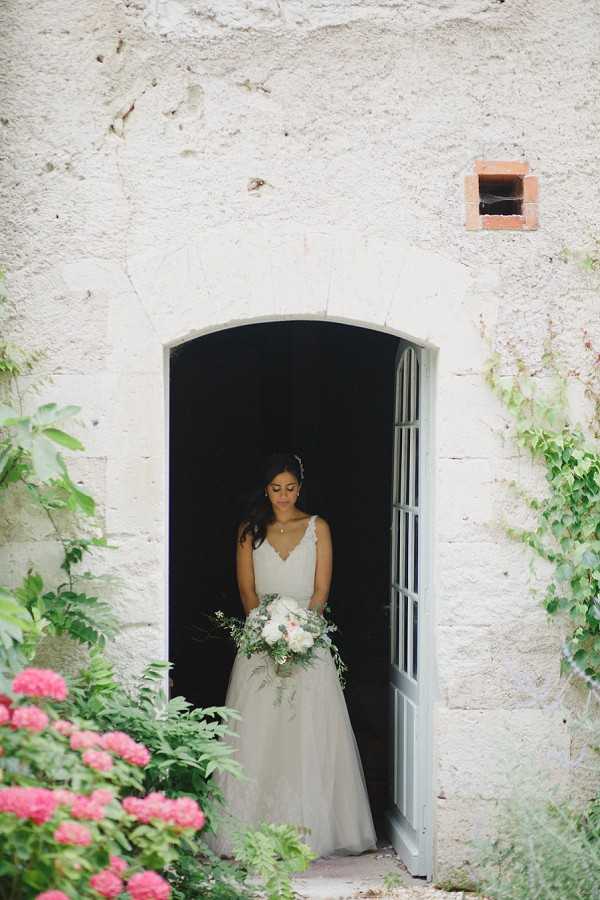 "My wedding dress was an Alvina Valenta gown. It was an a-line gown, with thin lace straps and a lace bodice. The lower half of the dress was layered in soft tulle. Some layers had delicate French lace woven into the tulle, which peaked through the top layer. Other layers of the tulle had been woven with thin and delicate sparkle thread and so it shimmered ever so subtly when I moved.
I also wore a thin sash with my dress, which my mother made for me. We picked out a delicate crystal trim from a fabric store, and she sewed it onto a thin champagne coloured ribbon. It really gave the dress that finished look, and defined my waistline. As for my shoes, I bought myself a pair of rose-gold Ted Baker heels."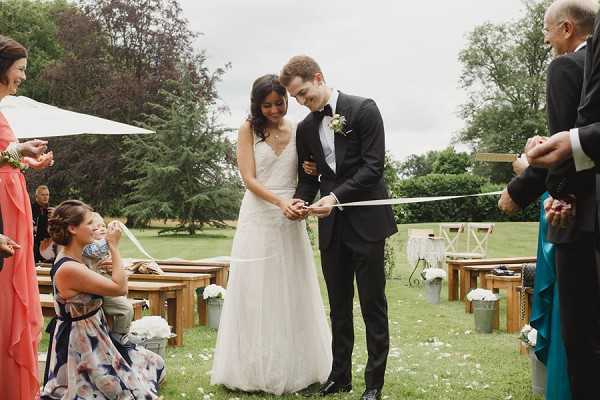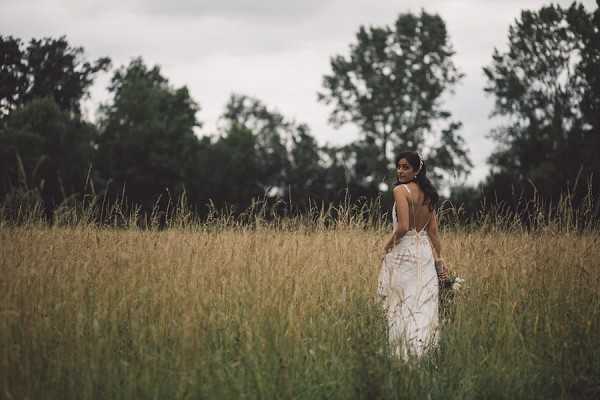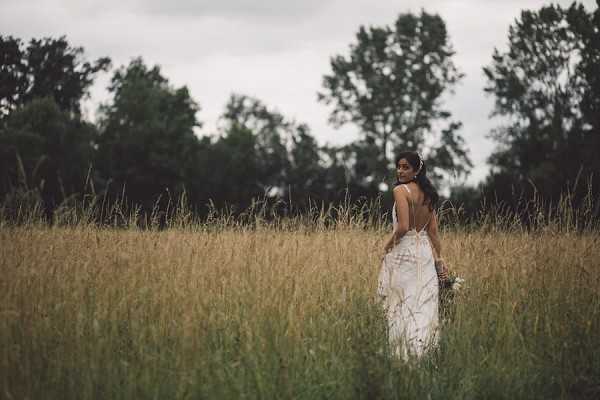 "My husband wore a modern black tuxedo from Suit Supply. He was able to find everything he needed from jacket and pants, to bow-tie and shoes. Suit Supply was a great store to work with because of its international presence. Due to this Mitch was able to buy his suit in Toronto, Canada; about 8 months before the wedding. Then he was able to have it tailored closer to the wedding at Suit Supply in Brussels."
"Dinner took place in the back garden. The dinner was decorated with long rectangular farm tables, arranged in rows and a long head table at the top. The tables were decorated with gold-rimmed plates, elegant glasses and lots of blousy flowers in soft pinks, greens and creams. On the plate of each guest was an individual French baguette in a brown paper bag with the menu written in French. (The décor is also shown in the video). The overall look was so rustic and elegant."
"Having a wedding in France was the best decision we could have made. It was so romantic, intimate, personal and unique. I think many times couples worry about the logistics of a destination wedding, and how to plan a wedding abroad; but there are lots of resources available to help you through the process. As well, with technology, it makes it much easier for you to plan and coordinate from a far. So don't let that deter you."
"After dinner we proceeded into the Chateau for cake cutting and dancing. We hired a band to play during the night, which was the perfect way to get everyone dancing and celebrating."
Dordogne Chateau Real Wedding Snapshot
Wedding Vendors
Wedding Photographer: Craig George | Videographer: Zen Film Works | Wedding Planner: Zoe Leak with Marry me in France | Wedding Stylist: My Wedding Stylist |  Wedding Venue: Chateau Charmant | Wedding Dress: Dina Alonzi – Alvina Valenta Gown | Brides Hairpiece: Bitter Sweet | Brides Jewellery: Tiffany & Co. | Brides Bracelet: Mignon and Mignon | Brides Necklace: IviAnna | Bridal Shoes: Ted Baker | Grooms Outfit: Suit Supply | Grooms Shoes: Suit Supply | Grooms Watch: Daniel Wellington Classic Sheffield | Grooms Tie and Pocket Square: The Tie Bar | Grooms Shirt: Eton | Wedding Rings: Hempen Jewellers |  Bridesmaids Outfits: White by Vera Wang | Bridesmaids Bracelet: Mignon and Mignon | Bridesmaids Necklace: IviAnna |  Stationery & Invitations: Shine Invitations | Wedding Band/Entertainment: Wedding Music France
Save
Save
Save
Save
Save
Save
Save
Save