Inspired by the bright colors of fruit and the sun, these planners styled an incredible Summer Shoot in South West France. This team made sure this event was not only beautiful but also thoughtful in its designs. Creamariage is on the blog today with all the inspirational details.
As "green marriage" is on everyone's minds, either to reduce our carbon footprint or to think out of the box, Juicy Fleury has created an amazing inspirational shoot directed by Gaëlle Chrétien-Boyer, GCB – Décoration Evénementielle. It is full of energy with dynamic colours but above all, it is full of innovative ideas.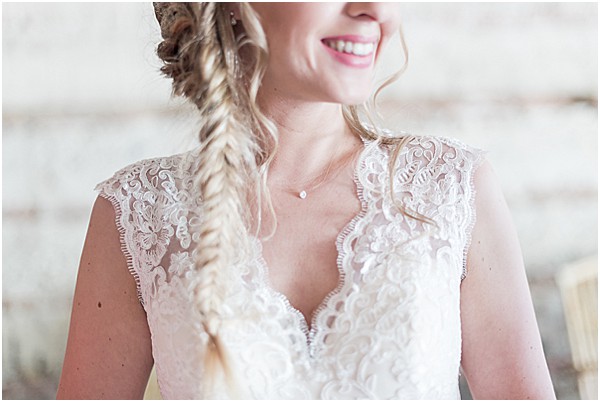 A few minutes away from Toulouse and Montauban, L'Aucenelle is a new reception venue which combines the charm of the traditional style and the elegance of modernity. Entirely renovated, its interior spaces are just perfect for a country style marriage with its wooden beam ceilings.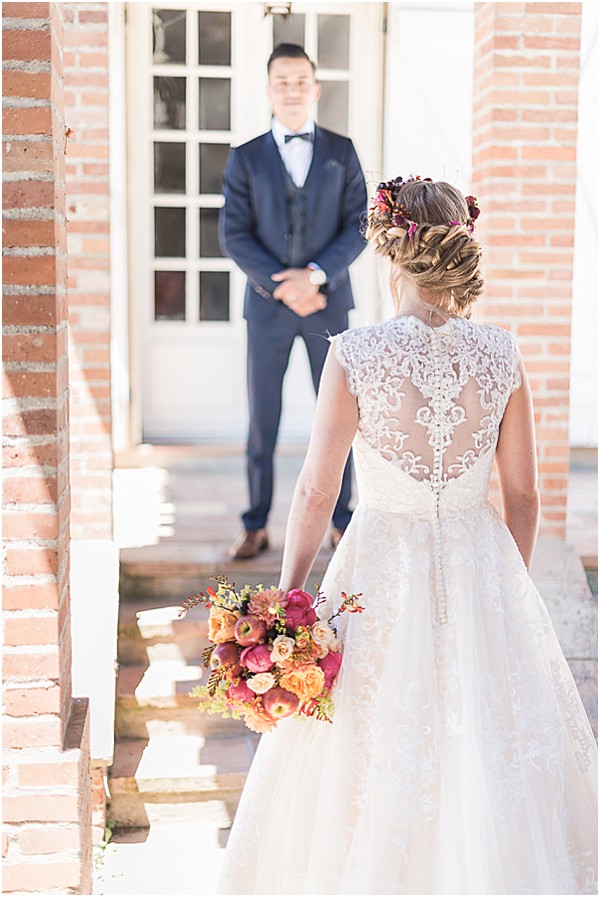 Gaëlle Chrétien-Boyer has founded GCB Décoration Evénementielle in 2017. Since then, she decorates your lovely days by bringing them a slight touch of madness, this extra touch of soul that makes the difference. Don't you want a unique wedding celebration? You are in luck! Gaëlle incorporates trends in made-to-measure sets when she has not already anticipated them. It is a real work of art, enjoyable as the sun ripened fruit that you could munch just after having picked it up on the branch.
In the summer season, the park offers a beautiful natural landscape for the ceremony and the banquet. Newlyweds and guests can fully enjoy this colourful brunch. Tables covered with white tablecloths can get some colour. How delicate and careful this work made by GCB Décoration Evenementielle is.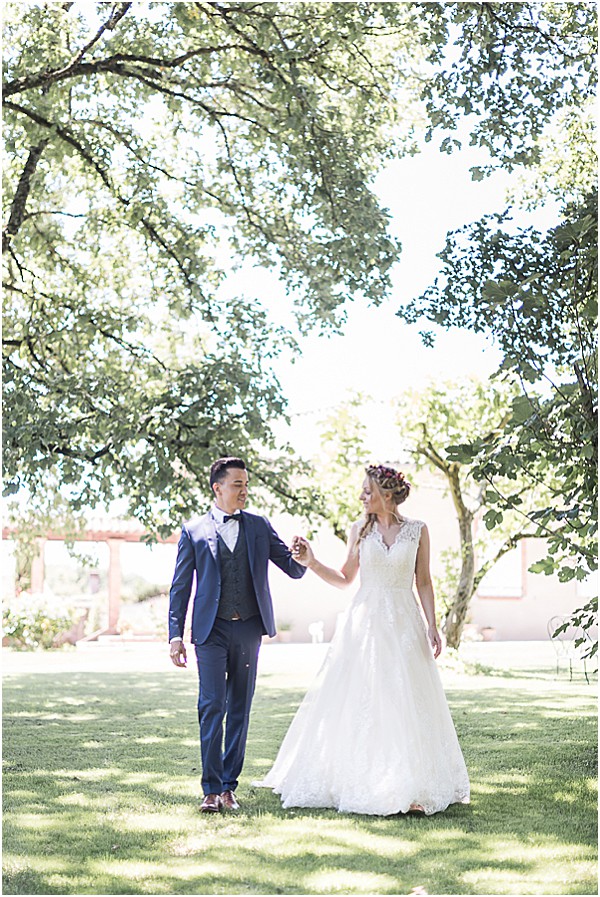 For this new inspirational shoot, we extend the summer season with fruity colours such as apricot, peach, cherry, like the sun caressing the skin.
Here, Nature is the Queen. Fruits and flowers happily entwine to form crowns, accessories, decorations which spread their amazing colours on tables and buffets. From the bride's preparation to the country style brunch, and of course the ceremony, everything is absolutely beautiful.
Bridesmaids roles are often given to close friends instead of children. It is an opportunity to spend some time together while finishing the last preparations before the day starts. We have chosen coordinated dresses for these ladies and we have also provided the same preparation for everyone with professional makeup and hair stylists. This friendly atmosphere will avoid the usual stress before the big moment, a pleasure you can share.
We are crazy about the sunglasses as accessories for the wedding guests. Double advantage for this smart idea, they protect your eyes from the sun while keeping a trendy look!
We absolutely love the flowery accessories such as crowns and accessories made by Rose Bohème. They bring an original and fresh touch to the cortege. We adore the elegant and classy cards which set the tone with its delicate flowers.
Fruits are obviously at the forefront with this creative and festive brunch which comes right after the ceremony. A medley of sweet & healthy fruits definitely hit the sweet spot on your menu. Pancakes and crepes made at the last minute spread a tasty and sweet flavour in the air. Fluffy inside and crispy outside, we are delighted with this taste of childhood. Verrines, organic pastries and fresh juices mingle perfectly.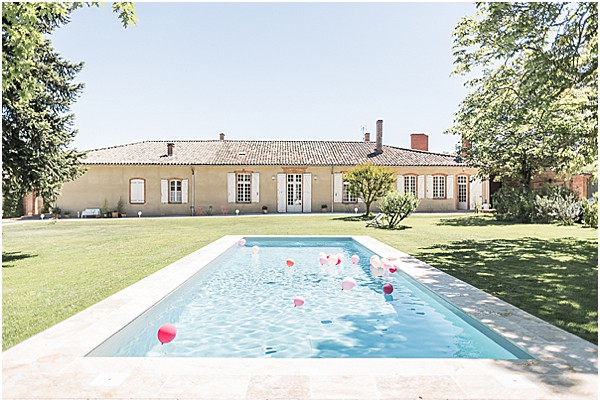 Let's focus on the outdoors, where pine trees and centennial olive trees host the secular ceremony under their branches. We love the shady park which gives the opportunity to create different atmospheres for romantic or creative photographs. Your photographer will be spoiled with the choice – whether you are a couple, a family, or just friends.
It was a romantic day full of joy and smile. All of the wedding party gathered at the pool deck to refresh their legs. This location also offers nice angles to greater or lesser degrees of boldness in your photos!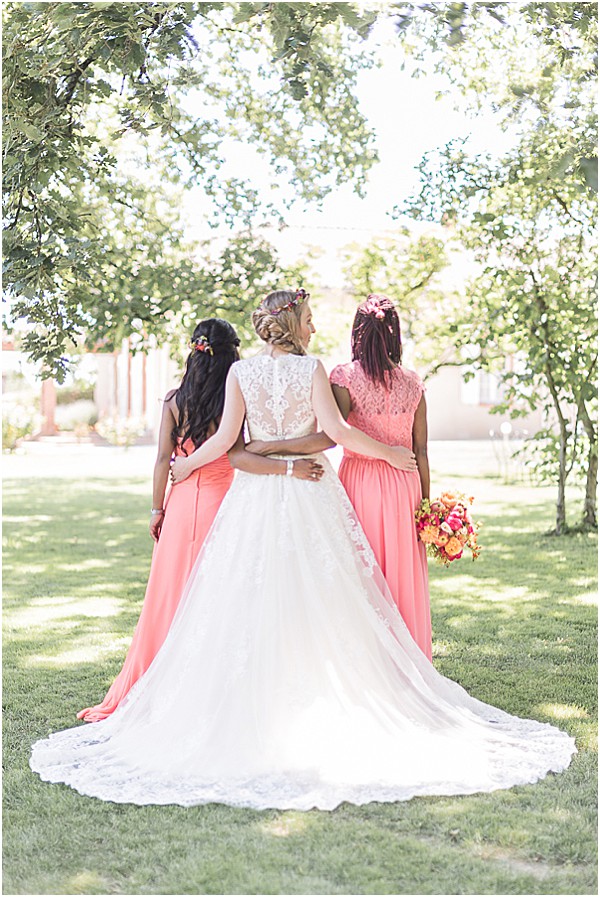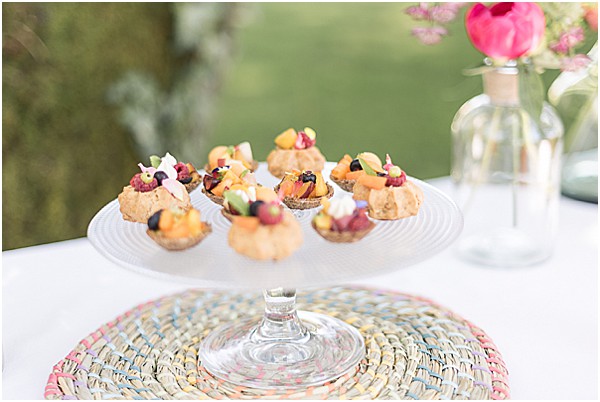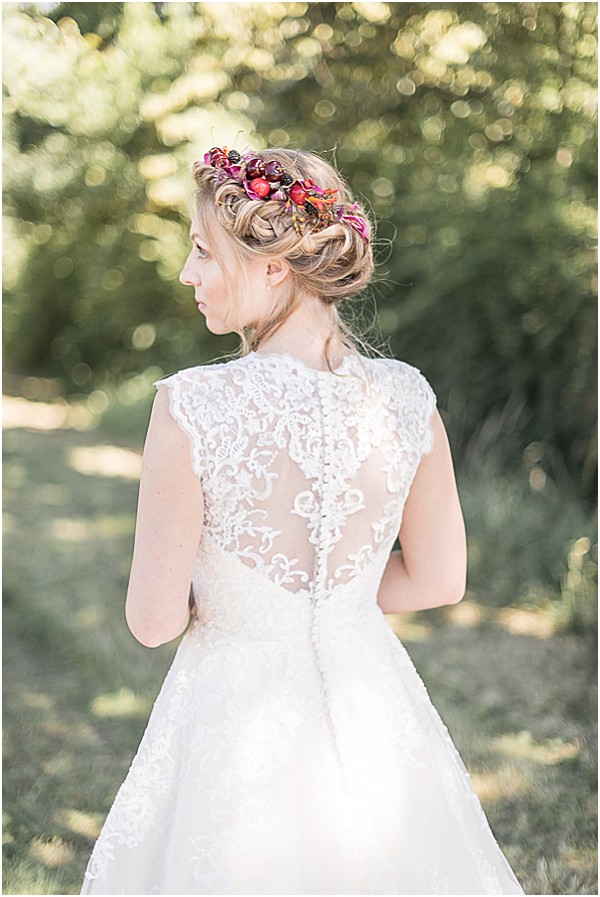 The most simple things are often the best: love, friendship, family, flowers, fruits, and summer colours. The skills of these providers made something extraordinary out of them. When you will have to deal with your event organization, dear future brides, keep this in your mind. It is what you decide to make of your wedding celebration which will make it unique, just like your union and your love are. A huge thank you to the lovely couple of newlyweds who agreed to participate, and to the beautiful witnesses for a day.
We just can't wait for Summer with these bright colors and fresh fruit inspiring us this week. Thank you to all the awesome vendors who designed this bright summer shoot in South West France.
Bright Summer Shoot in South West France Snapshot
Bright Summer Shoot in South West France Vendors
| Wedding Dress Naomie's Closet | Photographer  Christelle Lacour | Videographer Moez Askri | Planning & Decoration Gaëlle Chrétien Boyer | Planner  Melody Taillan | Stationery Les mots inspirants | Venue  L'Aucenelle | Cakes Klezia Pâtisserie | Florist Rose Bohème | Accessories  Ndy Creations Bowties | Catering MaCrêpeRie | Make Up  Aude B Colrat | Hair Sandrine Hair | Accessories Optic Latour Glasses | Decoration Mes Petits Packagings |