Good Morning FWS readers, today we have a Boutique Château Mont d'Onel wedding to share with you. This shoot has three unique bridal looks featuring dresses from Rachel Evans. There's lots of inspiration on this post, featuring pinks, florals and greens. If you are thinking about modern florals then this shoot has lots of ideas to share with you, including floral arches and floral chair installation. Planner VavaVoom Weddings and Events has brought this one to us, so let's get straight into the details.
So on a beautifully sunny April day, we took three brides to one of our one of our new Château venues to have some fun and show potential couples how flexible this gorgeous venue is. The excitement was so infectious, that the beautiful owner of the Chateau joined in to be one of our Brides too!
We created a base with some of our lovely furniture, and added fabulous magic touches with florals and tableware
Château Mont d'Onel immediately came alive as a boutique wedding venue. The stylish beautifully decorated Château has stunning views and as VaVaVoom had devised this photo shoot to show couples the versatility of the venue and how to enhance it and create their own fabulous wedding. We decided to set up a series of ceremony areas in various spots at the Chateau. The first was on the spectacular front terrace with incredible views, the second on the lawn with the Chateau as a backdrop and the third in the amazing double height entrance hall.
For the shoot we decided to create an elegant chateau feel, with 4 vintage wedding gowns and 4 different models, and along with the help of our talented partners Karen and Nikki providing hair and make up for our models and David Page capturing the day in pictures we had a great team.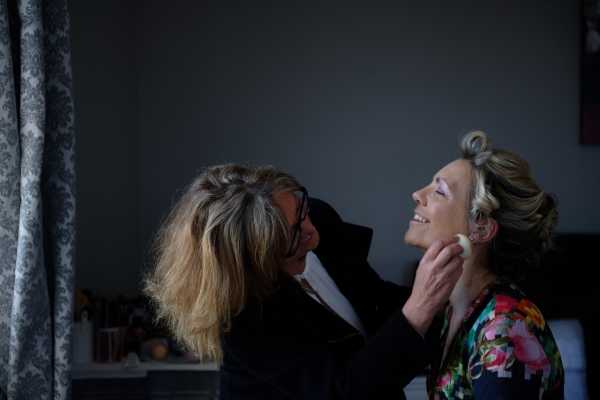 Our talented florist Jenny Fairbanks decided to create an arch and aisle flowers with blousy roses, seasonal blossom and foliage. The gorgeous staircase in the château was perfect for our brides to make an entrance and then relax for photos on our vintage chairs.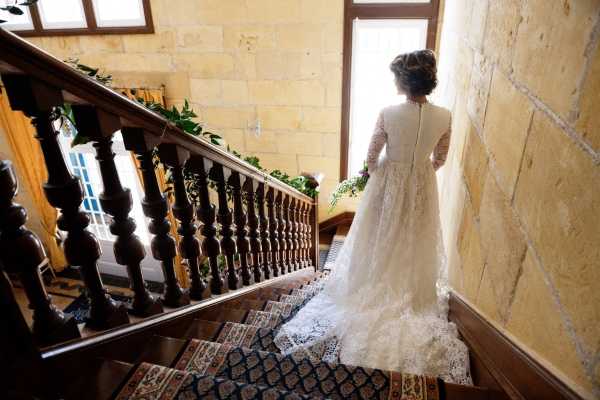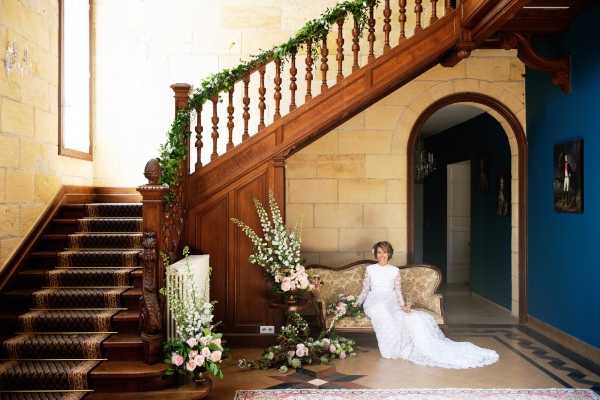 For the tables we used a combination of our stunning ash wood round tables and a top rectangle wooden table. Again Jenny devised different floral arrangements for each table to compliment our selection of crockery, cutlery, glassware , napkins, runners and candlesticks. The eclectic mix of tables added structure and texture to the photos.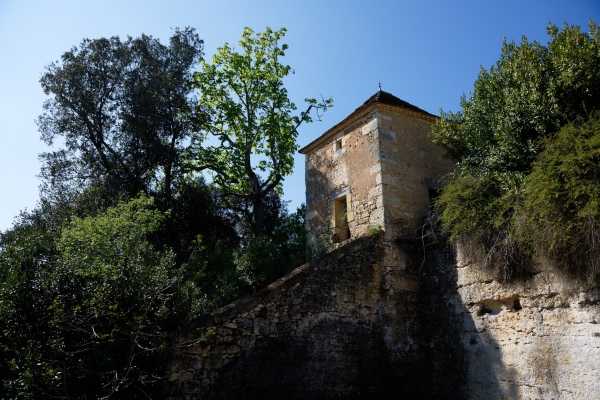 The château again has so many beautiful areas for a table set up and we opted for the grand courtyard and a second more intimate courtyard area with the château as the back drop, but as with the ceremony there are so many options each with it's own beauty.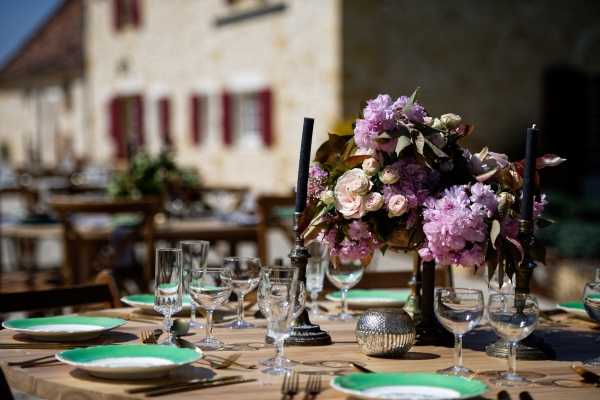 VaVaVoom had a wonderful day and our brides also had a fun day wearing their vintage dresses provided by Rachel Evans and being pampered by the ladies at hairandmakeupfrance.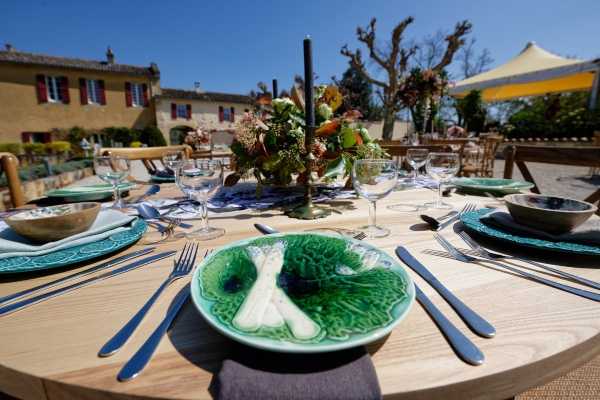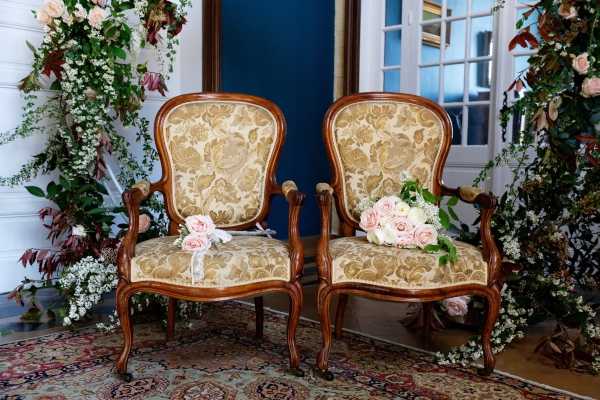 The whole crew enjoyed a lunch in the sunshine provided by le carré vegetarian in the outdoor covered breakfast area set in the grand courtyard of the château, and we could all sit back and enjoy the stunning location, being magically transformed Into a wedding venue and enhanced by the VaVaVoom team.
We love all the ideas shared with us on this Boutique Château Mont d'Onel wedding. Thank you for sharing this images with us. If you'd like to see more shoot inspiration you can do so by following this link.
Boutique Château Mont d'Onel wedding Snapshot
Wedding Vendors
| Planner VaVaVoom | Hair and Make Up Bridal Hair and Make-Up  | Photographer David Page | Venue Château Mont d'Onel | Brides Dress Rachel Evans | Florist Jenny Fairbanks | Catering Le Carré Végétarien |