Becoming ever so increasingly popular are Trash the Dress France styled shoots and we have a wonderful boho inspired one for you today. We love how different they are and so unique to each individual couple, we want to share with you this colourful shoot designed by Wedding Planner Mon Jour Parfait. The bohemian florals used in this shoot created by Inflorescence by G, are just beautiful and bring even more colour to the overall style of this trash the dress France. So let's get straight into all the details and make your Tuesday a lot more colourful!
I am a french Wedding Planner and it was a wish of mine to work with both Camila Garcia and Andrea Marino (photographer) to create a inspired photo shoot. During a wedding meeting, I met Camila and Andrea, where we talked a lot and laughed about many a things.
We realised that both of us liked the idea of ​​thinking outside the box when it came to weddings. It was the similarity in ideas that caused us to decide to work together.
We wanted to do a shoot that changes what we can see and we had this crazy idea to do a trash the dress session. We wanted to do a very intimate session with a small amount of wedding vendors and we reused a dress that had been used for another shoot previously.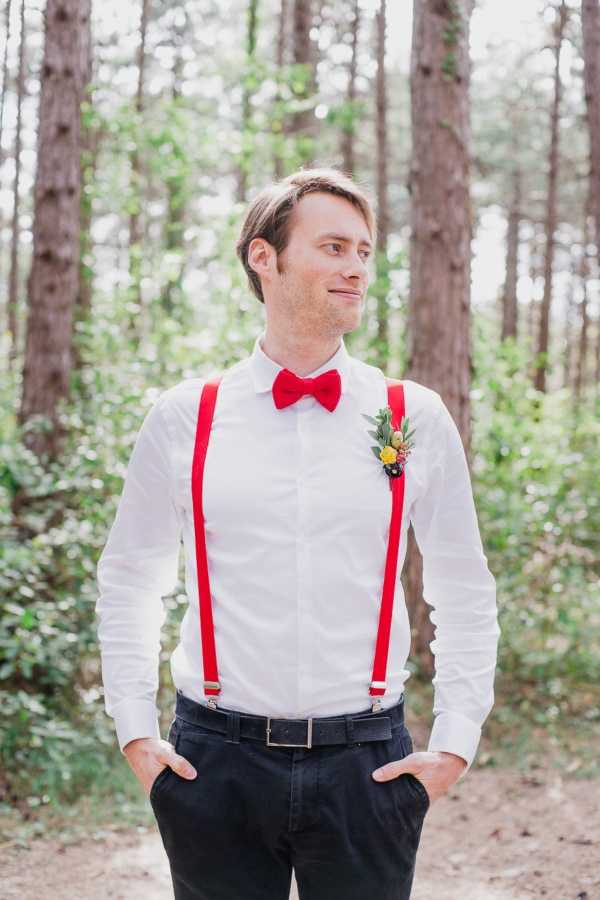 We surrounded ourselves with vendors of high quality wanting the same outcome as us to dissociate themselves and leave the beaten paths. We chose to work with a real couple (Johanna and Maxime) because we wanted to capture this emotion and this complicity within the shoot.
We especially wanted to highlight an intimate engagement session in an atypical place. That's why we had decided to choose a place as natural as possible, the forest of St Ferreol Lake.
We love the colours and floral patterns of our accessories in line with our powders we chose. We wanted to propose a decor style that was simple and refined at the image of our couple. The wedding dress and the wedding suit are quite simple too because we wanted to focus on our couple.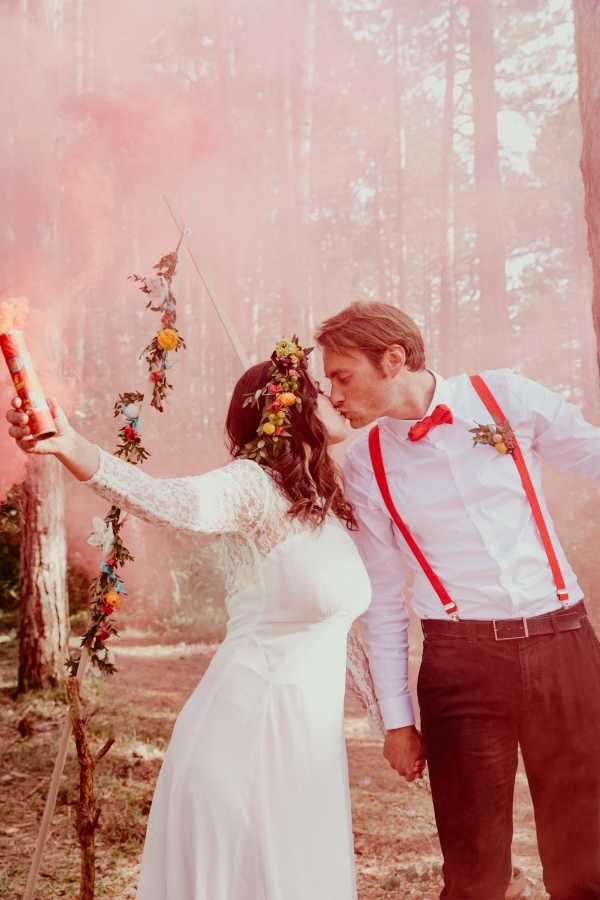 It's been a while since we've been following you on social networks and we love French Wedding Style and your inspiration. This is one of the reasons that led us to make this shoot, to show that we can get out of the ranks, be oneself and remain beautiful.
We think that our shooting is in the trend that you propose, sophisticated meanwhile offbeat. We also think that we are changing things a bit with our autumn theme and our typical couple. We have enjoyed every moment of this shooting this Trash the Dress France, I hope that your readers will get lots of inspiration from this.
We want to say a huge thank you to the wedding vendors involved for sharing this Boho Trash the Dress France with us! A special thank you to Johanna and Maxime who took part in the shoot too.
Boho Trash the Dress France Snapshot
Wedding Vendors
| Lead Photographer Camila GARCIA | Lead Photographer Andrea MARINO | Hair and Make Up Camila GARCIA | Planner  Mon Jour Parfait | Accessories Kaqoty et les squaws | Florist Inflorescence by G |