What a wonderful turn of the year 2019! Happy New Year to all our lovely FWS readers! We thank you guys for being part of the blog in 2018 and we're looking forward to have you joining us in 2019. If you think 2018 was good enough then trust me 2019 will be even more fabulous!
So to start the year off, we have the first real wedding for 2019, a Boheme chic Normandy Wedding in France. This elegant wedding was held in the XVIth century Manoir de Chivré in Normandy. Mégane & Matthieu's wedding was chock-full of perfect moments, all thanks to the talented vendors who helped them on their special day. Planned by wedding planner Un Jour Inoubliable, this post also features the photography of Nicolas Launay.
Here's Mégane & Matthieu's puppy love story that blossomed into one strong relationship worthy of saying "I do."
Megane & Matthieu met at school when they were young. She was 15 and he was 17. They never stopped loving each other. After a lot of trips together, Matthieu proposed Mégane on the 1st January 2017 in Florence. His proposal was very romantic as he offered a ring that belonged to his great grandmother. A sapphire with 12 diamonds. In December 2017, their daughter Mia was born.
They choose to get married at the end of September 2018 in a Manoir in Normandy. They were looking for a venue with character but with human dimension. When they saw the Manoir de Chivré at the first time, they immediately felt in love with the history of this place.
Something was important to them : to keep their guests with them during all the week end and the Manoir de Chivré had enough beds to make everybody sleep on site. They also decided to make a secular ceremony as there was an old stone barn near the Manoir.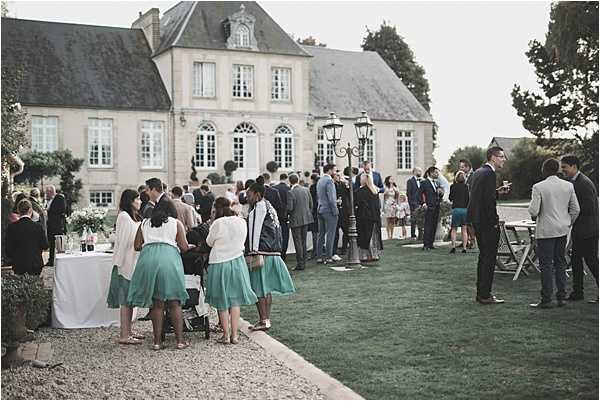 The arch was decorated by L'atelier Fleuriste and it was amazing.
They wanted a boheme chic wedding. Megane had some difficulties to find the perfect dress. She really wanted a boho dress. After a lot of research, she found Rembo Styling and got the perfect one with a naked back.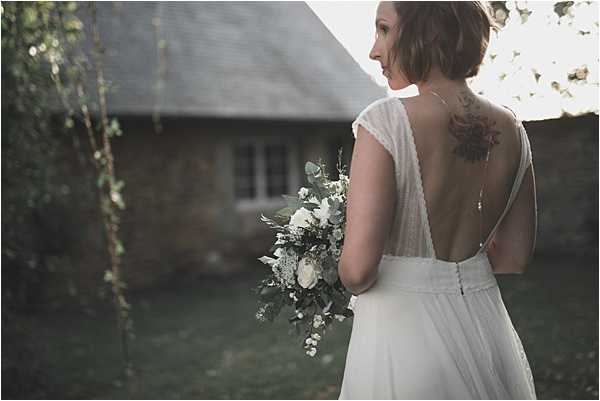 Matthieu choose a dark blue suit and a bow tie with some brown details.
The bridesmaid were all dressed the same : white top and emerald green skirt. The maid of honor was in white top and coral red skirt. Three of the best men wore grey suit jackets, white shirts and dark blue pants; while two of the best men wore brown suit jackets, light blue shirts and white pants.
As Mégane is a wedding planner, she organised everything on her own. She found the venue Manoir de Chivre. Their photographer Nicolas Launay used to work with Mégane  several times. The other helpful hands such as their florist L'atelier fleuriste, MUA and the hairdresser Le Boudoir à Do, were also colleagues in the wedding industry. To surprise her husband, Mégane asked the hairdresser just before the ceremony and she only wanted a wavy effect. She wore a wedding veil sewed by her mother and some gold head pins from Maison Guillemette offered by one of her maid of honor.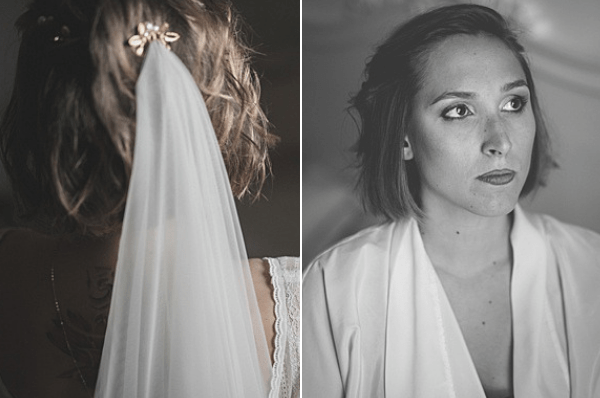 Mégane choose Nicolas Launay as their photographer because he took care of their pregnancy photoshoot and Matthieu and she loved the result. They knew he would capture the moments of emotion and some moments of life. When they discovered the wedding photos, they were really affected. The photos were everything they wanted them to be.
For their ceremony, the cortege walked down the aisle in the beat by Bruno Mars' Marry You. They were dancing and clapping. It was a very festive moment. They choose Ceremonie Story as celebrant. They knew Christine will be able to combine humor and emotions.
At the end of the ceremony, the guests threw on them some colored pompoms.
Regarding the decoration, they didn't want colours, they just wanted white flowers, green foliage and candles for the dining room and some orange lights on the walls to warm the room.
Their first dance was Stand by me by Seal. All the couples joined them on the dance floor at the middle of the song. They wanted to share this moment with everybody.
Congratulations and best wishes to Mégane & Matthieu from the team at FWS! xx
Want another Boheme chic wedding inspiration? Then check out this post!
Boheme Chic Normandy Wedding France Snapshot
Vendor Details:
Venue: Manoir de Chivre | Wedding Dress: Rembo Styling | Celebrant: Ceremonie Story | Accessories: Maison Guillemette | Florist: L'atelier fleuriste | Hair: Le Boudoir à Do | Photographer: Nicolas Launay | Planner: Un Jour Inoubliable