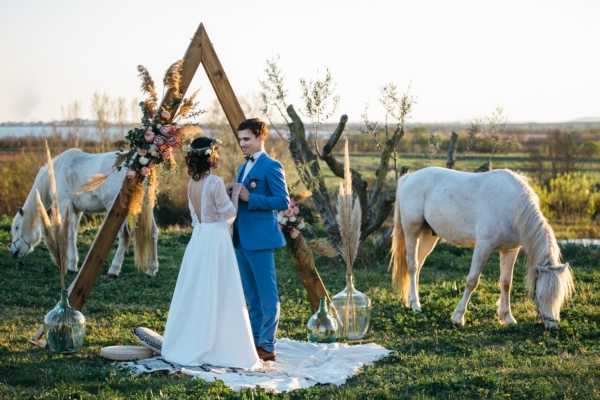 Good Morning lovelies, today we want to share with you a beautiful wedding in Camargue Provence. This photoshoot has been created by Olga Costa and her talented team of suppliers. Taking us to a more country location, this shoot is inspired by nature and features a ranch located in Southern France. The shoot has kept details traditional to reflect the theme of the venue, we love this! Read on for all the details…
The Camargue is a region of southern France, between Provence and Langedoc Roussillon. Known for its Nature Reserve, this region is also full of history and traditions.
This place is pretty wild and is home to many animal species including flamingos and white horses that live freely along the salt marshes.
For this photoshoot, we were inspired by nature and we wanted to tell the story of the people who live here. We used colours to show its beauty such as beige and green for a reminder to pampa grass that spread along our beaches, pink like the flamingos that fly over the ponds, and blue for the sea that surrounds us.
We were lucky to find the perfect spot to set the scene of this shooting. Indeed, Le domaine de Fangouse is a traditional guardian ranch breeding the famous horses and bulls that perform during the numerous festivals we have.
The first few shots shows the groom taking care of his horse. He wears the traditional outfit of the guardians from Camargue et traditions and we see him riding alone while the bride is getting ready with hairdresser Svetlana and makeup artist Sandra. Her manicure had been done earlier by Evgeniia Russian Nailart in a sweet shade of pink.
She then puts on her dress by Eleanore Cottet who is our favorite wedding gown designer here, and who picked up the perfect dress for this day : chic, elegant and natural. The V-neck of the dress and the underskirt resume the codes in traditional feminine outfits and we can see another reminder of the nature surrounding us in the jewellery by Cally Handmade. Alexandra creates wonderful pieces with dried flowers that are delicate and very romantic to match the theme.
Then, the groom puts on his suit from Le vestiaire d'Alex. We chose this beautiful blue to remind us of the sea, combined with this particularly colourful pattern on the bowtie and vest. We chose this because it is similar to the ones we can see on the traditional guardian outfits.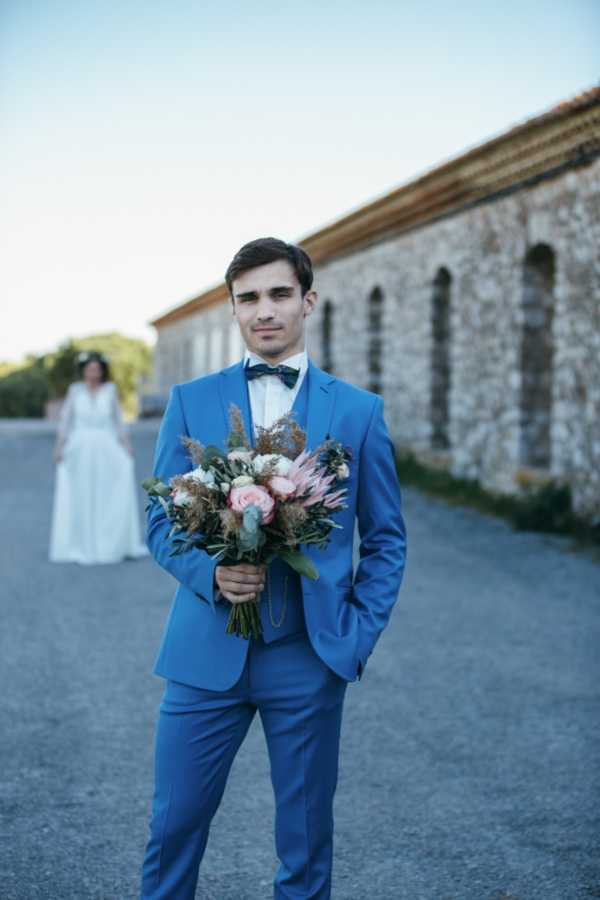 Now, it's time for the first look. The groom waits for his fiancee holding a stunning bunch of flowers by Audrey Vkb, his eyes closed.
Later on, you can see them striking the pose in the photobooth by A and Co Events which is an old VW van manificently transformed by Alison before the musicians arrive.
Lo Lai Gypsy is, as their name suggest it, a traditional gypsy band performing cheerful and very festive music. Second after they start playing, your hands start clapping and your feet are dancing.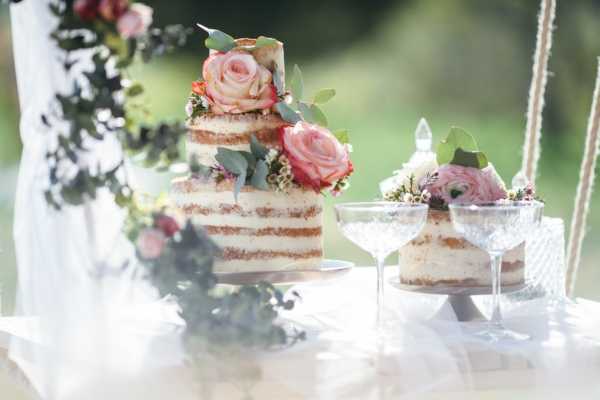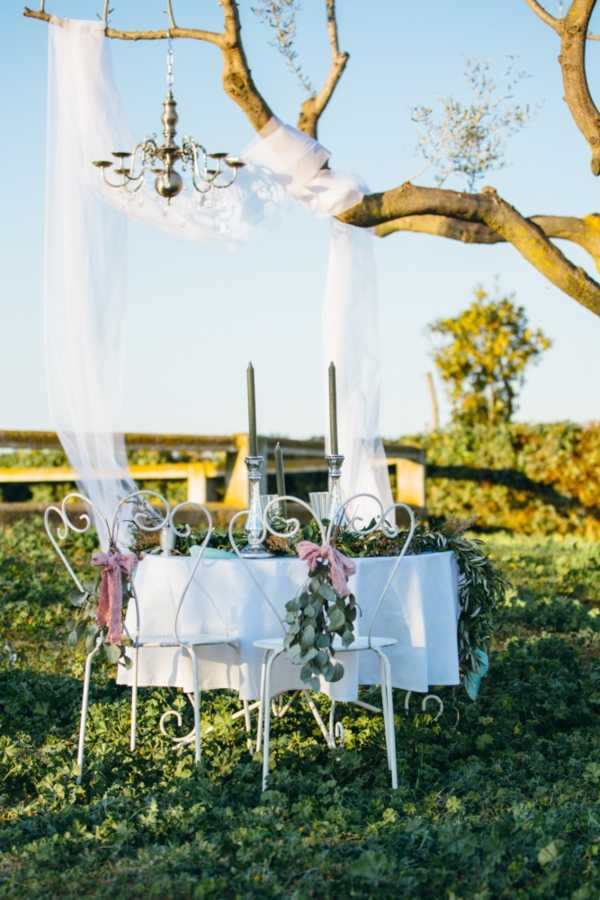 Next are the table of honour layout and dessert table. The wedding cake, made by Inna So cake is displayed on a floating bar created by Coco Touch Deco, and which is something that we had not seen before.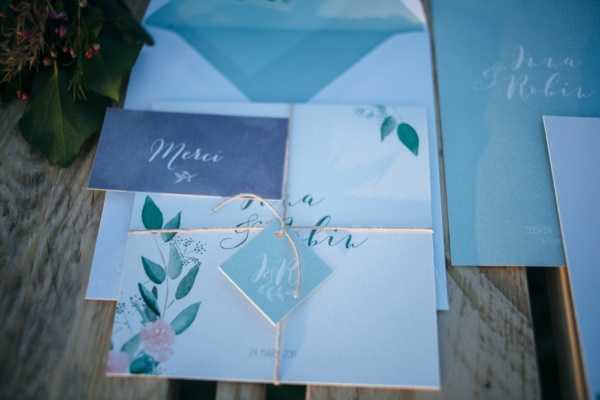 For the dinner table, this is Dis-moi oui who imagined this lovely set up along with our wedding designer Heliodore. As for the stationnery, Frederique at Les petits papiers du Bonheur designed invitations, menus and place tag according to the theme of the shooting, and the visitor book has been assembled by Cleo manually following ancient techniques.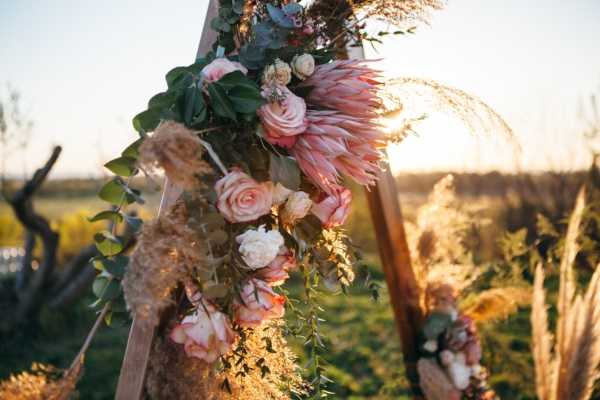 Lastly, we present you the ceremony. It takes place in front of a triangular arch by Wood Concept Reception that faces the breathtaking landscape of Camargue with horses as the witnesses of the ceremony.
This magical shooting has been imagined and shot by Olga Costa, designed by Heliodore and filmed by Bryan Duflo.
Thank you so much to the wedding suppliers that took part in this shoot and giving us the inspiration for a wedding in Camargue.
Beautiful wedding in Camargue Provence Snapshot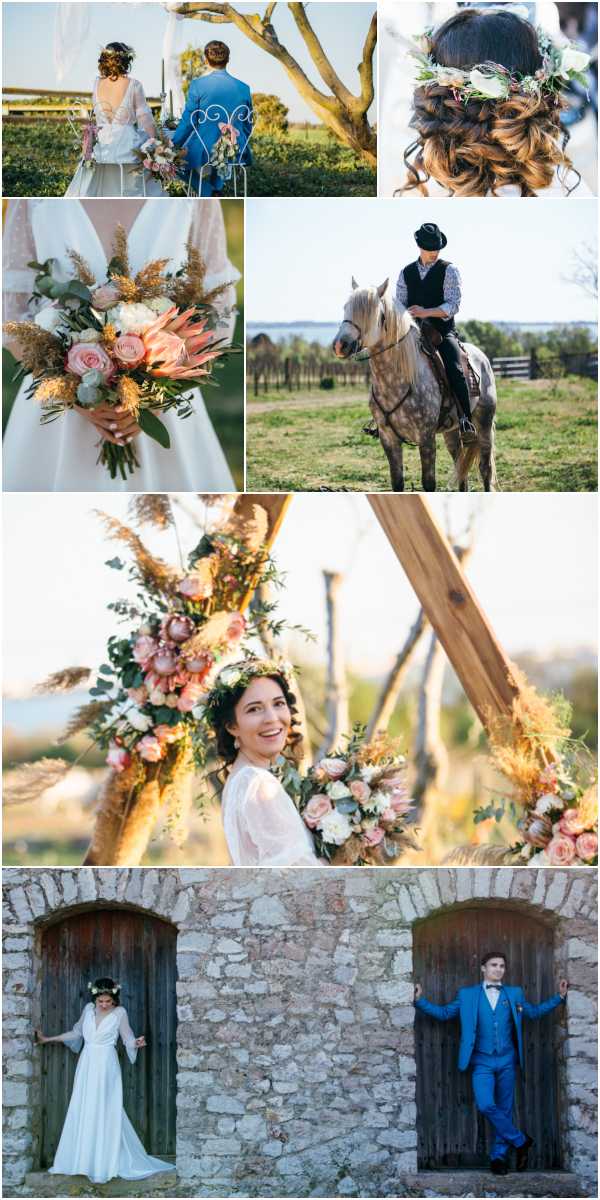 Wedding Vendors
| Photography Olga Costa Photography | Wedding Design Héliodore Wedding Design | Wedding Venue Manade Robert Michel Domaine De Fangouse | Wedding Cake Inna So Cake | Dress Eleanore Cottet | Florist Audrey VKB | Table Display Dis Moi Oui | Wedding Arch Wood Concept Reception | Grooms Suit Le Vestiaire d'Alex | Traditional Outfit Camargue and Traditions | Photo Booth A & Co Events | Guest Book Atelier Cleo | Stationery Les Petits Papiers du Bonheur | Manicure Evgeniia Ongles | Hair Sweet Meches Coiffure | Jewellery Cally Hand Made | Makeup SBK Cosmetique | Decoration Coco Touch Deco | Music Lo Lai Gipsy | Video Bryan Duflo Realisation |