Welcome to another wonderful day here at FWS, we hope you'll enjoy what we have for you today, as we have this fabulous styled shoot for your wedding in Brittany composed by an extremely talented group!
Lots of inspiration coming up below so buckle up! Couples who love the outdoors and are looking for a sunny, picturesque wedding, Fanny Paris Photographe captured the look-book posts and decorations by Les petits pots vanille céramique.
The bride looked stunning in Kamelion couture combined with her natural look make-up by Les coquettes de mercoeur. The day was superbly captured by Fanny Paris Photographe.
So for you not to wait any longer, we will now hand you over to our florist Elodie Bonnor. She will be the one who will walk you through this  photo shoot. Enjoy!
The project was born with the idea to create an atmosphere of sweet yet a hint of wild wedding.
It was also the opportunity to show different kinds of bouquets and floral arrangements.
First, I've found the perfect place for the photo shoot, which is an old mine around Nantes (in the South of Brittany), it looks like a desert place with white ground, wild vegetation and many different colors.
All the professionals who participated to the photo shoot were free to add their artistic touch.
The bride and groom arrived on site in a sumptuous Buick Electra 225 car, rented by Serge Etienne for events and weddings.
Alice wears a wedding dress created by Kamelion couture" full of light and aerial details. I imagined a white and green bunch of flowers with a touch of red to contrast with her beautiful dress. She also wears a floral crown to sublimate her natural curly hair bun, made by the hairdresser artist "Salon de coiffure Anonyme".

Her face is lighted by the perfect make up from "Les Coquettes de Mercoeur », with a focus on sooty black eyes and natural skin color.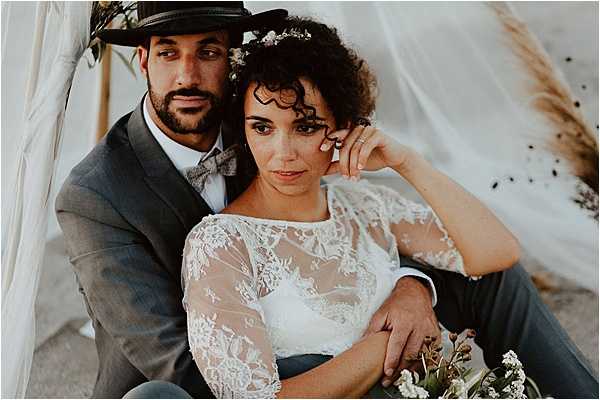 At last, Alice has black and gold earrings from the talented jeweler artist Demi Sel.
Jean-Marie is dressed by "Coup de ciseaux". He wears a grey suit, white shirt and a light grey bow tie, which was tailored for the occasion.
Vegetation was highlighted on the wedding table. I choose bamboo plates, silver forks and knifes made with bones. Napkins are in old lace, embellished with porcelain lockets from "Les petits pots de Vanille Céramique".
Some plants and eucalyptus boughs are placed on the center of the table. At the end, I placed a large floral arrangement next to the gorgeous wedding cake, made by "Petite Douce".
The menu and all the stationery was made by "La Cocotte en Carton », who draws herself all details with flair. She had the idea to use seeds in stationery, with the lovely image to let Love grow.
Near the table, the lovers can seat next to the fire camp and the tepee made with bamboo and clear fabric, to enjoy the view and share a quiet and romantic moment.
Obviously, how to not fall in love with these pictures from the photographer Fanny Paris, who knows how to bring light on the details, on feelings between our two lovers and how to capture magical moments.
For this project, professionnals were on the same creative line, and it was a real pleasure to work with them
Beach inspiration wedding in Brittany Snapshot
Vendor Details:
Brides Dress: Kamelion couture | Stationery: La cocotte en carton | Grooms Outfit: Coup de Ciseaux | Cakes: La Petite douce | Make Up: Les coquettes de mercoeur | Hair: Salon de coiffure Anonyme | Transport: Serge Etienne | Accessories: Demi sel | Decoration: Les petits pots vanille céramique | Florist: élodie Bonnor décoratrice florale