Good Morning to your Trulovers!  I love that I am reading this blog this morning whilst enjoying a cup of coffee and enjoying our view over Lake Annecy, I could work like this forever!
Rounding off what has been an amazing real wedding week on French Wedding Style, today I am delighted to showcase Jenny and Richard's homemade wedding at Manoir de Longeveau near Cognac in South West France.  Like many couples Jenny and Richard organised their wedding from the UK by search for suppliers on the internet.  They enquired with a few places and eventually took a gamble and booked, without even visiting.
I would like to thank the team at Award Weddings for submitting this charming wedding.
Richard says "we flew out there in March, got treated like royalty. We knew we had then made the right decision!"
Jenny says "Julie the wedding coordinator there is just a star! We both cannot thank her enough for all she did for us. When we first booked we were asked if we were going to use a wedding planner and we did think about it.  But once we got looking into what we wanted and speaking with Julie it gave us the confidence to go it alone.  It is a lot of organising, searching and researching everything yourself, but I found it very rewarding planning it all ourselves and did most of it through e-mails of an evening.  If you don't have much time on your hands, I would recommend you use a planner."
For the wedding Jenny wore a dress by Ronald Joyce and called Patience. It was purchased from Bespoke Brides Mollington, in Chester. Her shoes were by Kurt Geiger.
Jenny bought her own make up as she was unsure if I would like the beautician at the venue.  She took lessons at John Lewis Chanel and ended up doing her own make up on the day. And now Jenny says : "I get to use all the make up again and again!"
Her hair was styled by Amanda Drew at French Belles. Jenny found her by searching the internet for English speaking hairdressers in the area.  "It is amazing what you find through a few searches"!
Adding a little thrift and personality, Jenny brought the bridesmaids' dresses from a local shop in Stockport. She then had them hand tailored at her local seamstress.
The flowers were done by Florist Pierre Benoit who was recommended by Julie at the venue.  They supplied the fresh flowers: the bride's bouquet, flowers for the aisle and the petals. Jenny was very impressed with the quality and value for money.
Bridesmaid flowers and table decoration flowers were made of silk. Jenny decided on silk as they were only in France for the weekend and she wanted to use them for our home leg party.  She purchased the flowers from a wholesaler Inspirations Bromborough, Wirral.  She just needed to cut the individual flowers to size and tied together with a green ribbon.  "I had a look on the internet for the type of look I wanted and then just followed that.  This was a real cost cutter!"
The table decorations were made of plain cream enamel jugs again purchased at Inspirations.  They were then given to family members as a present for their home and a little reminder of their big day.
The frames for the table names were purchased from a local shop. Jenny then spray painted herself to the same colour as the jugs.  "I made our wedding invitations myself from an idea I saw on Boho-weddings.com and I followed the same pattern by using the same card inside the frames for the table names."
The candles holders were made from food glass jars, like jam jars.  "Cleaned and cleared of labels, I then added brown string to the tops (to hide any screw parts) and made hearts and patterns all from hessian and lace.  Again to tie in with the invitations. I sauced all the decorations from ebay! Lace, Hessian, heart buttons."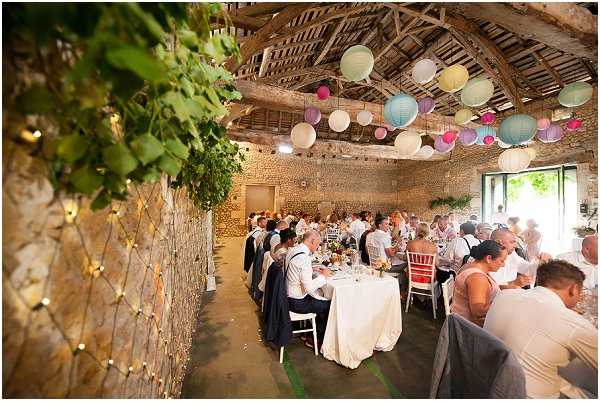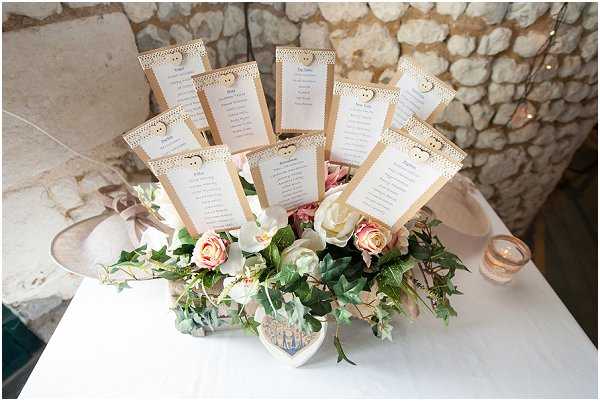 A little help from the family for the table plan that was made by her cousin.  This was made by using a cart or wine crate that Jenny already had, lining it with hessian and then filling it with a silk flower arrangement she put together.  She then used the same card as invitations and decorations used on the jars and stuck the table plans on kebab sticks sticking out of the flowers.  "I loved how this turned out.  Something very different but effective!"
The place names used the same Kraft ribbed card as the invitations, with a stamp used on the invitations and a white craft pen.
The Celebrant was Phil Fencott from Celebrants in France, recommended by the venue. "I could not of asked for a better celebrant.  From the very good communication beforehand to the way he delivered on the day.  He was very good and I would highly recommend him to anyone having a wedding in the area."
Wedding Suppliers:
Photographer: Award Weddings | Venue: Manoir de Longeveau | Wedding Dress: Ronald Joyce | Groom: Moss Bros | Florist: Pierre Benoit [email protected] | Celebrant: Celebrants in France | Entertainment: Caged |