Do I have a wonderful week for you on coming up on the blog!  Starting with today's magical wedding at Chateau la Grange in South West France for Chloe and Sidney.  Today's story starts in Paris in Spring 2011, when Chloe visited the city and got swept off her feet by Sidney. After returning home to Southern California, this transatlantic romance continued to blossom.
One year later, Sidney enlisted the help of Chloe's family and friends to plan an elaborate surprise  proposal. Unbeknownst to Chloe, Sidney flew to California and set his plan into motion. The family had made arrangements at a lovely French restaurant in the heart of Santa Monica for a special dinner, and Sidney entered thru the back doors to await his cue.
When Chloe took her seat, her sister-in-law handed her a card from Sidney. This love letter led her to a nearby table where a bouquet of flowers were waiting. In her confusion, she walked slowly over to the bouquet and turned back questioningly to her family….at that moment she was stunned to see Sidney on bended knee, holding a little velvet box!!! In between the tears and kisses, she said 'OUI'! Now the excitement of planning the wedding began.
The team from Glam Flash Photography were there to capture the day:  "Chloe and Sidney made the decision the wedding would take place in France, because after all this was where they met and fell in love and be their future home. Chloe had a vision for her dream wedding: timeless, elegant, with a modern 'GLAM' flair.
French Wedding Style – Photography © Glam Flash Photography
Pouring over bride magazines and websites such as Pinterest gave her much inspiration. She shopped for and chose her dress, and many other details & décor close to home in California, carefully packing them into a very large suitcase which would accompany her to France. The groom's family who lived near the city of Bordeaux, helped to make many of the local arrangements. Their participation proved to be invaluable.
At an LA boutique, she found THE dress she had been fawning over in a magazine. Her gown was made of ivory lace, with a fitted mermaid silhouette and finished with a diamond belt. In her hair she wore a handmade birdcage veil coupled with a vintage diamond brooch and blush feathers. Her shoes were a peep toe pump covered in a polka dot tulle, adding a touch of playful elegance.
Completing her look, she donned her late great-grandmothers vintage necklace, a precious nod to her memory. The groom sported a 3-piece black suit purchased in Paris, accented by an ivory silk necktie. The bride surprised him with a pair of cufflinks, hand engraved with their signature and flirty "XO". A pair of polka dotted socks and sleek European made shoes finished his debonair look.  Together they made a gorgeous couple! GlamFlashPhotography had the pleasure of photographing their bridal portraits, as they graced the grounds of Chateau la Grange.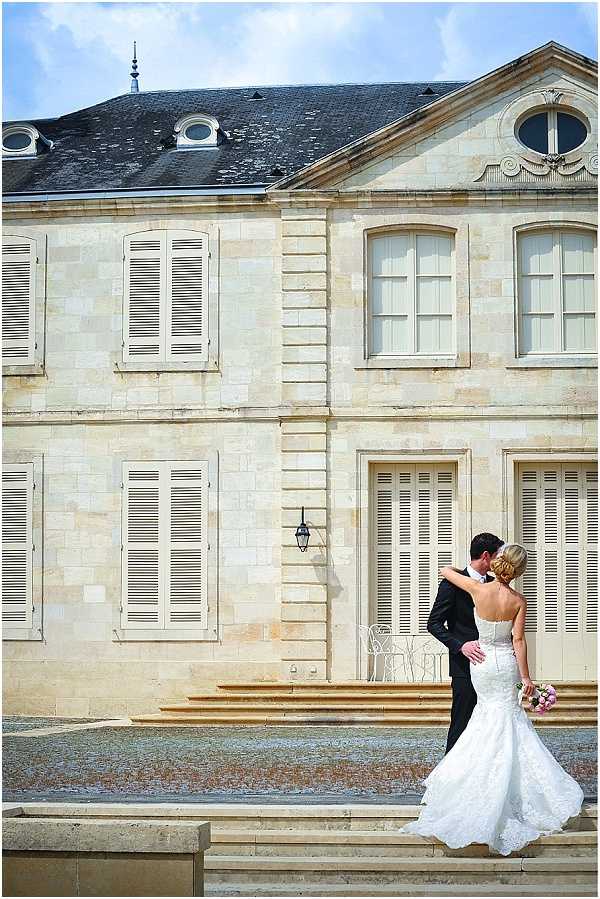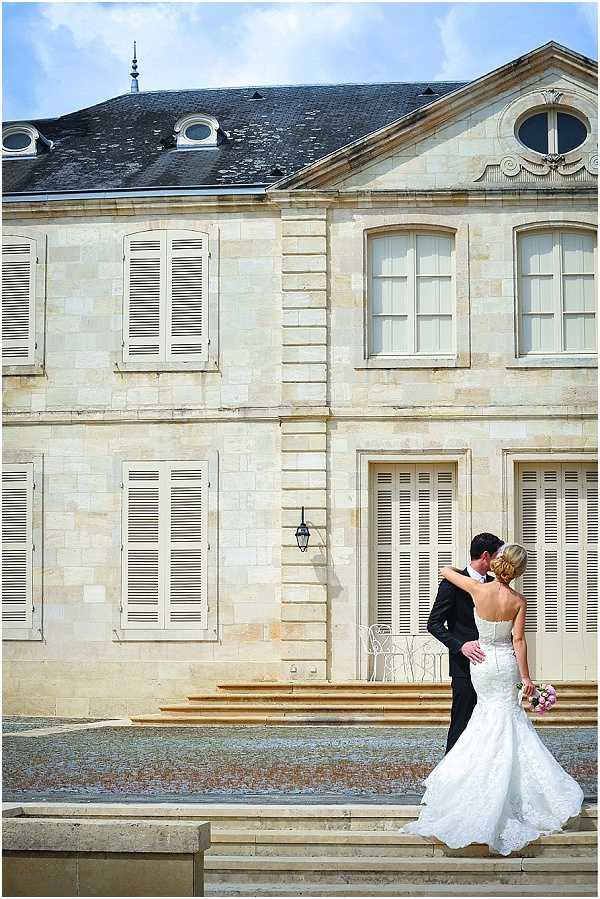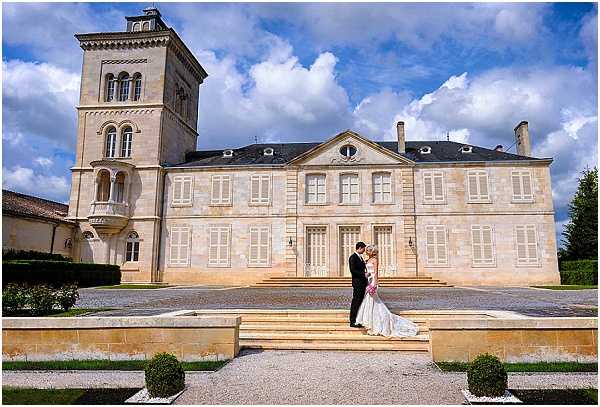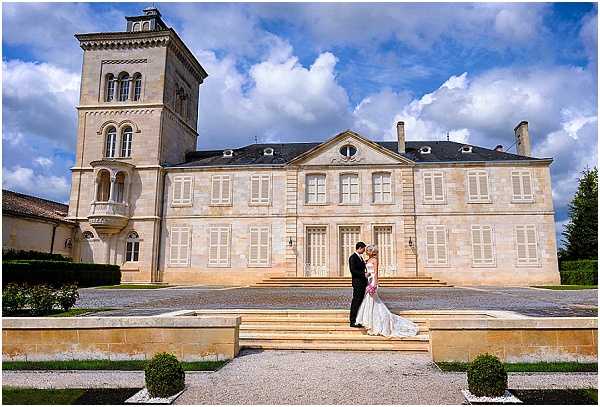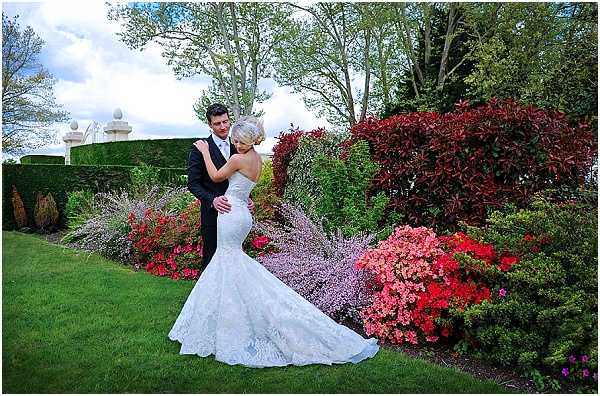 The day of the wedding was spectacular! A gathering of friends & family from both near and far. Over 30 dear to Chloe flew across the pond for this most precious day. The celebratory mood was set with candlelight and bouquets of anemones and blush pink peonies.
Tables were decorated with tea stained sheet music, sparkling diamonds to catch the light and of course LOTS of wine glasses!!! The evening stretched in the wee hours of the morning, as guests enjoyed fabulous French food and wine…while dancing the night away."


Wedding Suppliers:
Wedding Photographer: GlamFlashPhotography,  // Wedding Venue: Hotel de Ville de Castelnau de Vertheuil-en-Medoc // Wedding Reception Venue: SalleCommunale de Vertheuil-en-Medoc // Wedding Dress:  Enzoani, Wilshire Tuxedo & Bridal Salon // Bridal Accessories:  Birdcage Veil: Stitch from the Heart (Etsy), Rhinestone Necklace-family heirloom, Fur Collared sweater-Vintage // Bridal Shoes:  ModCloth // Florist : Arrangements provided by family & friends from a local french flower market // Hair and Makeup Artist:  Bride did her own makeup, hair done by a family member // Bridesmaids Outfits: TadashiSoji : Macy's // Grooms Outfit:  Suit: Izac purchased in Paris //  Grooms Shoes and accessories: Shoes: Clerget, Necktie: Tie Bar, Polka Dot Socks: Nordstrom Rack, Cufflinks: Lisa Lehmann (Etsy) // Caterer: MmeBurrelleLaetitia (traituer) // Wedding Cake: Family friend // Wedding Favours:  created by bride, portrait magnets from GlamFlashPhotography // Stationery & Invitations:  Custom design by: GlamFlashPhotography // Wedding Band/ Entertainment:  DJ-Family Friend // Wedding Celebrant/Officiant:  Joel Otta (Uncle) // Transportation/ Wedding Cars:  Vintage Citreon // Wedding Decorations: Linens: Souchon Reception, Libourne // Bridal Portrait Location:  Chateau la Grange: Saint-Julien-Beychevelle, France