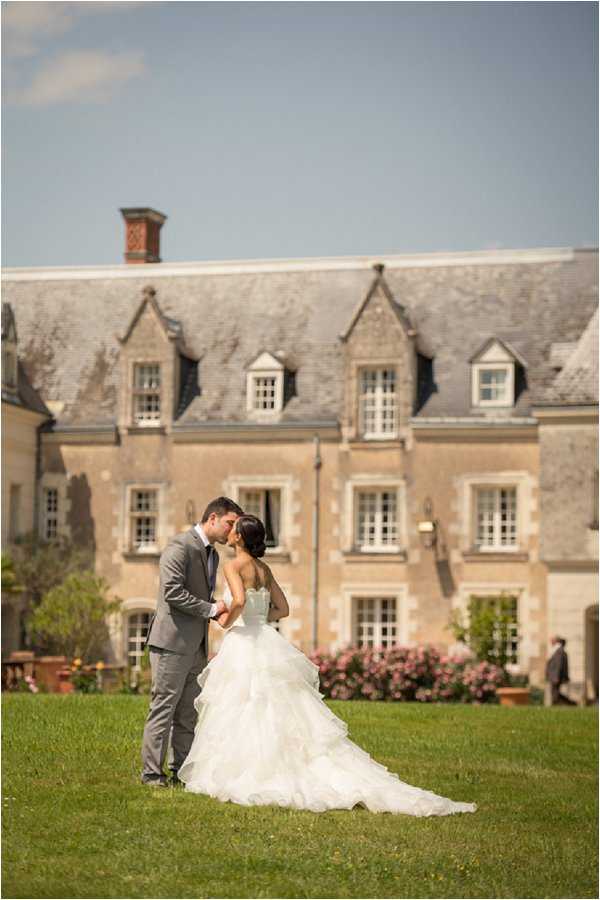 What better way to take us into the weekend than a real fairytale wedding at Chateau de Razay in the beautiful Loire Valley.  Today's couple Robin and Pierre, their love story starts at a house party in San Francisco, survived a long distance relationship across the Atlantic and today we get to share in their romantic French wedding.
When it comes to castle weddings, it really is the chance to style your bridal ensemble to that of a queen of the castle, and that is exactly what bride Robin did in her stunning Rosa Clara wedding dress. The detailing is exquisite and I am in LOVE with the beautiful tiered skirt.
Thank you to Lindsey of Pictours Paris Photography for submitting and sharing this wonderful wedding.
Bride Robin takes us through their love story:  "We met in San Francisco at a house party. Pierre was visiting SF with his best friend when we met at the house party. My friend knew the host throwing the party, and Pierre's best friend also knew the host of the party. Needless to say, we met randomly at the house party through mutual friends.
When we met at the house party, there was this instant connection and mutual attraction we had for each other. Pierre asked me out for a date for that weekend, and we exchange numbers to meet on Sunday for drinks. We decided to meet for drinks at a French place called Cafe de La Presse, and ended up having dinner there since the date was going so well.
We then spontaneously decided to go to karaoke after dinner. It was a nice date, but we both knew that it had to end at some point. Pierre had to fly back to Paris to go home, and we kept in touch everyday since he left San Francisco.
After 6 months of long distance dating, Pierre decided to move to SF so that we can be together and live in the same city. Later that same year, we got married at City Hall in SF for the civil ceremony, and had our formal wedding in France a year later.
We choose to get married in France as Pierre's relatives are in France, and we wanted to have a wedding there to celebrate with his family and friends that could not be there for our US wedding in SF.
In addition, France is such a beautiful country, and I always dreamt of having a wedding there someday, so that was another reason why we decided to have a French wedding.
We were looking for a château wedding with a French countryside theme, and decided to go with our venue we chose, Château de Razay, because the owner was really nice and easy to work with. In addition, the cost of the venue was within our budget for the wedding, so that was another contributing factor. We had also heard from friends that they had great experiences with the venue either as a wedding guest or getting married there. 
We chose the French countryside/Castle wedding theme, so we planned our wedding based on that concept. We got ideas from Pinterest, French Wedding Style and Pictours Paris.
Pierre's mother and sister helped us plan our wedding, since they were physically in France to meet with suppliers on our behalf in the beginning stages of planning. They both knew suppliers in the Loire Valley region, so we relied on them to help provide suppliers to us to choose from.
I chose a Rosa Clara wedding dress based on a picture I found on a French website. It was the first dress I tried on at the bridal shop in SF, and I knew it was the one instantly. I did not try on any other dress after that! The grooms bought their own suits based on the color we provided to them. Our colors were grey and red. The bridesmaids and grooms wore gray.
Our outdoor wedding ceremony started at 4pm in the afternoon. It was a warm, sunny summer day in June. There were 100 guests in attendance, and the cocktail session proceeded immediately after the ceremony within the garden. The cocktail lasted about 3 hours, and then everyone proceeded into the dining room for dinner, which lasted a while.
After the dinner, we cut the cake and served it to our guests just after the cheese plate entree. Then, the guests danced the night away until 7am the next morning. 
Although we were planning a wedding in another country surprisingly, there were no issues in planning our wedding in France. Everything went smoothly, so we were happy about that.
Our advice book your venue at least a year in advance. Once your venue is booked, and you have a date selected, everything else will fall into place. The second thing that you want to take care of right away is booking the caterer.
We had our honeymoon in Royan. Royan is beach town in France. We drove from Tours to Royan for our honeymoon. We booked a hotel by the beach and just relaxed at the beach while we were there. We also walked around, checked out some local restaurants, and explored the city for a few days. It was very relaxing and romantic."
Wedding Suppliers:
Venue: Chateau de Razay | Photographer: Pictours Paris | Wedding Dress: Rosa Clara | Bridal Shoes: Aldo shoes | Florist: Tour Flower Market | Bridesmaids Outfits: Jasmine | Wedding Rings: Devons Jewelers | Honeymoon Accommodation: Hôtel Cordouan |