We are taking you to the picturesque Var today in the south of France for a wedding at Château Les Crostes.
Our sweet couple along with their daughter tied the knot in an emotional outdoor ceremony with their friends and family by their side!
We love the floral arrangements created by Ricci Floral Creation and our brides couture Pronovias gown. Walking us through their big day is wedding planner Laetitia Caroline…
Anne & Thierry's wedding is a passionate love story; It is the love story of their life, of their second life. They are a loving, lively, simple couple, with an incredible kindness. Four years ago they married civilly, with their little girl and their witnesses, and then they promised to celebrate their love with all their loved ones a little later. It took them 4 years to make this dream come true, with a part of immense magic: they said yes again exactly 4 years after the first time.
To celebrate this beautiful day of love, they chose Château Les Crostes, in Provence, in the Var, a real cocoon, a magnificent castle with beautiful outdoor spaces, a sublime swimming pool (which they were happy to enjoy the next day for their brunch), and above all 11 beautiful and large rooms to accommodate some of their guests.
As far as the design was concerned, they expressed their desires, and left Laetitia Caroline and Ricci Floral Creation, carte blanche to realize what they had in mind, so much so that they trusted all those they had chosen to accompany them. A few notes of powdered pink, pretty foliage, a few touches of gold, and the designer imagined and realized a decoration visibly up to their expectations and even more given their reaction: they fell into our arms!
To capture the images of their beautiful day, they surrounded themselves with a nice duo of service providers who often worked together: Sarah Stefani , a renowned photographer in the region, with an unequaled gentleness and a definite talent: she captured part of their report with silver film – that only rare photographers master – and the result of the images is of an undeniable gentleness, just like this beautiful day.
Jino Agnelli, their videographer, was able to capture all the important moments for them, and to make a film to allow them to keep forever the memories of this date of August 17th so important to their lives!
At the beginning of this beautiful summer day, it was the beauty pageant team who offered Anne a moment of relaxation to start the preparations. She was then able to put on her sublime and original Pronovias dress with its large flowers embroidered on the lace, which she had chosen a few months earlier with the help of the wonderful Martine Toledano, who runs a boutique in Nice full of wonders for future brides. Thierry also dressed himself in another room of the Château and their guests arrived on the spot as they went along. Then around 5pm, I had their guests settle in, and their secular ceremony began: Thierry discovered his wife and daughter at the same time as all their guests: what an incredible moment of emotion!
After all these emotions and a few souvenir photos, they opened their cocktail and toasted with Champagne for the rest of the evening, which went off in the best possible way: with a lot of love, laughter, celebration.
I had the chance to accompany Anne & Thierry for a few months in the organization of their wedding. They are a close-knit couple, deeply in love, caring, endearing, which I will particularly remember.
Being a Wedding Planner means having the chance to immerse oneself in beautiful stories and to accompany the couples of future brides and grooms to the realization of their dreams, but that it is also a job where the human and the sincerity of the emotions sometimes makes us make magical encounters that mark us forever. To life, to Love, to you!
Congratulations Anne and Thierry from everyone here at French Wedding Style!
For even more Château Les Crostes wedding inspiration check out this:
Wedding at Château Les Crostes Provence Snapshot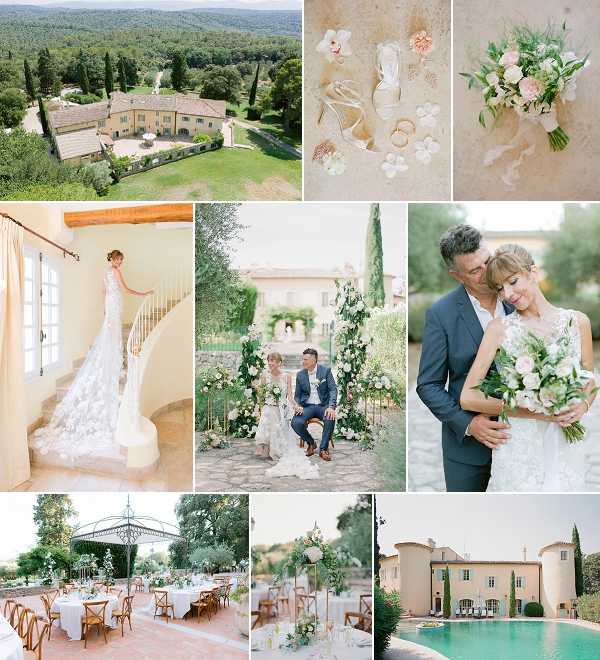 Wedding Vendors
Planner Laetitia Caroline | Venue Château Les Crostes | Photographer Sarah Stefani | Second Photographer Costi Moiceanu | Videographer Jino Agnelli | Florist Ricci Floral Creation | Stationery L'Art Deco Event | Catering Star Evenement | Assistant Wedding Planner Manon Zucca Wedding Planner | Rings Edenly Jewellery | Groom suit De Fursac | Bow tie Le Colonel Moutarde | Bride Dress Martine Toledano Pronovias