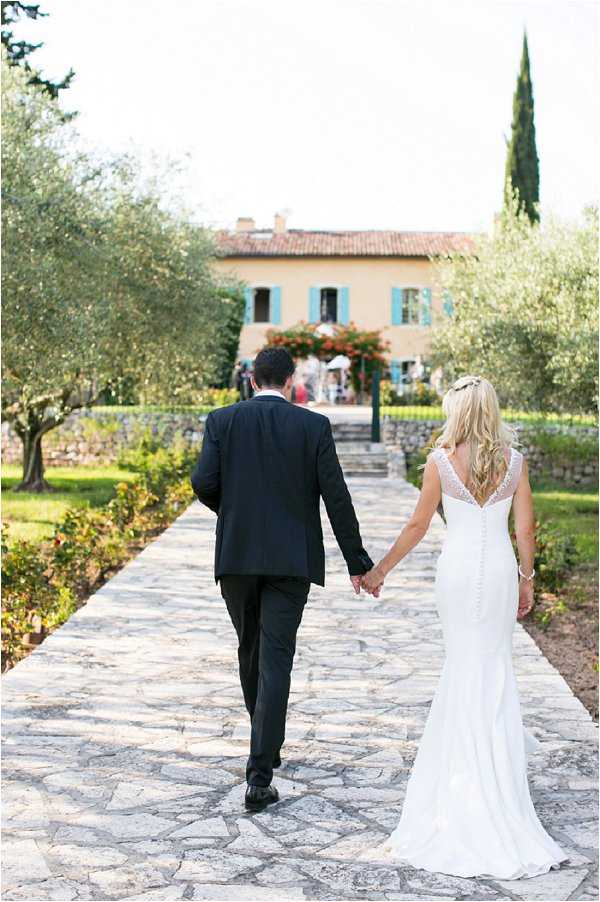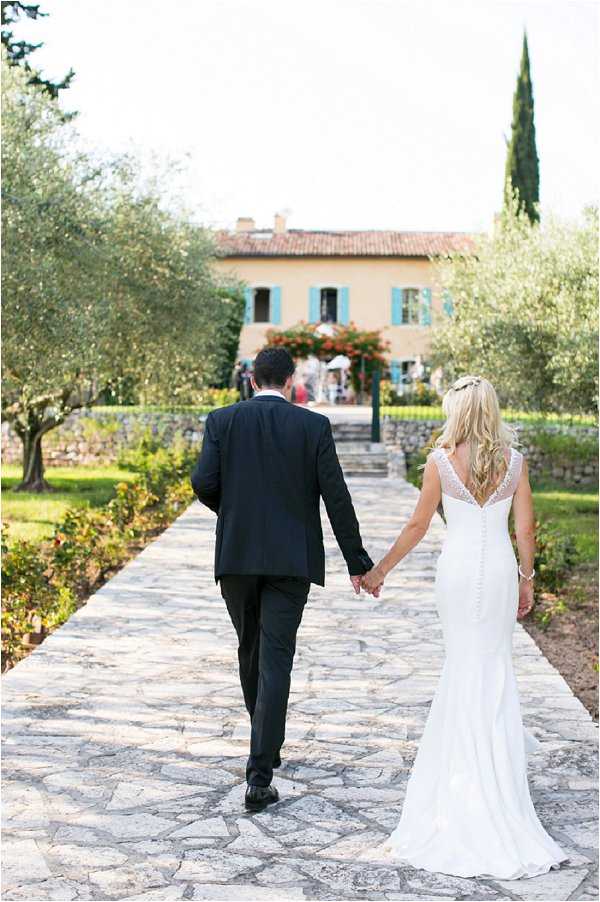 So we are carrying on Provence week with a glamorous wedding in the hills of Provence planned by Elian Concept Weddings and Events and captured exquisitely by Anneli Marinovich Photography.
Our real couple Keri and Mark chose the idyllic Chateau Les Crostes tucked away in the forrested hills of Provence, surrounded by olive trees and vineyards for their dream day.  There are many beautiful venues in Provence, but I love how the architecture and vibrant colour scheme of Chateau Les Crostes bursts with life.
Bride Keri takes us through their love story and big day: "Mark and I Met I met in 2011 – in a pub in Clapham. Mark was a down to earth Welshman and I was immediately drawn to his dry sense of humour and extremely caring nature (despite being initially put off by a slight lack of romance!). He proposed 18 months later in a swanky London hotel.
 It'd always been my dream to get married in France having spent all my childhood holidays in Provence and having lived in Aix-en-Provence for a while. Mark was also sold on the idea of a sun-filled, holiday-style wedding where people could really relax, let their hair down and enjoy the whole event rather than just one afternoon.
We went out as a family to look at a few venues in Provence but Chateau les Crostes won us over instantly with its breath-taking setting, views out over the vineyard and warm and lived in feel.
We knew we wanted a relaxed yet elegant theme with emphasis on the glamorous location, amazing food and wine, and most of all fun so we decided on black tie to really dramatise the occasion and get away from the floral English wedding tradition.
Fabienne really helped me to visualize this theme with the simple chic style and I then worked with Suzanne Neville to design a bespoke dress which was an amalgamation of a few of her dresses. I went for Glamorous Jimmy Choo shoes and chose Dessy dresses for the bridesmaids all in different styles but in the same dove (silver) colour to tie in with the simple glamour theme. Mark had a Hugo boss suit and the guests were all asked to come black tie. Hair and makeup was harder to find as French style tends to be 'fussier' but Fabienne helped to find a great lady who helped me get the 'Bobby Brown' look.
We went for a sit down dinner (4 courses) and the food was amazing. I wanted something that was elegant rather than rustic so we did have to shop around a bit but you can get excellent value for money for both food and wine in France. Our wine was from the chateau and was amazing – we bought loads back and so did the guests – lots of people said it was the best rose they'd ever had!
It really was the most amazing day – only sad thing was that the dinner and speeches went on so long we ran out of time to cut the cake!
We did a mini moon in St Tropez and then St Paul de Vence. The Toile Blanche in St Paul de Vence is fantastic – an amazing small boutique hotel.Full honeymoon coming up in Sri Lanka and Maldives – can't wait!
Fantastic experience. Wouldn't hesitate to do it again – all the suppliers were amazing and I really don't know why more people don't get married in France!"
Fabienne Slater from Elian Concept says of Keri and Marks wedding: "Chateau Les Crostes is a hidden gem surrounded by olive trees and vineyards. A luxurious, though unostentatious backdrop for the refined and minimalist wedding that Keri was dreaming of and a real treat for me to design her day.
We worked on an all-white decoration theme with gorgeous orchids and elegant hydrangeas and discreet touches of silver grey to complement the bridesmaid dresses. Glamorous, yet modern details were added with pearls and diamonds.
We were keen to make the most of the beautiful grounds and despite a stormy and rainy start to the week (yes, it does happen, even in the summer in Provence), we were blessed on the wedding day by the most wonderful weather and a stunning blue sky.
Thus, the ceremony was held as planned under the trees and Keri, Mark and their guests were able to enjoy an outdoor evening party on the terrasse. A perfect end to a fabulous day."
Wedding Suppliers:
Wedding planner: Elian Concept Weddings & Events| Photography: Anneli Marinovich Photography | Wedding venue: Chateau Les Crostes | Celebrant: Rev Anne Naylor | Dress: Suzanne Neville (bespoke) | Shoes: Jimmy Choo | Groom's tux: Hugo Boss | Music /entertainment: Azur Entertainment | Catering: Entre Amis Traiteur | Flowers: CL Artisan Fleuriste | Table plan, names & menus: The Finer Details | MUA: Fiona Grosso | Hairstylist: Sabine Domenech | Marquee: Projets Events