Good Monday Morning!  How was your weekend, what fun and fabulous wedding planning activities have you been up to?  I have another inspirational week for you, starting today with a fun Village Fete themed wedding in Provence at a beautiful rustic vineyard.
Nicole lived in London & Guillaume lived in Paris and met by chance one night in a club.  After 2.5 years travelling backwards and forward on the Eurostar between the two cities, the couple settled in London and on a surprise trip to New York in 2012, Guillaume popped the question in a restaurant in Madison Square Garden.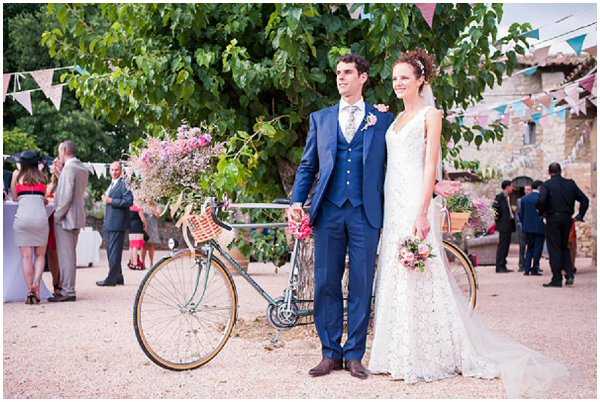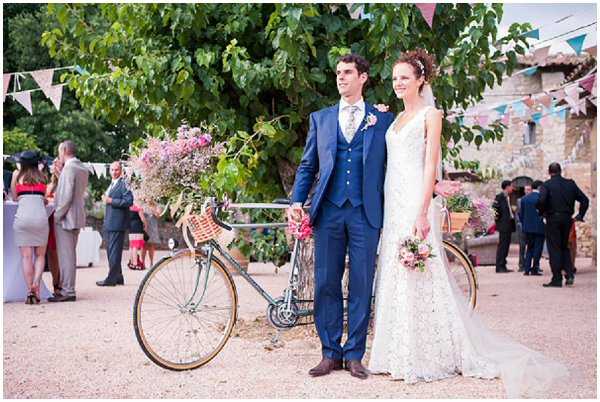 The newlyweds talk us through the journey for planning a wedding in Provence.  Nicole: "My family is from Birmingham in the centre of the UK, Guillaume's family is from Clermont-Ferrand in the centre of France – neither are particularly easy to get to from the other country! We knew we were always going to hold the wedding in France, as Guillaume has a bigger family and the best man's family run a vineyard in Var, Provence – only an hour away from Nice (easy to get to from the UK) – it was ideal! Once we first visited it, we completely fell in love with it.  We didn't even consider anywhere else.
"When it came to the style of the wedding, we wanted to create something relaxed and fun, that reflected us, our two cultures, and that fitted with the beautiful rustic vineyard surroundings. We tried to create a day that was very 'us' using a mix of both English and French traditions – it was less formal than most English weddings and a tad more formal than many French weddings we have been to. 
I am a massive fan of bunting and we both are quite serious cyclists – we knew we wanted to include these things and bicycle ideas, and so once found some stationary which incorporated both of these elements, we built the decoration for the day around that! We built the table plan from old bike wheels, hung up loads of bunting and string lights, found a tandem stamp which we used to make people's place settings and even found a vintage tandem, which we've kept! We and our families made a lot of decorations, including the favours, by hand, to try to include everyone make this a true family event was very important to us– and it helped reduce costs!
The whole thing was meant to make people to feel like they were at a village fete – from the bunting, to the meadow-style flowers and all the little handmade touches which we tried to include, we even hired a local group who played very lovely French fete music which really added to the jolly atmosphere at the cocktail hour! The next day we pulled all the tables and chairs outside into the courtyard under big umbrellas and brought in a hog roast, pizza truck and ice cream van – it was so much fun!
The first supplier we decided on was for stationery. I came across inthetreehouse.co.uk when I was googling 'bunting and tandem bicycles'! We adored the work they did – it was completely original, and not remotely stuffy and traditional. We were immediately sold.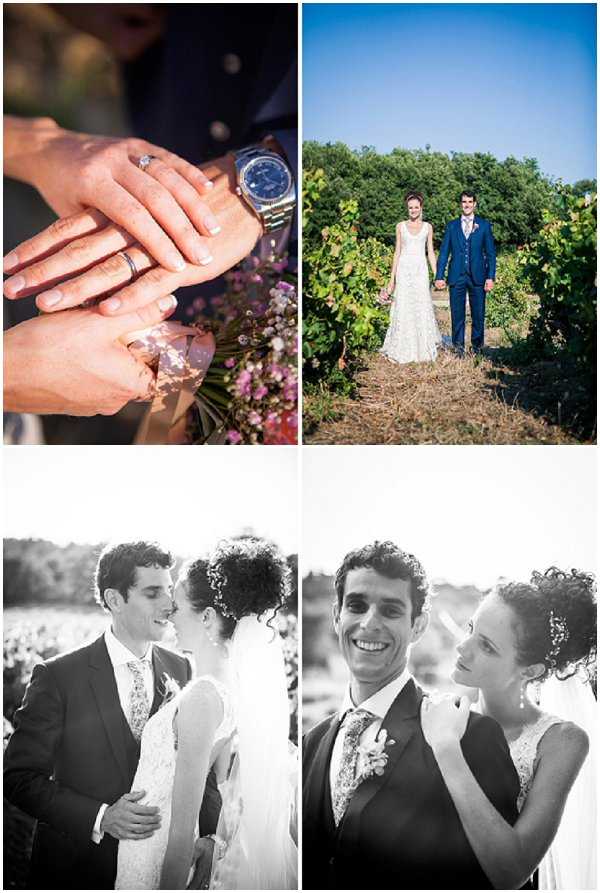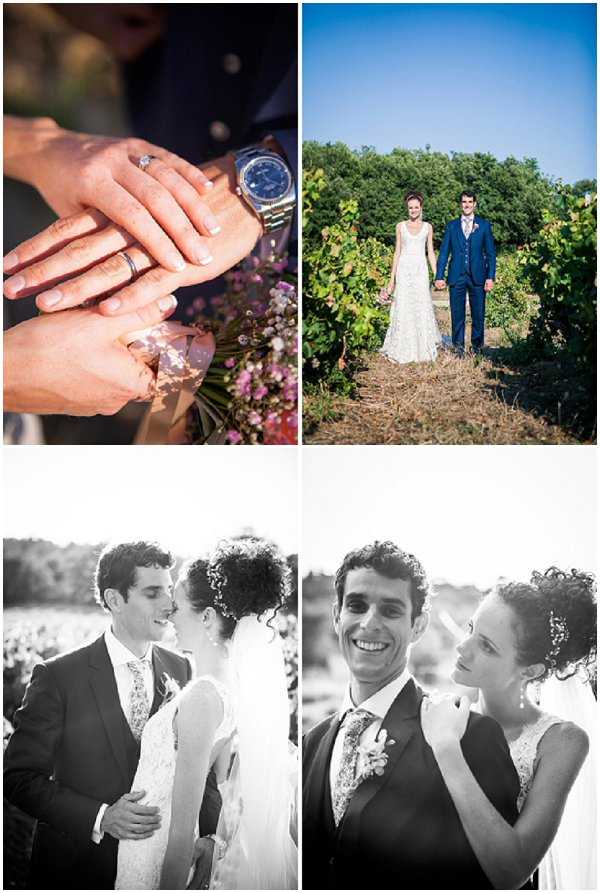 I then found our photographer Matt through search in wedding blogs.  He was exactly the style we wanted reportage, not posed or too formal.  We had an engagement shoot in the freezing cold in Brighton in March- the photos were incredible, we knew we had nothing to worry about for the big day and we were completely right- we have had so many compliments on his wonderful photographs!
I'm not much of a dress person normally, and I had no idea what I wanted when I started looking- I only knew what I didn't want: nothing strapless, nothing satin, nothing shiny, nothing bling-bling!  I tried on my dress in the first shop I went to and completely fell in love with it. It was everything I hadn't realised I wanted – simple, lace, champagne coloured. I was relieved –I wasn't much of a fan of dress shopping!"
Guillaume:"I had a bespoke suit made by Choppin and Lodge, a boutique tailor in the City. Richard immediately saw that I was a cyclist and designed the suit taking this into consideration. He had plenty of good ideas to make the suit that extra special, and although I could not rival the bride's beauty, I still had many compliments on it! I had a bespoke shirt made by Emmett in the City as well, which was definitely a great idea, a tie from Liberty to stick with the relaxed atmosphere and tri-color braces from Albert Thurston – I am French after all! These took a while to find but everyone loved them on the night!"
Nicole: "The day itself was incredible, after all the stress of the week (and months) before, I couldn't believe how wonderfully everything went.  The decorations inside and out looked better than I even imagined when I was planning everything! I'll never forget seeing Guillaume burst into tears when I walked down the aisle and immediately seeing my friend wearing a massive bright red bow tie, which made me laugh so much I didn't cry myself!
The journey from the church to the reception in the vintage 2CV was awesome, with a massive procession of cars beeping and honking the whole way there – it was nice just to have a few minutes to ourselves too!
The wedding was on French timing rather than English timing, meaning it started late and finished even later!  In fact, the number of French 'skits' and speeches, meant we didn't have our first dance till about 1.30am! The dancing was still going strong at 4.30am when the bus arrived to pick people up…! It was all over way too fast and having a brunch on the Sunday meant that we could see people again in a more relaxed atmosphere and spend more time with each of them (even if most people had a bit of a tad delicate head!), which was very important given that everyone had travelled from so far away.
Issues with planning a wedding in France …… My French is decent but I'm not fluent, which meant that the intricacies of wedding planning and negotiations with suppliers were either left up to email or Guillaume.  It was frustrating at times when you're so far away to have to rely on suppliers who are not as used to responding quickly by email as you may hope!
We also got used to have to reconfirm with supplier time and time again and to learn to be patient with this process…"
Guillaume:"In France, weddings are seen as important, but we got the impression that not as much importance is put on them as in the UK. We had strong expectations on our providers and clear ideas of exactly what we wanted, the providers however, were clearly not used to being told what they had to do in such fine detail.  We checked in with our providers several times in the few months leading up to the day, but in the final week it seemed that every provider had forgotten about what we had asked them to do and reverted to their original ideas, which meant we had to re negotiate various times! It all worked out in the end, but it was another proof of the culture differences!"
Nicole: "My advice for couples planning their wedding in France – I made a scrapbook of ideas to bring with me when meeting suppliers in France: i.e. how I planned to decorate the venue, my flower ideas – this really helped to give an idea of the general atmosphere we wanted to create and was invaluable when my vocabulary ran out!  Especially as Guillaume wasn't any help at all when it came to describing flowers! It was however very useful having someone who is fluent, as language can be a serious issue.
Make the most of the French style of doing things and the fact that people have travelled all that way to celebrate with you!
And most importantly, check multiple times that providers have understood exactly what you want to avoid bad surprises on the day. Keep a record of what is agreed each time, which means it's easy to remind providers what has been agreed. 
We checked in with our providers regularly over the few months before the wedding, but still had problems in the final week. We spend our lives working with checklists and spreadsheets with our jobs, so we treated it as yet another deal to be closed – we had lots of spreadsheets and lists, which really helped to keep on top of everything. However, if neither of you speak French and fancy freeing up some time, it maybe worth getting a wedding planner that can facilitate discussions with providers and buy you time and peace of mind!"
Thank you to Nicole and Guillaume for sharing their wonderful wedding with us and Matt Guegan for submitting this truly beautiful wedding.
Is anyone else planning their wedding in Var?


Wedding Suppliers:
Wedding Venue: Commanderie de Peyrassol
Dress: Jim Hjelm Blush from Blackburn Bridal, London
Bridesmaid's dresses: J Crew
Groom's suit: Choppin and Lodge, London
Caterer: DV Reception
DJ: Success Events
Florist: L'art qui pousse
Photographer: Matt Guegan
Videographer: My Loveberry
Stationery: In the Treehouse
Band: Alain Biagioli and Stephanie Valentin