So you are newly engaged and trying to decide where and how you want to get married.  You have some ideas and start searching and researching and you heart is stolen by a dream wedding venue.  That is exactly what happened to Linn and Marius from Oslo whilst  looking for a French castle for their destination wedding in France,  having their hearts stolen by the fairytale wedding venue in Angers – Chateau Challain.
In addition to the stunning wedding castle backdrop, I am very fond of the old school top hat and tails look for a wedding, adding drama and a real sense of style and panache!
Bride Linn takes us through the planning of their wedding and the big day itself:  "It was my husband who wanted something different and suggested a vineyard or castle in France or Italy. Once he suggested it I started looking and was quick to go for his suggestion!
It didn't take much searching on the Internet to see that we definitely wanted to go to France. In Italy many of  the places seemed simple and rustic compared to France, where there were several beautiful castles that had that royal feel about them and made it so easy to imagine being a princess for a day!
After countless hours searching the Internet with the key words wedding, castle and France, we found several amazing places but were concerned on how our guests would respond to the idea of having to travel so far and having to spend extra money on getting to the wedding, compared to having it at home in Oslo.
We had kind of set aside the whole idea of having the wedding abroad, then somehow I came across Chateau Challain with the key words destination luxury. I knew instantly that this seemed to be the ultimate dream castle for a fairytale wedding, and despite our concerns we made a trip to see the chateau in January.
We were not disappointed as the chateau was more beautiful than the pictures! It was impossible to imagine having the wedding anywhere else after seeing it, so after some correspondence with Cynthia, owner and wedding planner, we booked the whole chateau for September 15th.
Cynthia organized absolutely everything; flowers, food, entertainment, hairdresser, makeup, photographer and she most probably could have arranged our clothes for us as well have we wanted it!
It took a bit of corresponding via emails to ensure that she got a good idea of what we wanted. It is a bit nerve wrecking not knowing how things are going to work out, and we were a bit sceptical as to how good the quality of services one can find in a tiny village in the French countryside.
Had we known how great she is at what she does, and how high standards she sets for the services she uses, we could have saved ourselves lots of e-mails and worries!
Pretty much everything on our wedding day was beyond perfect.
I spent the wedding morning "stuck" in our beautiful Romance suite getting ready with an amazingly good hairdresser and makeup artist, Maud and René. The photographer, Javon, also spent a lot of time in the suite taking pictures while we were getting ready, and his great personality made us all smile and have fun. As you can see he also took great pictures!
As the weather on Friday was overcast and quite cold, we were anxious to see how the weather would be on Saturday. And that too was perfect, with nothing but blue skyes and perfect temperature. So my husband spent most of his day in the gardens with his friends and some Champagne. Of course us girls also had some Champagne while getting ready!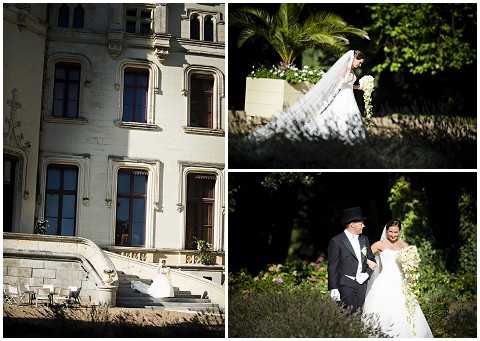 We had the ceremony in the Chateau gardens, the gazebo was beautifully decorated with butterflies flying around the flowers, one could almost think that they had been released there on purpose!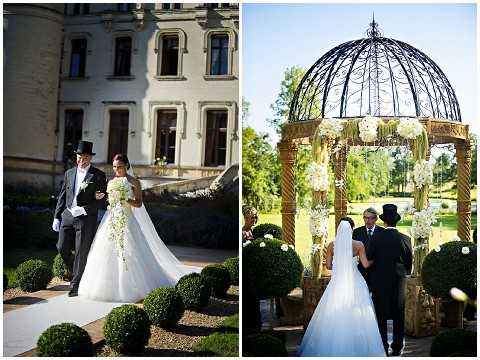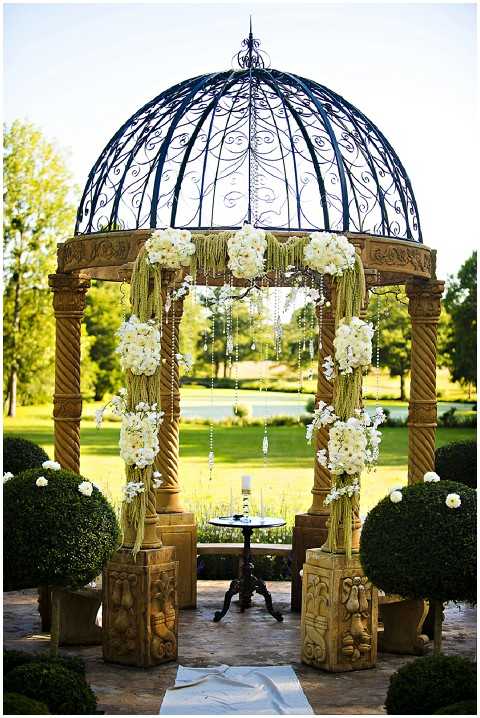 After the ceremony the guests were entertained by a jazz trio and were served Champagne and wonderful hors d'oeuvres while we had our pictures taken.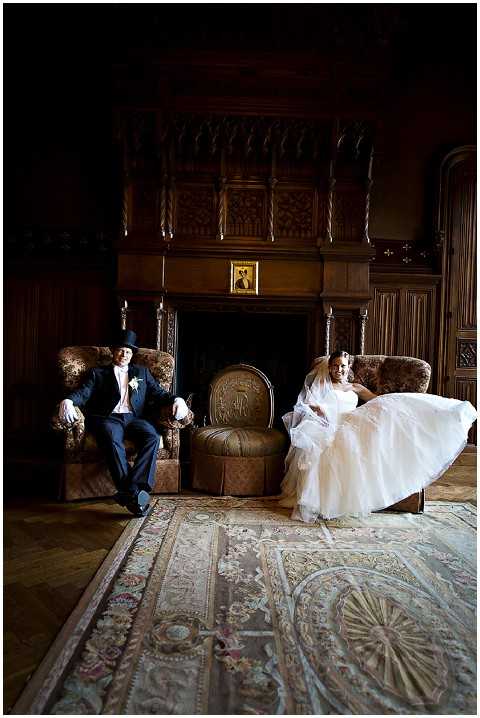 Although we didn't get a chance to properly hear or taste anything, we had great feedback from our guests, and when I saw the pictures from this I was disappointed that we had to take pictures!
After pictures were done we moved into the reception room. Although I had an idea in my mind of how I hoped it would look like, in reality it was more perfect than I had dreamed of. The moment we saw the room was actually the only time during the entire wedding were I really struggled not to fall completely apart with tears.
To me it was overwhelmingly beautiful, and a guest commented that everything was so magical that he expected to see Tinkerbell flying across  the room at any moment!
The rest of the evening was also perfect, we had different variations of salmon to start with, breast of goose as the main course and different cheeses instead of dessert, all prepared by the staff from Auberge de la dillegence. All the wine was from a local vineyard and went well with the food.
We then had the dancing in the large beautiful hall that was lit up wonderfully with a great DJ who managed to find pretty much all the songs requested. We had a a break to watch some fireworks before cutting the cake. I origanally sent a picture of two cakes shaped as a bride and groom, that I saw on theknot.com, but decided to go with only the bride at the end. Anyway that too was made perfect compared to the picture, and beautifully displayed by Cynthia.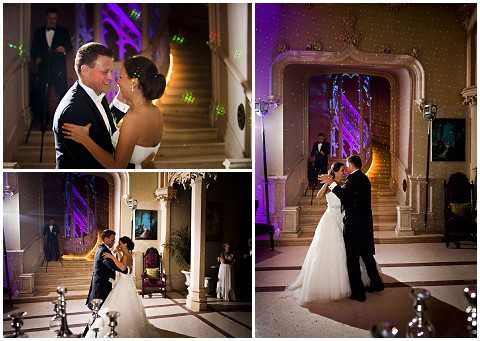 We kept up the dancing until 3 a.m, then we had norwegian hot dogs in the kitchen that we had brought with us a late night snack for those still awake.
We ended up the last ones to bed around 5.30 as we didn't want that perfect day to end!"
Such a beautiful and dramatic wedding, in terms of the backdrop, grooms attire and simply stunning attention to detail by Cynthia and the Chateau Challain team!
Monique xx
Wedding Suppliers:
Wedding Venue: Chateau Challain
Caterer:  La Auberge Diligence
Music:  Carfort Trio
DJ:  Sebastian
Photographer: Javon Longieliere
Flowers: Chateau Challain design and inhouse florist Jean Marie Voignier
Dress, veil and belt: Pronovias
Garter: Spurs Football Club
Grooms Suit: Frislid
Top Hat: Guerra
Hair and Makeup: Organised by Chateau Challain