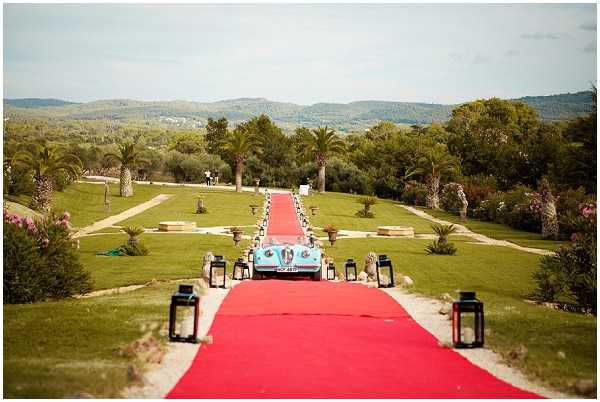 Hello Trulovers and for those back at work and enjoying French Wedding Style from your desks, welcome back!  Today's real wedding belongs to an avid French Wedding Style reader, so I am delighted to introduce you to Becky & Tony's vintage style summer wedding in Provence!
Becky and Tony decided to get married in France as they wanted their wedding to be both a celebration as well as a holiday and a big party reuniting their family and friends in a unique location. They chose Provence after falling in love with the food, wine and scenery whilst on holiday there.
Living in Dublin and with a very busy work schedule, Becky & Tony engaged the services of the team at "Un Grand OUI" to plan and design their destination wedding in Provence. With the help of Provence wedding planners Un Grand OUI, Beck and Tony designed a weekend celebration under the Provence sunshine at Chateau de Robernier.  The styling of the day included the most fabulous baby blue Jag that looks stunning amongst the Provence countryside, vintage styling including a old gramophone and enchanting Baby's Breath decorations.
French Wedding Style – Photography © Remi Dupac, Une Vie en Provence
Becky & Tony's wedding venue in Provence ticked all the right boxes for the couple. A wonderful mix of fairytale chateau and Provence vineyards,  a gorgeous courtyard where you can eat, drink and dance under the stars…it was exactly what they were looking for. With the rehearsal dinner and wedding ceremony both taking place in the nearest village, most of the 100 guests were accommodated in local B&Bs for easy access and facilitated transportation.
On the morning of their wedding, under a bright Provence sunshine, a chic Moët & Chandon breakfast was served in the Chateau followed by pampering, hair and make up for the wedding party. Becky was driven to the church by her father in a 1951 convertible baby blue Jaguar and escorted down the aisle of the 12th century church to the soft tunes of a local string quartet. The church was decorated with candles, lanterns, lace, roses and baby's breath, and flowers to match the bridal party's bouquets and flower girl head pieces.
After the ceremony, Becky & Tony drove back to the Chateau in their blue Jag through the beautiful Provencal country side, stopping to take photos among the ripe blue grapes of Provence's rolling vineyards. The couple joined their guests in the Chateau gardens for a champagne cocktail served with canapés, foie gras and pan-seared scallops and prawns.
Becky & Tony's wedding reception took place in the gorgeous Chateau courtyard decorated in a vintage style complete with fairy lights, lace bunting, candles, lanterns, antique bird cages filled with baby's breath and candles and chandeliers hanging from trees.
Bride Becky said: "Un Grand OUI even managed to find a fabulous antique gramophone for decoration! The theme was vintage books, as I am obsessed with literature, and tables were named after famous literary couples. Each guest received their own vintage hardback book, hand stamped with a note inside and wrapped in brown kraft paper with blue ribbon. They also received a little favour box with little bits and treats inside. Table centrepieces were old French vintage hardback books decorated with pearls, lace jars filled with more roses and baby's breath surrounded by vintage heart shaped confetti punched from the pages of used vintage books.
An exquisite five course wedding dinner was served, finishing off with not just one but three wedding cakes! A croquembrouche and macaroon tower complete with sparklers was served as well as a vintage style cupcake display."
Becky & Tony opened the evening celebrations with their first dance under the fairy lights and to the sounds of a live band. Guests were treated to another desert and cheese buffet later on in the evening, including a beautifully decorated "cheese cake" with baby's breath and lavender. A candy buffet, a vintage photo booth, a cigar bar, fingerprint tree and a vintage typewriter for guests to share their wedding advice all helped make the Becky & Tony's wedding reception unique.
The next day the party continued with a barbecue and pool party where buffets full of more Provencal food, local wine and cocktails were served. Relaxed and fun, there was a fantastic selection of fun food stations, such as a candy floss maker, an ice cream maker and a crepe station to keep sugar and energy levels up high!
Becky:"There are not enough words to describe what a beautiful and fantastic job the team at Un Grand OUI did for our wedding, except to say that even the most beautiful photos can't do justice to how amazing it all looked!"
Becky says. "Based in Provence, the team has amazing insider knowledge of the area and was able to arrange everything for us! Since we live in Ireland, it was such a relief knowing that they were on top of everything and we didn't have to worry about anything being in a different country with not much time to organise our wedding. We had the most wonderful experience and such fabulous memories of the day!"
Congratulations Beck and Tony and thank you for sharing your big day with us.

Wedding Suppliers
Photographer: Remi Dupac, Une Vie en Provence
Planning & Design: Un Grand OUI
Venue: Chateau de Robernier
Brides Hair/Make-up: Ylva Langenskiold , Carol Ray
Flowers: Sonia Alegre
Catering: La Truffe Noire
Cupcakes: Wedding Cakes by Pamela