The Aquitaine countryside is our destination this morning for the real life rustic Dordogne wedding of Juliette and Miles captured by Craig George Photography.
I hope that you all had a wonderful weekend and I am starting the week off with a wonderful rustic wedding, at the stunning Chateau de la Bourlie full of wild flowers and love all at an enchanting setting.   Juliette's Mira Zwillinger wedding dress is so fitting for an enchanting rustic wedding, the floral detailing echoing the wedding location and team with dusky pink and antique styled roses.
French Wedding Style – Photography © Craig George Photography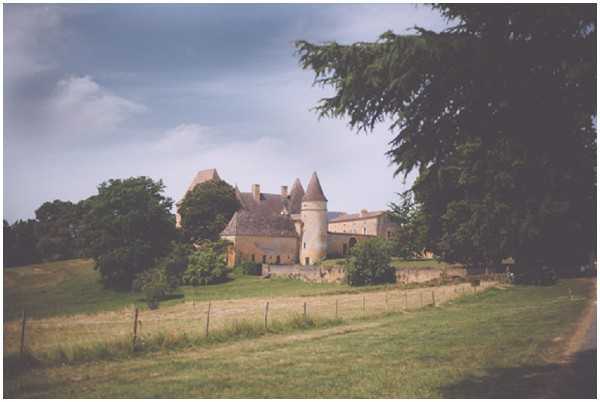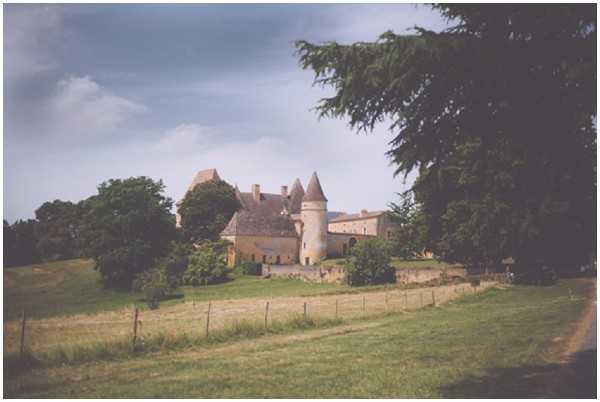 Bride Juliette takes us through their big day: "Miles and I decided we wanted to marry abroad and began trawling the web for venues.  We took a visit to France and met up with some wedding planners on the way who showed us some venues.  The venue we chose was one we found elsewhere but fell in love with, but we really liked the planners and decided to go with them. 
I would never have had a wedding planner had we done it in the UK but it was absolutely necessary to have someone on the ground in France who could help and Kate from Marry Me in France proved invaluable and wonderful.  From the moment of choosing the venue it seemed like there was an endless list of things to do.  Stressful but exciting
There was no real 'vision' or 'theme' other than it should be filled with people we loved and great food, great wine, great music and be relaxed and informal yet classy and high quality, reflecting us!

The wedding venue was a STUNNING chateau – Chateau de la Bourlie – in the Dordogne.  We chose it as it felt rustic yet refined, tasteful and in the most stunning setting.  It didn't feel too 'weddingy' either like some of the other venues.  And the owner was an artist who we both slightly fell in love with too.
My dress was an Israeli designer called Mira Zwillinger.  I fell in love with the dress online, it was the first dress I tried on, and I never really got it out of my head.  I wore my Grandma's diamond earrings that my sister wore on her wedding day.  Shoes were very boring.
Miles wore a light blue/grey suit from Reiss and some nudey pink shoes by Paul Smith that all his friends took the mick out of!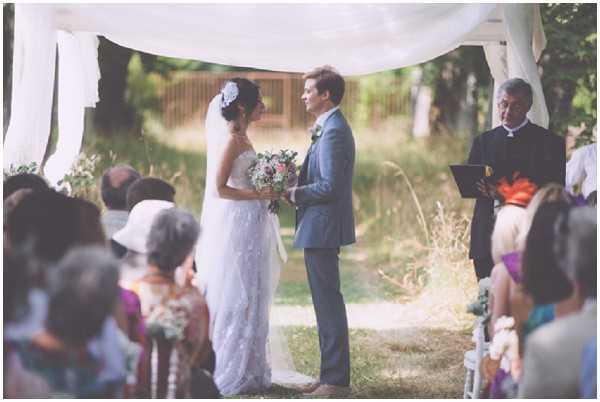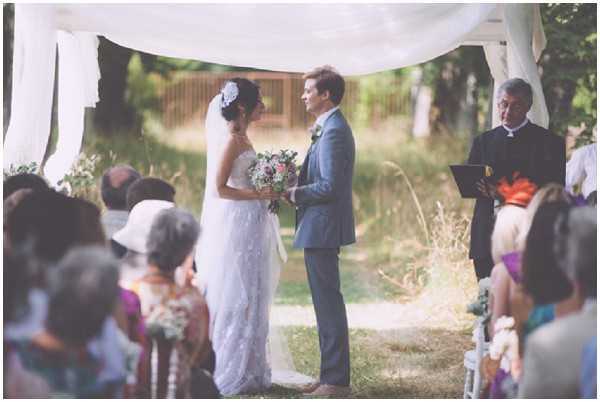 For the readings and the music, Miles' father wrote and performed a song for us as he is in a cabaret/comedy group.  We had a mixture of traditions during the ceremony as it was a mixed-faith marriage, so we didn't have any other readings
I wanted very natural flowers, wild-feeling flowers.  The chateau had its own rose garden so we kept to roses: antique roses, and eucalyptus and baby's breath.
The décor again we wanted to be kept simple, the most beautiful thing was the setting.  In fact the only real décor was for the evening we had lights and lanterns, which looked stunning at night.  Otherwise the flowers and all our beautiful friends made the place look lovely.  The main 'detail' was that for each of our place names we wrote everyone a personalised limerick, which took weeks, but was definitely appreciated. 
We picked elements of people's personalities or something they did or were known for, and basically ripped them apart.  It was touching.  We also had a fantastic jazz band who we'd found online who played at the ceremony, the drinks and the dancing.  They were amazing musicians and incredibly versatile.  Seeing as we were in France we wanted to something to complement the environs and something French was for us the way to go. 
The most memorable part of the day was …  all of it.  The ceremony particularly.  It was a humanist ceremony that we had created ourselves with the wonderful celebrant Colin Ward.  We didn't want anything too sombre, it was to reflect our characters, and be filled with love, humour and obviously tears.  We wrote our own vows that we didn't hear beforehand.  It took place in a clearing in the alley of trees, and a butterfly flew around us landing on each of us throughout.  We cried, we laughed, it was personal and inclusive and it was genuinely unforgettable."
Thank you so much to Craig George for sending in this wonderful wedding and Juliette and Miles for sharing their big day with us.  Congratulations!


Wedding Suppliers:
Photography: Craig George
Video:  ZEN Film Works
Band: Fred Dupin / Jazz Maniac
DJ: Justin Burley
Venue: Chateau de la Bourlie
Celebrant: Colin Ward
Wedding Co-ordination: Marry Me in France
Dress: Mira Zwillinger
Grooms Outfit: Reiss