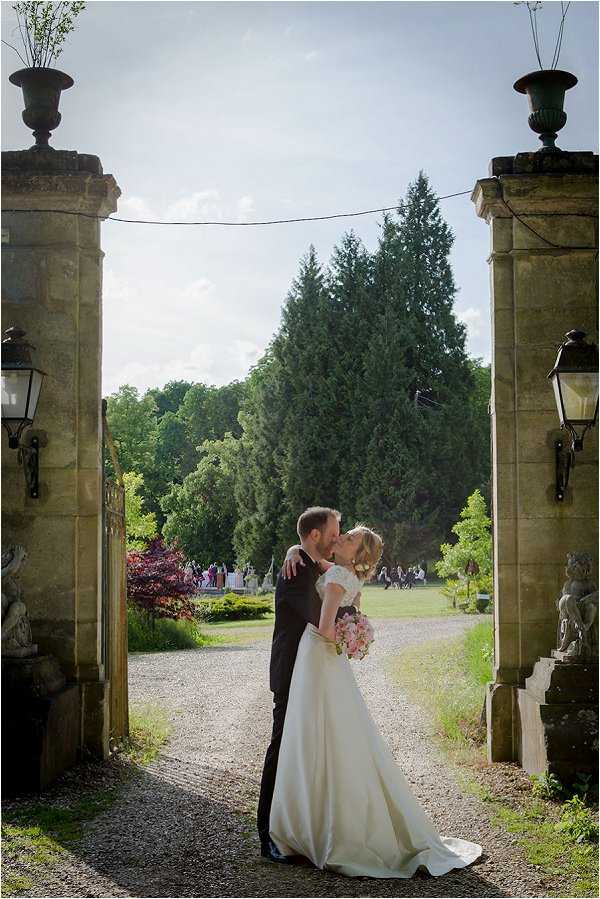 We are in love with today's couple Paulina and Håkon and their beautiful romantic real wedding at Chateau de la Bucherie, near Paris captured by Magdalena Martin Photography. From the brides timeless style and her delicate Pronovias wedding dress, to the captivating location for their wedding, this is one of our favourite classical weddings we have ever featured on the blog.
Bride Paulina talks us through their love story and big day:  "We got married at the beautiful Chateau de la Bucherie 30th of May, but our adventure in Paris began about three years ago when Håkon moved to Paris because of his work and we had a distance relationship for two years. Three months before Håkon moved back home he proposed in Paris so getting married there was a nice way to end our Paris story.
Prior to the wedding we visited several castles in the area around Paris and fell for Chateau de la Bucherie for its rustic and romantic charm and because it could accommodate overnight stay for all our 80 guests. We did all the wedding planning from our hometown Oslo. The nice couple who own the castle gave us tips on local caterers, florists, djs, etc and we could not have managed without their help. 
The wedding celebrations started on Friday evening before our wedding day when we hosted a mingle party on a barge on Seine called "Le Peniche Marcounet". We served a buffet with charcuterie and cheese and had a bar serving wine and beer. It was a nice way for all the guests to meet and especially good for us as we had a chance to be social with our guests.     
The dress is bought at "Kristins brudkjole" in Oslo. I had scheduled several appointments at other bridal stores in Stockholm and in Oslo. The second dress I tried at "Kristins brudkjole" was the one and I had to cancel the other appointments. I was very happy with my dress, which is from Pronovias and the jacket which is from San Patrick.
I wanted my dress to have a classical style in silk but with lace details. I struggled to find shoes, but when I tried on a sparkling pair from Jimmy Choo with open toe I could not resist them. They had the perfect heal and made a great finish to the outfit. After the dinner I slipped in to a pair of comfortable white ballerinas. The earrings are from a Swedish brand called Rose and Lily which has beautiful jewellery at reasonable prices. Håkon wore a tailor made black tie with shoes from Hugo Boss. 
The engagement ring that Håkon proposed with in Paris is from Cartier. His wedding ring is from David Andersen in Oslo and Paulina's wedding ring is a family ring that Håkon's grandma used to wear.   
As the colour theme for our wedding was pink and silver I wanted pink flower in my wedding bouquet. One on my favourite flower is peony so I wanted it in my bouquet. Our florist, Anna, at "L'Atelier Floral" did a fantastic job with my bouquet and rest of the flower decorations. 
Before our wedding we searched randomly on the internet for a Scandinavian photographer working in Paris. We decided to hire Magdalena Martin and we are very happy with the photos that she took during our wedding. She was incredibly service-minded and put a lot of efforts getting to know us and understanding what kind style we were expecting of the photos. 
A few months before the wedding we had a trying with two catering companies. We share a common interest for fine food and wine so we had very high expectations on the catering company, and the company we chose, Erisay, did not disappoint us in any kind or way. Before the dinner we served delicious cocktails together with our favourite champagne that we ordered from Roger Manceaux, which is a small producer that we found during a holiday in Champagne area some years back.
One of the highlight from the cocktail mingle was that we had an oyster bar where one server from the catering company open and served fresh oysters. The food and wine was delicious and after the dinner they surprised us with a champagne tower. We did not have a wedding cake but a dessert buffet with several different kinds of small desserts and a macaron tower. After the dinner we danced all night long and closed the party at 5 am. 
We are so happy with our wedding. It was far better than what we ever could have dreamed about. It was such a beautiful and memorable day filled with love and laughter. 
After all the guest travelled back to Paris after breakfast on Sunday we spent one more night at the castle just the two of us before we went on the perfect romantic honeymoon in Italy visiting the Italian Riviera, Cinque Terre, Florence and Tuscany."
Romantic wedding at Chateau de la Bucherie Snapshot
Wedding Vendors:
Photographer: Magdalena Martin | Flowers: Latelier Floral | Save the Date, Invitations and Thank You cards: Faire Part Creatif | Venue: Chateau de la Bucherie | Cocktail boat the day before: Peniche Marcounet | Wedding Dress: Pronovias | Wedding Dress jacket: San Patrick | Caterer: Erisay |
Champagne: Champagne Roger Manceaux | Rings:  Cartier and David Andersen  | Shoes:
Jimmy Choo  | Groom clothes: Hugo Boss