We're off to the famous Dordogne region for today's real wedding at a historic Chateau. Kate and James celebrated their wedding with the expertise of FWS vendor and wedding planner Marry me in France who helped our lovely couple create their dream day! There to capture all of their precious memories was photographer Antony Merat.
Kate looked stunning in her Charlie Brear gown which she wore with a pair of Emmy bridal shoes for the perfect romantic look. We'll now hand you over to our beautiful bride Kate who will be walking us through her historic Chateau wedding…
It's funny to think that what started as a brief encounter in an underground cocktail bar in London's Soho led to our fairytale wedding at a historic Chateau in the heart of one of the most romantic regions of France. We had been dating for several years when, during a ski holiday in the French Alps, James produced the most beautiful diamond ring from his pocket and asked me to be his wife. It took me a while to say 'yes' as I was so surprised (it isn't really James' style to plan anything romantic, so I think even he was a bit surprised at having managed to pull this off!).
I've always been a huge fan of all things French and we quickly began our search for a wedding venue across the country, settling on the Dordogne due to the huge selection of incredible chateaus, the amazing food and wine on offer and the chance to have an outdoor, relaxed wedding party.
We exchanged our vows in the huge and historic abbey of St Avit Senieur, with music performed by our friend and musician, Paul Thomas Saunders, and a folk band that had flown in from my home island of the Isle of Man. My dress and veil by London designer, Charlie Brear, really suited the romantic feel of the abbey.
The guests returned to our venue for the wedding party, which is a stunning venue surrounded by ancient woodlands. We had local crémant and canapés in the sunny courtyard filled with sweet smelling rose bushes and music from a local jazz manouche band. We had our confetti tunnel down the pathway to the big doors of the chateau courtyard that had remained closed up to this point. Our guests were really surprised by the grand reveal of the inside of this stunning venue, which shone magnificently in the spring sunshine! No one had known what was behind those doors, but everyone was amazed! This was one of my favorite memories of the day.
Dinner was served later in the barn, which was decorated in a very relaxed style with amazing fresh flowers and pastel colors.
We partied into the small hours, fueled by our traditionally French croquembouche and we ended the night with sparklers overlooking the candlelit swimming pool. Our photographer Antony Merat was with us all day and captured each special moment so carefully and subtlety and our wedding planner, made everything come to life in the way that we had hoped and envisaged. It was the most perfect wedding day in the most romantic of settings in France, if not the world!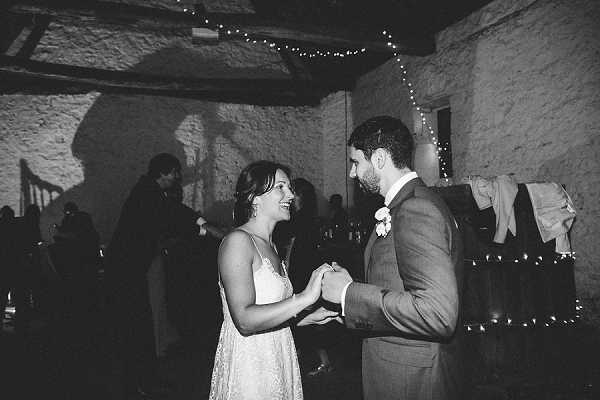 Congratulations Kate and James from everyone here at FWS!
For even more historic Chateau wedding inspiration check out this:
Real wedding at historic Chateau in France Snapshot

Wedding Vendors
Wedding Photographer Antony Merat | Wedding Planner Abs at Marry me in France | Wedding Venue Wedding Reception Venue – Historic Chateau | Wedding Dress Charlie Brear | Bridal Accessories Jewelry by Victoria Fergusson | Bridal Shoes Emmy | Florist GrandiRosa | Bridesmaids Outfits ReWritten