Normal service has been resumed after yesterday's blog take over and I am back with a picturesque military wedding in Annecy France, that will have you tapping those fingers away to find the next vacation deal to Annecy – not that I did that 😉
I have only featured a handful of military real weddings on the blog, so I am delighted to feature Stephanie and Sebastien's beautiful blue and white themed DIY wedding in the picturesque Annecy area of France captured by Gill Maheu Photography.
Bride Stephanie takes us through the planning and the big day itself: "As I was marrying a french man I wanted our wedding to take place in France, tradition says you should go to the hometown of the bride to be but why would you pick rainy, cloudy, Netherlands for a wedding if you can get married in the most beautiful place in France, Annecy!
Seb was born in  the region and I have spent the most happy 6 months of my life there when I was 18 years old, studying french in Annecy, who would have guessed I would go back there to get married?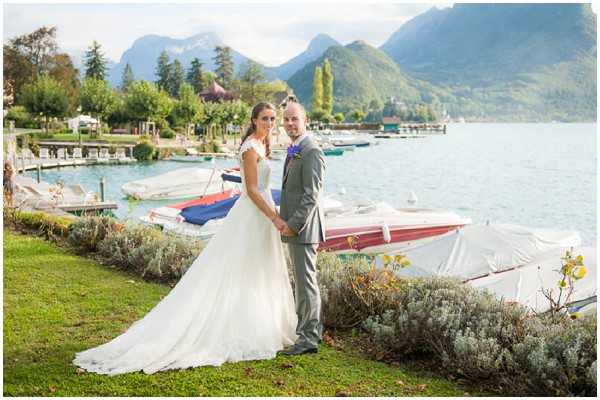 I have been busy with the invitations and decoration and all little details whilst Sebastien took care of the big things like managing the location, food choices, band, busses etc..
I first picked a color theme  and a style, to get ideas and inspiration I looked at many many websites.  This is where I got the idea to skip the guest book and get a wish tree. We specially decorated a tree with big hearts in which people could leave us a wish, however incase people forgot we had a back up.
I found a crazy man on ebay who sold me 250 keys, fancy old ones and just normal ones.  For the table setting everyone received a key and following the reception they could note down there "key to success for a long and happy life together".  The key and the note the could then be hung up with the hearts in the tree.
In addition to the wedding day, we now have a special wall with all wishes and keys  in our home, hang up on lines, this way we look at them every day which is a great way to be  reminded  of this happy day and all nice people that made the day just perfect, by reading the cards.
I picked a lot of lanterns in different shades of blue, purple, pink, like the flowers.  You see them a lot but for a garden party I think they are a must have…I bought meters of big ribbons which were hang up in the trees  as well, the wind made them flow which was just beautiful.
I made all table cards myself with lace ribbon sticked on them, a lot of work, but a nice personal touch to the cards.  We had nice little gifts, a little eiffel tower for the dutch guests and a little kissing couple  made out of 'delfts blauw' for the french quests, cheesy but fun.
We had the bride sugars packed in little beautiful chairs, I had ribbon printed with our names and the wedding date for the napkins and all these little details made the tables look just pretty.  My advice stop thinking that everything has to look professional, my little crafts were maybe not perfect but made with love and that's what brings a little extra to your wedding tables.
For the location we just had a crush on l'abbaye de Talloires' when we first saw it, I think this is the feeling you need when picking the location.  L'Abbaye de Talloires have an outstanding cuisine and the whole building is just too lovely, at the lake side, hiden away in a private little corner with the most beautiful gardens.  When we visited the place I just could just see our wedding day here, so for picking the location follow you heart, it's the wallet that will suffer afterwards 🙂 But every penny was well spend, the service was great, dinner amazing, and all so smooth, grand BRAVO!"
Thank you to Stephanie and Sebastian for sharing their wedding day and Gill Maheu for submitting this beautiful wedding.  Have any of you lovely ladies visited Annecy?


Wedding Suppliers:
Wedding Photography: Gill Maheu website
Gill Maheu on Facebook: www.facebook.com/gillmaheuphotography
Gill Maheu on Twitter: www.twitter.com/gillmaheu
Wedding Ceremony: Hotel de Ville
Wedding Reception Venue:  Abbaye Talloires
Key Favours: Ebay
Dress: Enzoani