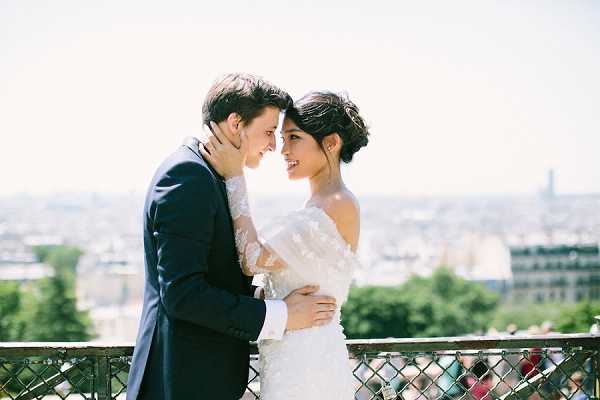 The streets of Paris are just oh so romantic making it the perfect city for a wedding at Salons France-Amérique a typical Parisian hotel with a nod to American history.
Kelly looked beautiful in her off the shoulder Nhoo Matthews gown which she paired with a classic up do created by Alexia & Sandra for Studio Ohlala.
We hope you enjoy reading Kelly and Jeremy's love story and how they came together from different corners of the globe, it doesn't just happen in the movies folks…
We'll now pass you over to Saya Photography who will be walking us through this Paris wedding at Salons France-Amérique…
I come to you to introduce you Kelly & Jeremy, we made our first meeting in Bangkok a year ago. Jérémy is a French expatriate and Kelly is Thaï. Who has not dreamed of making a beautiful love affair on the metro? Kelly grew up in the USA, in love with France she made her first emancipation trip to Paris in her 20s. She meets Jeremy with his "french messy hair" on the platform of the Parisian metro and have not left since!
Getting married in Paris was obvious for having lots of memories in the streets of Montmartre! The opportunity for Kelly to discover his land of heart to his family and loved ones! All that nicely orchestrate and designer by Nathalie from the Majenia agency!
Here's how their love story began…
Kelly had just turned twenty years old, and had moved to Paris on a whim. She had applied for a sabbatical year, and said goodbye to her friends and family in Boston MA. She didn't speak french but wanted to explore, and got job as an au pair. Jeremy was working in Paris and the time and was fundraising for a non-profit organisation, and stopped Kelly as she was coming out of the metro. She definitely did not have any money, but smiled and mimed that not only did she have nothing to donate, she didn't speak french either. But she did think to herself that he was quite handsome. Jeremy then asked her if she was enjoying Paris (in English), and although she had only been there for two weeks, she replied that she indeed was loving France. For good measure she also added, "but I don't know anyone, here." Jeremy smiled, and said "well, take my number.
Fast forward a couple of years, after Paris and Boston, J+K were living in Bangkok, starting a new adventure. Kelly's family is Thai, and Jeremy's family was visiting for Christmas of 2015. Jeremy had planned a surprise Christmas engagement, in traditional teak-wood Thai house. The ring was a beautiful pink sapphire with a classic rose-gold band.
The wedding took about two years to plan, as family flew in from the USA as well as Bangkok to join K+J in Paris. K+J worked with Nathalie from Majenia to make sure that the wedding was typically Parisian with touches from all of the different cultures involved. For example, the bridesmaids held thai classic garlands, and the groomsmen had thai-silk ties.
Jeremy organised with the French Parish in Bangkok and La Paroisse Saint pierre de Montmartre to have a religious ceremony in J+K's old arrondissement. It was wonderfully special because not only were they wed in one of the oldest church in Paris in a multi-lingual catholic ceremony, they were surrounded by all their loved ones in the same neighbourhood where they fell in love.
The theme for the wedding decoration was simple and elegant, with touches of freshness from flowers and a lot of greenery. The hotel particularly is very typically Parisian and also was very special because it had aspects of American history. As Parisian mansions have a lot of beauty and ornate art already, it was important to keep the decoration organic to supplement the venue, rather than add too much.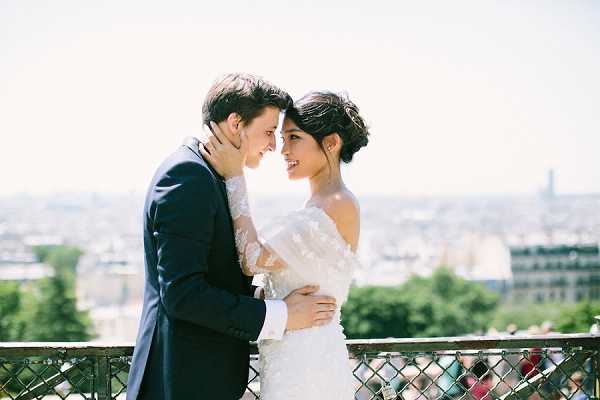 Congratulation Kelly and Jeremy from everyone here at FWS and a big thank you to Saya Photography for sharing these beautiful images with us. For even more Parisian inspired weddings click here.
Paris wedding at Salons France-Amérique Snapshot
Wedding Vendors
Photographer Saya Photography | Planner Majenia | Brides Dress Nhoo Matthews | Venue Salons France-Amérique | Florist Les Herbes Hautes | Entertainment Vinyle Vintage Ako | Catering Butard Enescot | Hair and Make Up Alexia & Sandra for Studio Ohlala | Stationery Miidear Invitations | Grooms Outfit Narin Couture |