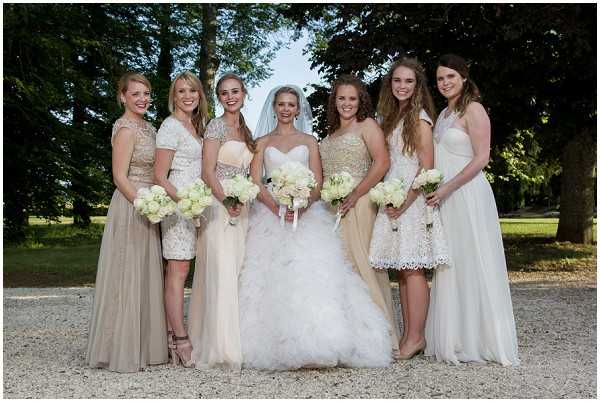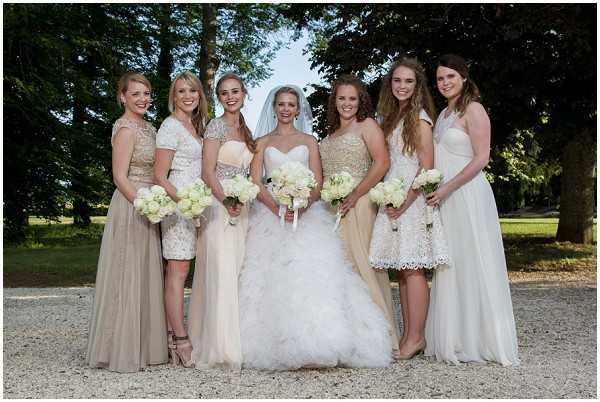 My oh my Trulovers, I have the most fabulous real wedding to share with you today planned by Daylove Event!  It sounds like the title of a romance novel, but Jacqueline and Grégoire are the Texan and the Frenchman who marry in Burgundy, which they describe as the Texas of France!
Weddings are not all about the details, but there are so many in Jacqueline and Grégoire wedding from the branded welcome bag, monochrome drinks table and I am completely in love with the mismatched champagne bridesmaids dresses.
French Wedding Style – Photography © David Brenot
Bride Jacqueline talks us through their wedding planning: "G and I met in Los Angeles in 2006, with brief stops in New York and Zurich, and now Geneva, Switzerland.  We both grew up in small towns in Texas and France, but our adult lifestyle has always been modern and international, so we wanted our wedding to combine and reflect those two elements. 
We chose to get married at G's family home in Dampierre et Flée in Burgundy- jut outside of Dijon.  Friends and family from all around the world flew in to help celebrate.  My family priest from Texas, Monseigneur Michael Boulette, married us in the 13th century village church directly across the street.  As the ceremony was bilingual (I said my vows in English, G in French) we put a lot of emphasis on the music.  G is a classical pianist, so his old music teacher from the conservatory of Dijon provided the musicians.  My parents used to own an event planning company in Texas, so my dad insisted on doing all the flowers in the church and in the tent himself!
When we exited the church and entered the grounds for the vin d'honneur, we were greeted by 6 Burgundians playing the cor de chasse.  We were extremely lucky with the weather, and the cocktail was spent around the pool soaking up the beautiful Burgundian countryside.
I work in fashion, so my dress and shoes were really important to me.  I went with a Kenneth Poole dress with hand sewn ostrich feathers and Manolo Blahnik shoes.  My earrings were made by my sister with emerald stones gifted to me by my parents to match my Columbian emerald engagement ring.  G wore a Tom Ford suit and custom made Stefano Castelli shoes from Florence.  We were engaged for two years, so one of the most exciting things was to pick up elements of our ensemble and other various wedding details throughout our travels across Europe and the US.
The highlight of the reception was the 10 meter bar with custom made cocktails.  G and I spent every Friday night for 8 months at the Lausanne Palace creating a list of drinks that reflected our past travels and tastes (a difficult task)!  We also hired Flair bartenders from Paris who stole the show with all their tricks!  The band, Scene de Musique, was phenomenal.  The dance floor wasn't empty from the moment they started playing until 5am when they reluctantly left!
One of the most important elements for us was to combine our two cultures.  A Texan and a Frenchman seems like a very unlikely couple, but I always have said that Burgundy is the Texas of France!"
Thank you to Jacqueline and Grégoire for sharing their beautiful wedding story with us and bringing a little Texas onto the blog today.


Wedding Suppliers:
Musicians/ Band: SCENE DE MUSIQUE
Wedding planners: Ornella from Daylove Event
Wedding Dress:  Kenneth Pool
Caterer: CHEZ CAMILLE
Marquee : Pessin Location
Flowers: Homemade, Jackie's father use to be an event planner and knows how to do a lot of things including flowers arrangements!
Flair Bartender: Barman at home
Photographer and Videomakers : David Brenot