We have a soft spot in today's real wedding at Chateau de Berne! Toss in some luxury, impeccable wine, delicious 5 stars gastronomy treat, speechless garden and vineyards as far as the eye can see – Florence & Christian brought out their style and personality!
Located in the heart of south of France, their sumptuous wedding was captured through the lens of Gabriella Vanstern. She never missed the sparkling details under the gorgeous sun in her "Haute couture" aesthetic photography approach. And we couldn't miss the beautiful flowers and decoration by Jadis Fleur.
Let's have Gabriella relive their event and let's take a closer look!
The wedding of Florence and Christian will remain the most beautiful of this year. Florence and Christian have chosen the Chateau de Berne located in our beautiful Provence for their union. The castle has been fully privatized for their D-Day.
Florence and Christian are so sweet, they define their couple as optimistic, can-do, balanced, generous, epicure gourmet.
They want a unique decoration in style with some love to detail & personalisation and with the aim to enchant and create a playful, yet warm and still premium and natural atmosphere.
They wanted to highlight and make maximum use of the beautiful places and hidden treasures of Chateau de Berne. They loved this round square with its fountain where the cocktail took place and this is also the place where we did group pictures.
The theme of their wedding could be described as organic. They wanted to highlight the softness and light of Provence, maintaining a premium, yet natural interpretation.
They also wanted the flowers to be natural & light. An active element in the invitation is the olive tree (light green, cut out of a branch of the olive tree). But also the soft colour reminding lavender is there.
Christian and Florence love fine cuisine, skiing in Zermatt, biking, travelling – within Europe, but also oversees with a passion for African wildlife (Honeymoon next year goes to Botswana). They love eating-out on Friday evenings with good Italian wines (mainly Piemont and Tuscany). And the unique thing they do almost every day (on the demand of Florence ) – since Florence got the table from Christian for her birthday: play one game of table soccer at home every night!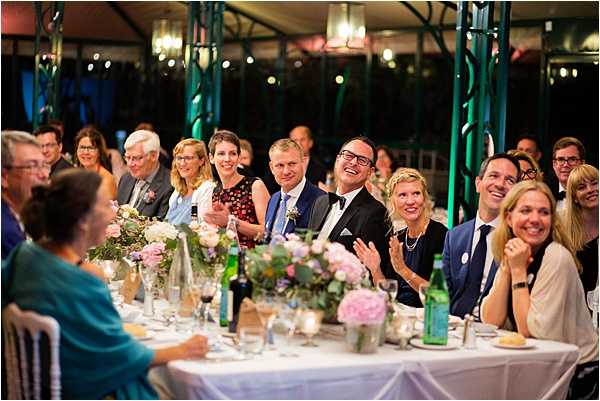 Congratulations to Florence & Christian from FWS team!
Magnificent wedding at the Chateau de Berne Snapshot: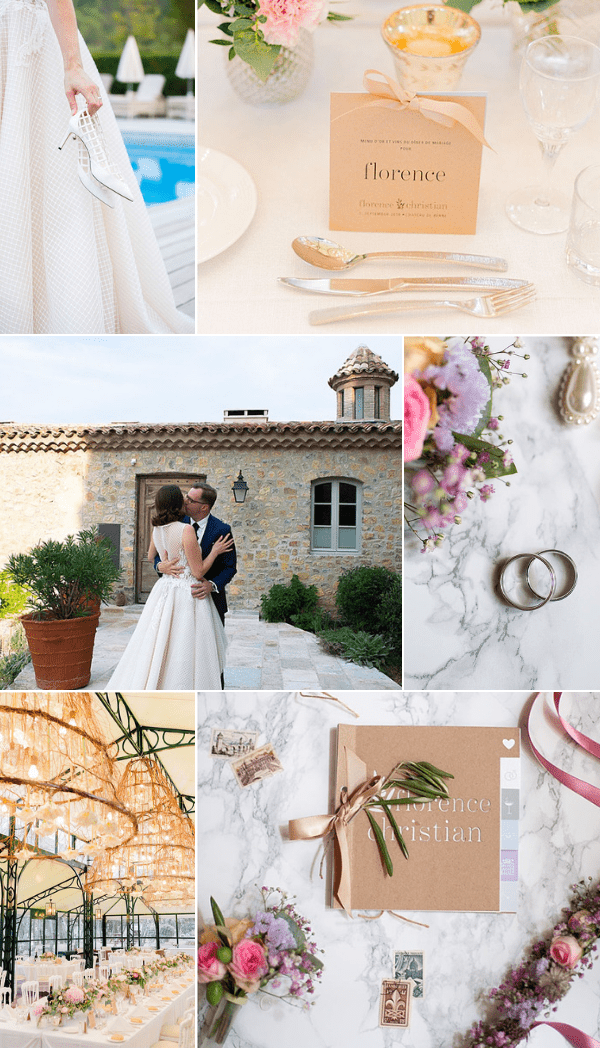 Vendor Details:
Photographer: Gabriella Vanstern | Bridesmaids Dress: Needle & Thread | Brides Dress: Mery's Couture | Florist: Jadis Fleur | Grooms Outfit: Suter and Co | Venue: Château de Berne | Cakes: Chateau De Berne | Hair and Make Up: Château de Berne SPA | Shoes: Jimmy Choo | Decoration: Jadis Fleur | Catering: Château de Berne