Happy Monday FWS readers, today we have a bride with a Justin Alexander Bride in French Destination Wedding to share with you. We love a Justin Alexander Bridal gown and we are excited that this wedding is in the French Alps! Christine Harrison Photography has captured these moments and kindly shared them with us. We've got all the details on this French Destination Wedding below…
The Wedding of Helen & Ash.
Helen and Ash, met, and fell in love while both living independently in Val d'Isere in the French Alps. Rather than embarking on married life together straight away, they decided to set up a business – a luxury transfer company for skiers and snowboarders to get from the airports to their chosen resort in the Tarentaise Valley, and so SnowDrone Transfers was born.
Once they were well and truly established, Helen turned her attention to her wedding day, and once Helen's attention is on something, you know that it is going to be articulately and beautifully planned. Everything was to be local, from the venue down to the suppliers – an English inspired wedding in a French setting.
A lot of people have two weddings in France as the separation of church and state does not allow a legal ceremony to take place in a church, meaning that we have to have an official one (being the legal marriage), and then if so inclined, a church affair.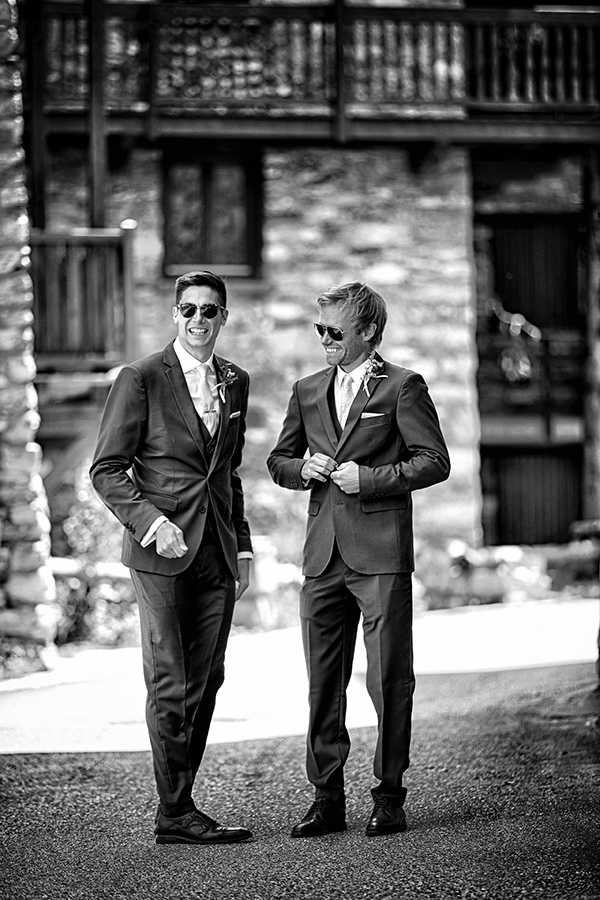 The couple got married officially at the Mairé in their hometown of Val d'Isere on a sunny August day, for just family and very close friends. As the initial celebrations came to a close, the guests started to arrive in earnest, ready for their church wedding and reception in the mountains a couple of days later, all brought efficiently and professionally to the resort by SnowDrone's fleet of vehicles.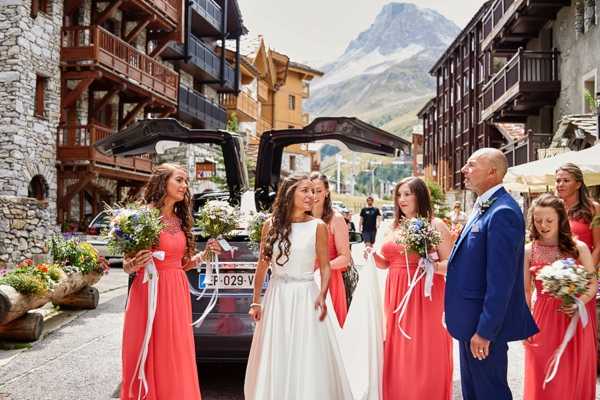 The wedding, being held in one of the most prestigious winter resorts in the world, had skiing and mountains at its heart, a joint love of the couple and the place where their dreams were becoming a reality.
Walking out of the beautiful 16th century Church, through the winding streets filled with friends and well wishers, to the centre of the village where drinks and nibbles were enjoyed in the glorious mountain sunshine, hosted by Chez Jules – le Coin des Amis.
It felt so casual and fun, shoppers mixing with guests, as the wine and cheese flowed along with the music and laughter.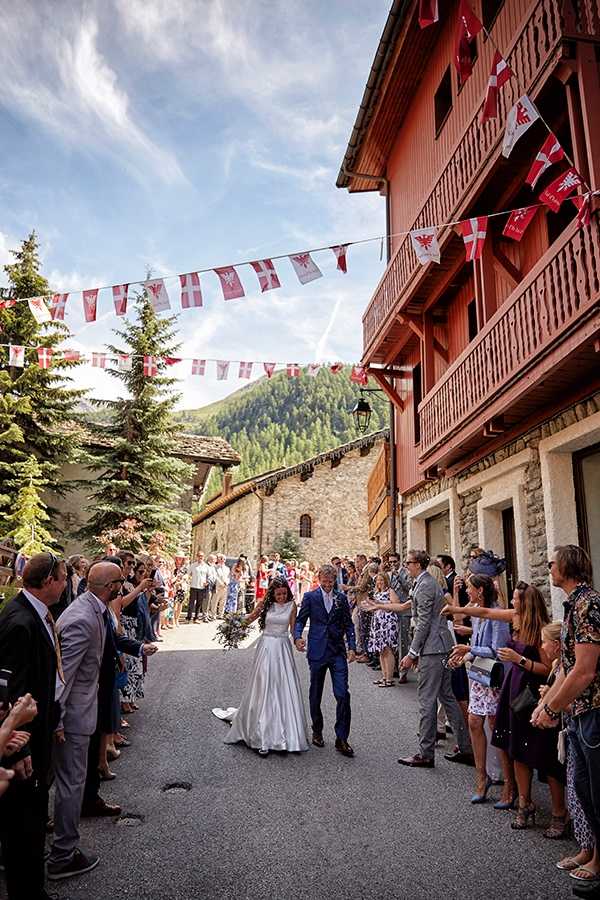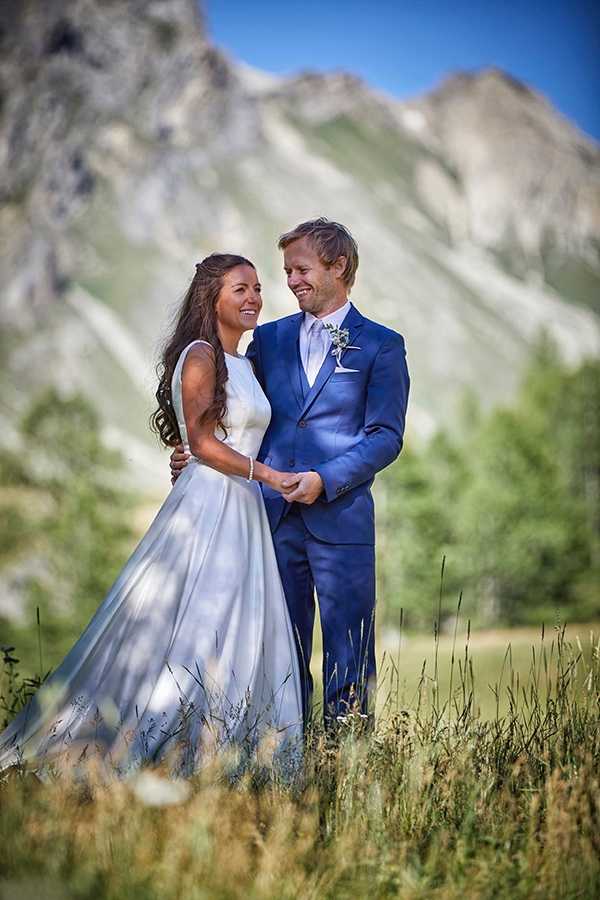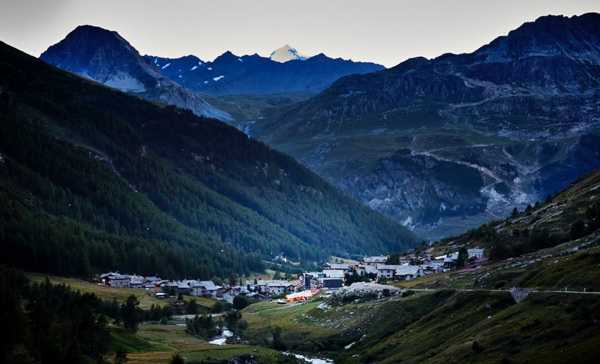 The evening reception was held in a Marquee at the bottom of the Fornet lift station, of course it was.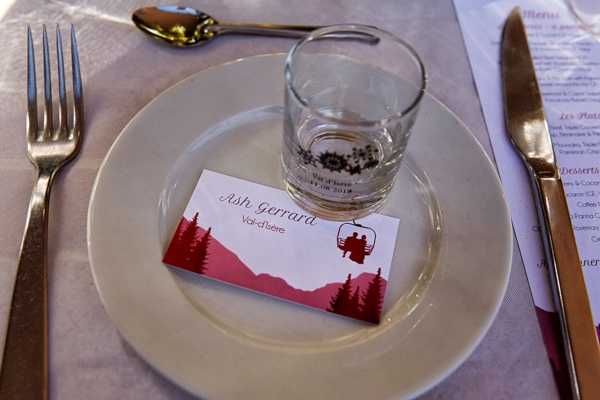 Where else in this beloved of ski towns would you hold your wedding if you were Ash and Helen, and what a spectacular venue it was, a glorious starry end to a beautiful day with this French Destination Wedding.
We want to say a huge congratulations to Helen and Ash and thank you for sharing these beautiful images of your French Destination Wedding.
Justin Alexander Bride in French Destination Wedding Snapshot
Wedding Vendors
| Photographer Christine Harrison | Transport Snowdrone | Catering Ysecookeryschool | Entertainment Sian Hayley smith  | Florist Florist from the Forest | Dress Justin Alexander | Grooms Outfit hockerty |