Happy Monday folks and do we have a wedding for you to kick off this brand new week! Today it's all about this heartfelt Château de Bagnols real wedding which really touched our hearts! We especially love Addie & Bret's proposal story and their family ceremony!
There to capture all the emotions of the day were FWS vendor and wedding photographer and videographer L'As de Coeur Photo + Cinéma who have worked all around the world such as North America, Europe, and Pacific Islands. These experiences have helped them discover multiple cultures, behaviours and lifestyles. They focus on emotions and that is the way that people define their wedding photography style.
"We are known as "kind and professional" but we take responsibility to bring you amazing images and service. For us, the joy and fulfilment we receive in documenting the most special moments on a wedding day compares to nothing else."
We'll now pass you over to Céline of L'As de Coeur Photo + Cinéma who will be walking us through this Château de Bagnols real wedding…
"True to his brilliant, hilarious and thoughtful self, Bret set up an elaborate proposal. We had just moved back to San Francisco after business school and in preparation for our new jobs Bret said he wanted to go shopping that day. I should have known it was a trick because he never wants to go shopping… Nevertheless I believed him (wishful thinking!) and we planned to meet at 10am to head downtown together after he allegedly got coffee with his colleague. At 10am he texted and said he was out front waiting for me, but when I stepped outside he was nowhere to be found. Shortly thereafter he sent another text saying "I'm under the doormat". Confused and amused I lifted the doormat and found a sealed envelope. Even before I opened it I knew we were getting engaged that day and that he wasn't going to make it easy for me."
"Inside the envelope was the first clue for a scavenger hunt. It was the story of how we met and our first date with a few key words missing, the letters of which spelled out the location of the next clue. Through the scavenger hunt he led me back through the story and meaningful locations of our relationship. I finally found him waiting for me in the middle of the field at Cavallo Point, where we had spent our second Christmas together. Needless to say I was overcome with emotion and joy (it's a miracle I was able to drive safely across the Golden Gate Bridge!). We celebrated with my favorite champagne and took some pictures underneath the iconic bridge before heading home to celebrate with both of our families."
"We decided to get married in France for two reasons. The first is that when I was young I was extremely fortunate to be able to travel to France with my family every summer and one year my parents made the (wonderful) mistake of telling me that I should get married in a French Chateau one day. The second reason is that we were really focused on having a small intimate wedding, with only our closest friends and family. I knew immediately I wanted to get married somewhere between Burgundy and Rhone as that's where I had the strongest memories from my childhood travel. We then searched for chateaux that could accommodate all 50 guests and were thrilled to find Château de Bagnols which had all the charm and luxury befitting our wedding fantasies!"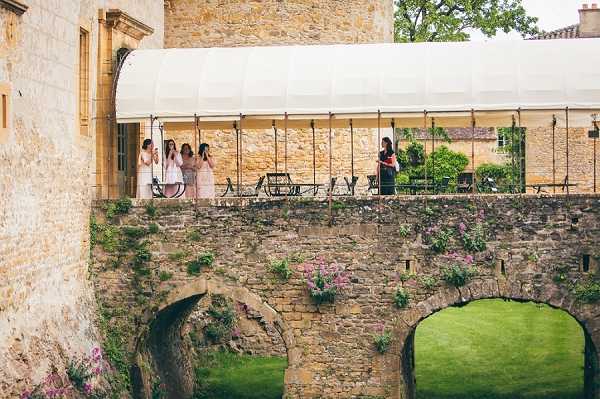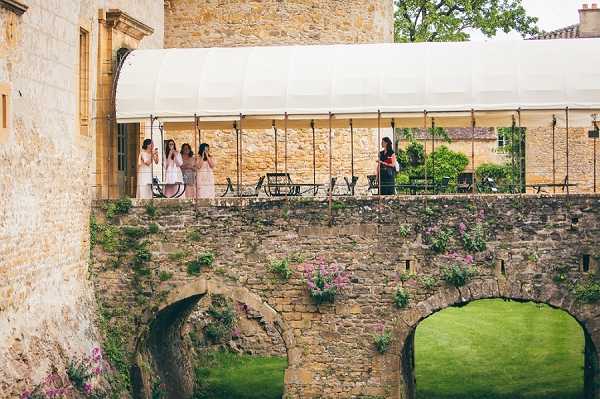 "I wore a dress by Liancarlo with shoes by Rene Caovilla. It had Italian lace and an elegant illusion neckline that made it look like the lace almost grew on my skin. Bret wore a tuxedo by J. Crew."
"The most special part of our day was our ceremony. Because we only 50 guests we had all of our guests process down to the ceremony in pairs. Bret greeted them one by one and gave them each a big hug. My dad and I were the last ones to come down, perfectly timed to appear at the top of the staircase with Etta James belting out "At Last"."
"We had our parents (all 4 of them) officiate. My mom welcomed everyone and thanked everyone for being there. My dad recounted the story of our relationship. Bret's dad reflected on the meaning of marriage. Bret's mom expressed hopes for our future. Then we exchanged vows to one another. It makes me teary eyed (and smile!) to reminisce about everyone's meaningful words."
"We wanted a romantic ambiance that highlighted the natural beauty of the chateau so we took a relatively minimalist approach in terms of decor and focused more on creating experiences for our guests. I used Pinterest to collect inspiration for tablescapes and floral arrangements and entrusted in our florist to capture the essence while also letting her improvise a bit on her own. All of the details were delightful surprises we discovered when we got there."
"For our suppliers we relied heavily on recommendations from the chateau and wanted to work with people who already knew the venue and understood what worked and what didn't. We ultimately interviewed 2 or 3 vendors for each category and chose the people we connected with best."
"L'As de Coeur. We adored this camera-slinging couple. They have terrific instincts, great direction and put you at ease on this nerve-wracking day. They also created beautiful photo books and a video that we love to open and revisit. They really captured the feeling, intensity and emotion of the event."
"Pascale Benoit. I wanted a natural but romantic look and Pascale nailed it. She pulled my hair up into a side-swept, braided bun and weaved my pearled headband through it. She also did a wonderful job with my mom and mother-in-law."
"After the wedding we escaped for a long weekend alone in Reims. We stayed at the luxurious boutique hotel and restaurant L'Assiette Champenoise. We mostly slept, and giggled and cooed over our favorite moments of the week. It was a perfect way to relax and recuperate while continuing the celebration over fine wine and delicious food."
Congratulations Addie & Bret from everyone here at French Wedding Style!
For even more from this heartfelt Château de Bagnols real wedding check out their wedding film created by L'As de Coeur Photo + Cinéma…
Heartfelt Outdoor Château de Bagnols Real Wedding Snapshot
Wedding Vendors
Venue: Château de Bagnols | Photographer: L'As de Coeur Photo + Cinéma | Videographer: L'As de Coeur Photo + Cinéma | Dress: Liancarlo | Shoes: Rene Caovilla | Makeup: Pascale Benoit | Hairstylist: Justin & Taylor | Jewelry: Oscar de la Renta | Florist: Fleurs de Fée | Tuxedo: J. Crew | Stationery: Wedding Paper Divas | Catering: Château de Bagnols | DJ: Brice Etienne | Honeymoon Accommodation: L'Assiette Champenoise