We're off to a large Italian island in the Mediterranean Sea today for a French inspired wedding in Sardinia for Justine and Romain's big day which was planned by Laetitia of Les Bulles de Bonheur and Positive Events.
They chose the perfect spot by the sea for their unique outdoor ceremony and rustic chic styled wedding breakfast which they shared with their nearest and dearest. Wait till you see their ceremony spot, dreamy!
As we've said many times before here at FWS we LOVE a weekend/week long wedding that allows you and your guests to continue the celebrations and enjoy the surrounding areas, the perfect holiday to remember and a great way to prolong the festivities.
We'll now pass you over to Laetitia who will be walking us through this French inspired wedding in Sardinia…
Indeed, I had great pleasure to leave my comfort zone and organize for Justine and Romain, little Normans, their wedding "made in France" abroad for nearly a year and a half.
It was a delightful adventure, they imagined themselves in small committee on a beach in Crete or Corsica or Sardinia. And it was finally in Sardinia that we put our bags. This island with turquoise and transparent waters, white sand beaches and wild nature; a paradise island.
Justine and Romain wanted to get married in Sardinia, in a beautiful private villa with a breathtaking view of the sea and be able to stay a week to organize a beautiful reception where their loved ones could feel at home and enjoy a few days of vacation the island offers many possibilities to enjoy a stay without getting bored.
As a wedding planner, we have selected and collaborated closely with all providers in order to respect the French wedding codes while highlighting local (delicious) products.
Italy land of romanticism, the ideal place to escape and get married, close your eyes and imagine the scene: the blue sky, the late afternoon sun, a sandy beach, turquoise water and a dozen guests, your lover next to you. Are you there? The stage is set. You will say "yes" in a few minutes in a heavenly setting. You only have one thing left to do: Take the plunge!
Congratulations Justine and Romain!
For even more French inspired weddings check out our:
French wedding in Sardinia Snapshot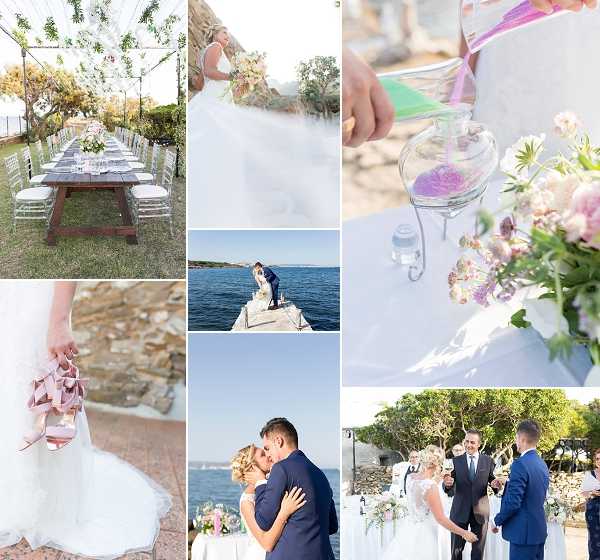 Wedding Vendors
Planner Les Bulles de Bonheur  and Positive Events | Photographer Pauline et Mehdi | Catering 3B catering | Celebrant Laetitia GOUX | Florist Maura Colli | Hair and Make Up Rios Parruchieri | Entertainment Paolo Lazzarin | Venue Villa del Mar