Family is so important to all of us, that's why we want to share this Family wedding in France at Chateau Sainte Cécile. This wanderlust couple began their journey when they met at university 8 years ago, it had to be a destination wedding in France for them, they fell in love with Chateau Sainte Cécile as soon as they saw the venue. Emeraude & Coton continued the wedding planning process for them, to ensure their 3 day wedding ran as planned. We love when more than one French Wedding Style Vendor work together, both Emeraude & Coton and Fleurs Design by Faustine have worked their magic on this beautiful family wedding. So let's get straight to the details…
Geri & Amari both live in London, she is Bulgarian, he is Caribbean and they met 8 years ago whilst studying at university.
Both Geri & Amari love to travel and after an engagement, they looked for a perfect venue to host their multicultural summer wedding. They found Château Sainte Cécile by researching on the internet, and immediately fell in love with the style, gardens and rooms. As the Château is near the pictureque town of Pézenas and Montpellier, it was pretty convenient for their guests that came from all over the world to see their family wedding in France.
They contacted Emeraude & Coton to help them to plan the remaining aspects of their wedding, including researching vendors, creating a design and coordination of the wedding day. Their 3 day reception required lot of logistic and a perfect understanding of their desires. They choose the 18th August to have the best chance of having an outdoor summer wedding. They had a rehearsal dinner the day before and beach brunch's party the second day).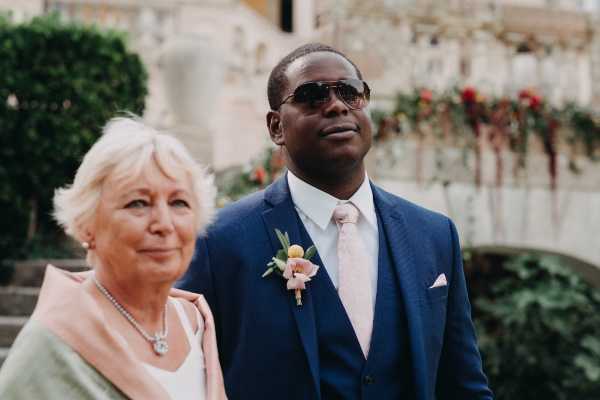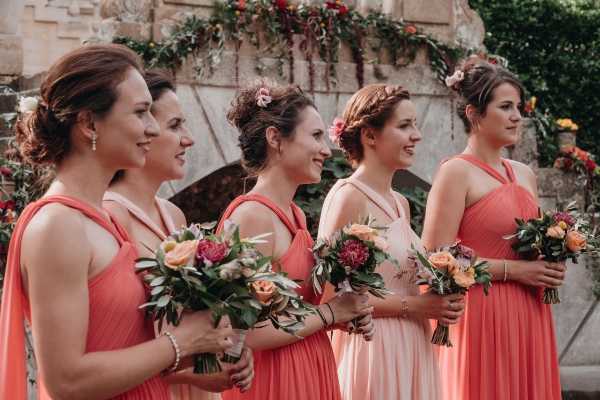 They gathered 120 guests, and imagined a colorful theme with a summer atmosphere in coral, orange, pink, white. As they were music addicts, they wanted to set up a fun atmosphere that was chic, casual, but also entertaining.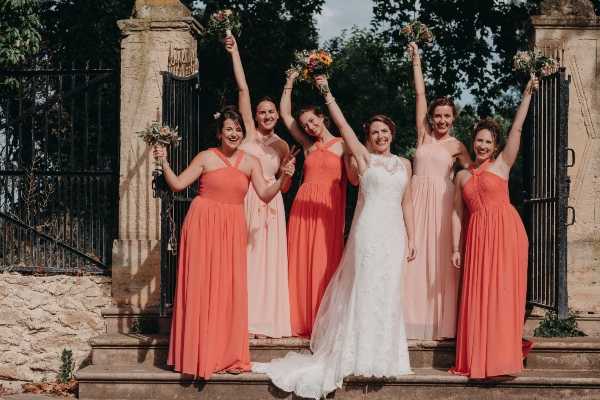 Wedding suppliers reasearch and Summary of the Day 
They contacted me at the end of 2017 to find the suppliers they needed for their family wedding in France. On this list was caterers, florist, wedding stylist, celebrant, beauticians, and musicians. They choose local photographer Laurent Piccollilo with whom they had a great feeling imediately, and covered their day from the preparatives to the first dance.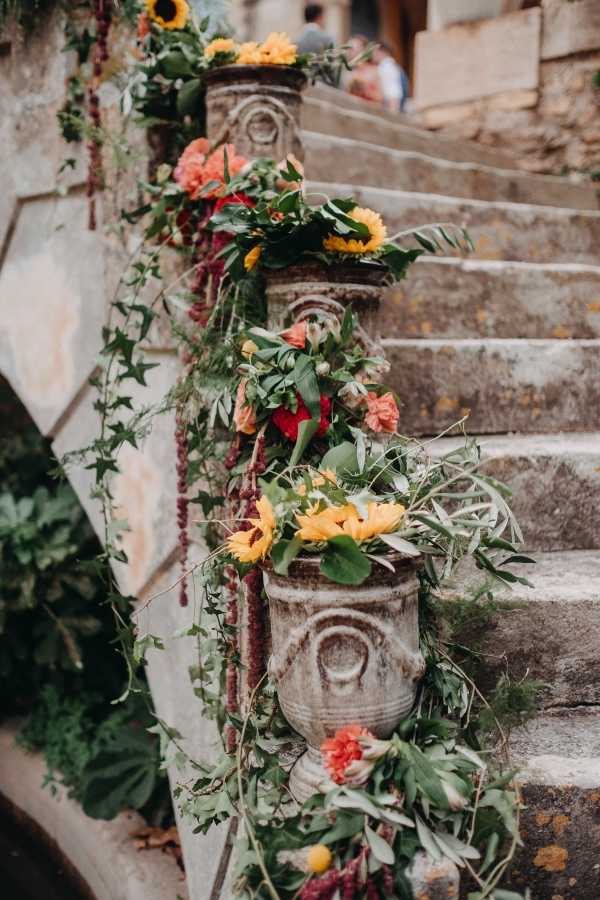 After a dinner at Pézenas the day before, Bride's preparatives starts on one of the vintage room on the Château Sainte Cécile, with her mom and bridesmaids. The duo Nanoo Moov Coiffure and Les Coulisses Beauté realized beautiful buns and fresh make up, to bring colors on this European's style girls. Gergana choose a long dress with a long veil for her, and similar coral color for the bridesmaids' dresses. Not far from, Amari and his groom enjoyed of the pool.
My team and I welcomed the guests on the garden with a welcome drink of champagne before to join the outdoor symbolic ceremony. After a romantic entrance on the song "Every breath you take" played by Lady's Orchestra trio, Erzi conducted a nice service, where the Chateau's dog was invited! For this special moment, the vendor Fleurs Design by Faustine created a wondeful floral arch, on the stairs of the Chateau, perfectly harmonized with the girl's bouquets and buttonholes. The moment was complete with an 'I do'.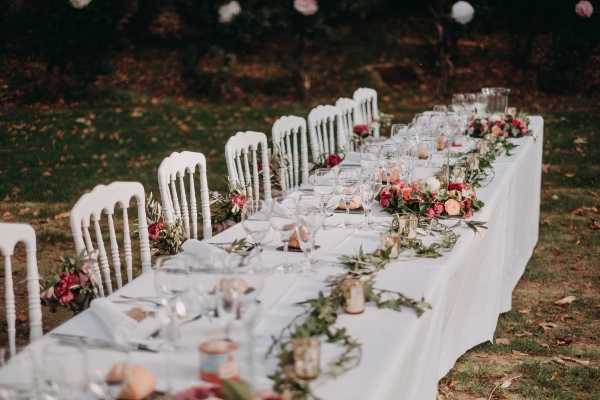 The reception took place on the terrace of the Château, a classic food canapés and drinks, with some garden games and chilled music. Geri & Amari wanted to have their dinner outdoors, under the trees and fairy lights. After two traditionnal rituals (bread breaking to know who on the couple will be the leader, and the kicking of the bucket to guess the gender of their first child), and a couple of speeches, the traditionnal dinner started. Traiteur Grand served a French 3 courses dinner, with local and fresh specialities. Look at the amazing flowers' Garland that Faustine created as centerpieces!
The party could finally start after a first dance, the one where he said her "I love you" for the first time, and some Bulgarian traditional dances took place. As food lover, Geri and Amari choose a long table of desserts and two wedding cake : a chocolate, and a fruits naked cake created by Clara Jung. 
Finally, Yann, the DJ, from The Lodge System, could entertained the guests all day long with R'n'B, Funk and modern musics!
The day after, I planned with Geri & Amari a second meal on the beach, that they could enjoy with their guests. And a couple of months after their D-Day, they told me they were really happy to have shared this experience with the team!
Family wedding in France at Chateau Sainte Cécile Snapshot
Wedding Vendors