Indulge all of your senses with this luxurious shoot in the heart of Burgundy, captured beautifully by Luan Photographie…
"We created this styled shoot to highlight one of the most famous and beautiful regions in France: Burgundy.
Burgundy has become one of the most in demand regions for "Experiential Luxury", thanks to high quality wines, incredible gastronomy and abundant wellness services.
Stunning collection of castles
Most visitors to France immediately think of Paris or the South of France when they plan to travel here to get married. But Burgundy has such great potential for hosting even the most high end weddings, with its stunning collection of castles and "bourgeois houses".
Perfect combination of history and modernity
Chateau de Saulon was built around 1460 and renovated in 2018. This venue intertwines a perfect combination of history and modernity. The architectural and decorative concepts are a tribute to Burgundy and its surrounding territory.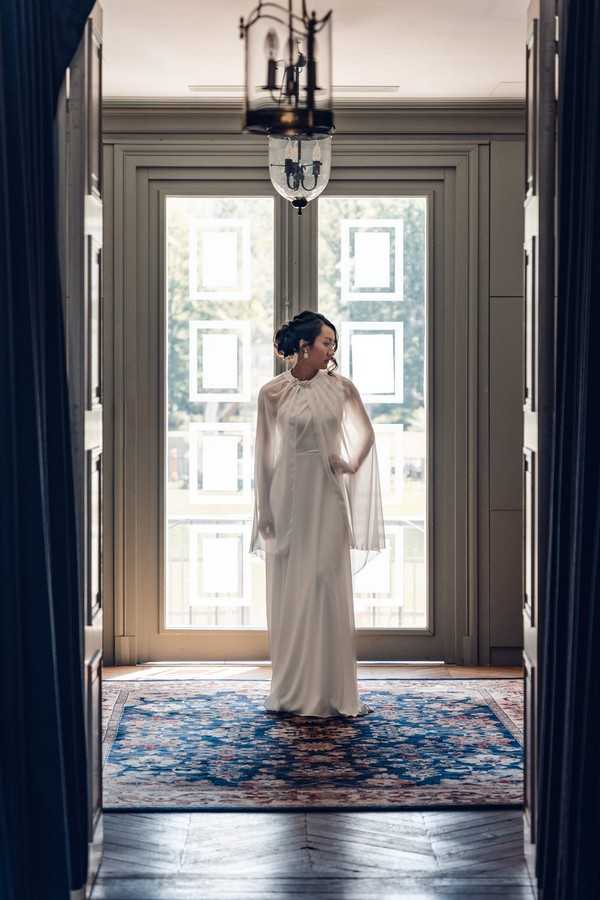 Accented beautifully
We wanted to give an editorial feel to this photoshoot, so the planning bride can identify the French fashion touch. The wedding dress from L.L. Couture was tailor-made for the occasion and is accented beautifully by the modern, elegant and fluid cape and it's jewel. An accessory that completes the dress beautifully. There, we could say, the cape is like the new veil for the bride.
French garden styles
Le Clos Végétal floral design showcases the Pantone colour of 2022 – "Very Peri" – and is brimming with Spring flowers, complemented elegantly in the stunning stationery by Crème de Papier and Master Class by Elodie Villemus. Both the floral and stationery designs are a lovely combination of both the fine art and French garden styles.
Our model, Thélème, ran for the Miss France pre-selection and perfectly complements the mood of the shoot.
Experiential luxury
The styled shoot was organized by Laura from L Burgundy Weddings. Her agency does more than simply organize and coordinate weddings, they offer a unique and bespoke service creating weddings that highlight the truly capture the idea and emotion of "experiential luxury" right in the heart of Burgundy.
I (Luan Photographie) was in charge of photography and videography and am what is known as a photojournalist wedding photographer. I like to capture natural and candid moments to tell the real story of the Bride and Groom's day.
During more staged shoots, I like to add an editorial touch to my pictures. And I am here to accompany a couple before, during and after their wedding day. Indeed, I consider the customer experience to be as important as the quality of the pictures I deliver."
Experiential Luxury In The Heart of Burgundy Snapshot
Experiential Luxury In The Heart of Burgundy Vendors
Planner L Burgundy Weddings | Dress L.L. Couture | Venue Château de Saulon | Florist Le Clos Vegetal | Hair Deborah Salvat | Makeup Soukaina Lebsir | Stationery Crème de Papier & Master Class by Elodie Villemus | Photographer Luan Nguyen | Model Thélème