I am back from a little trip over to Cote d'Azur, did everyone else have a lovely weekend?  I am starting the week with a fabulous DIY vintage wedding from Rhone Alpes region in France that is soo full of beautiful details and decoration ideas, it was hard to choose which ones to publish.
Vivian from San Francisco studied for her MBA in Gruyere, Switzerland, where she met Michael on a cold snowy winter in 2009.  With Michael of Portugese/Russian/ Spanish and French descent and Vivian being a Taiwanese American there wedding was sure to be a collection of different styles and influences to create their dream vintage wedding.
Vivian takes us through her big day: "Michael is from Allevard les bains and when we first started our wedding journey, his criteria was that he wanted to marry in the same department where he was born. We knew that we wanted to have a a "tres francais" wedding, but with American traditional touches.  This determined our venue of choosing a "very French" location– a 13th century chateau in Isere lost in the countryside. We loved the rustic and informal feeling of the venue.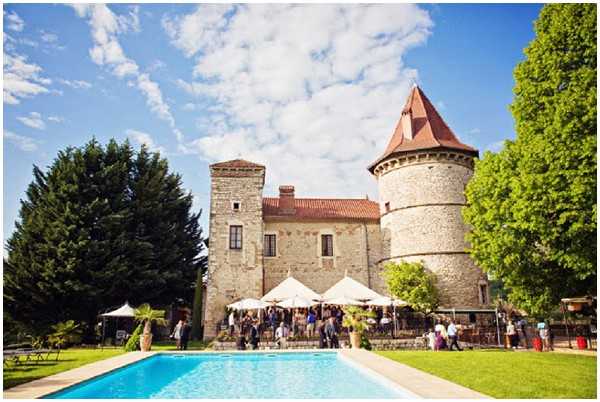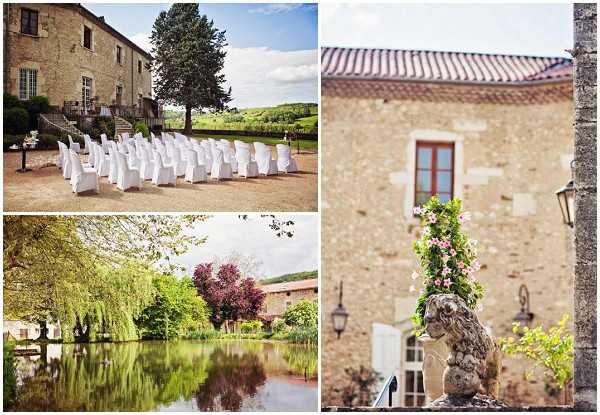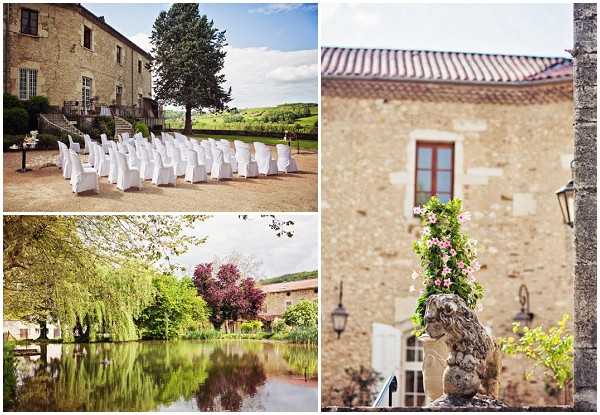 We already have such an extensive collection of antiques from different brocantes around France during our travels in France gramophones, vintage cameras, books, etc, it became clear that our theme would be vintage.I had also already chosen a French Lace dress which would further help shape the theme.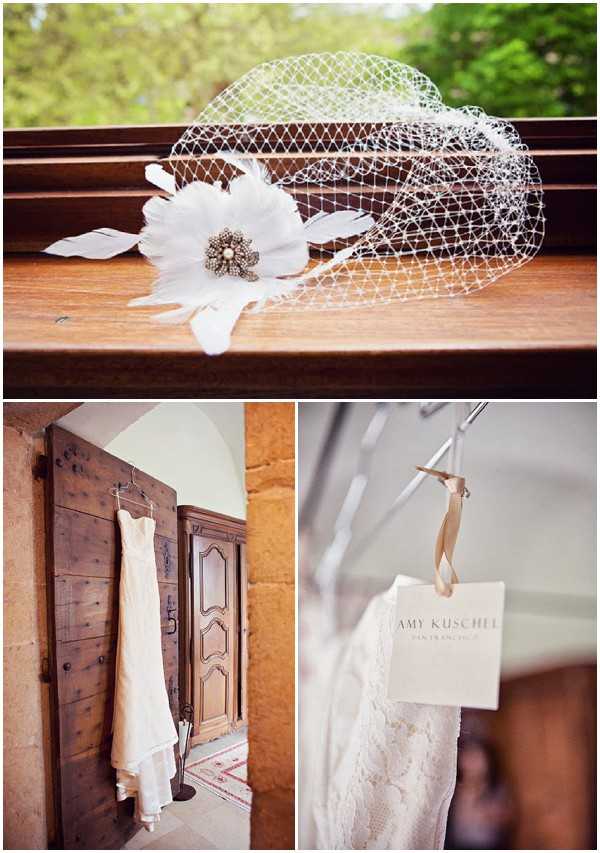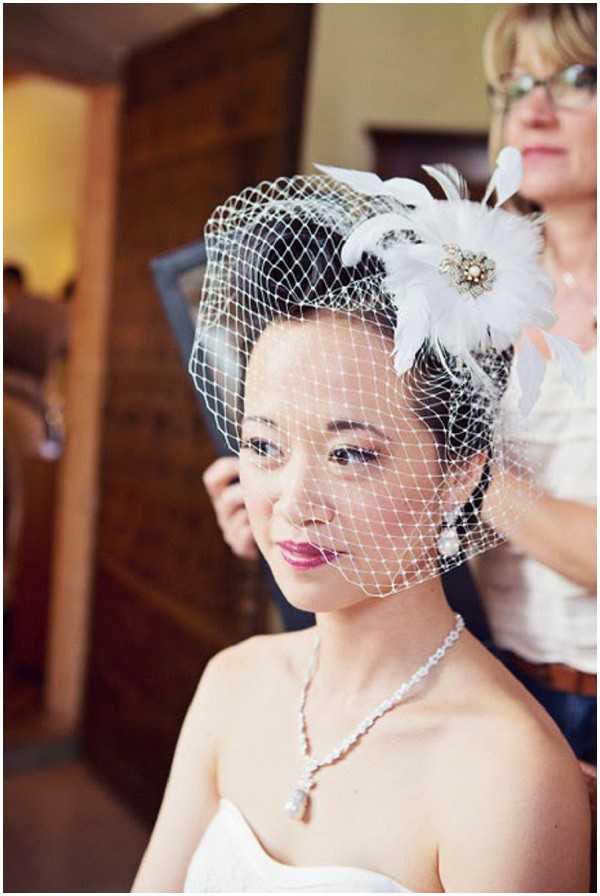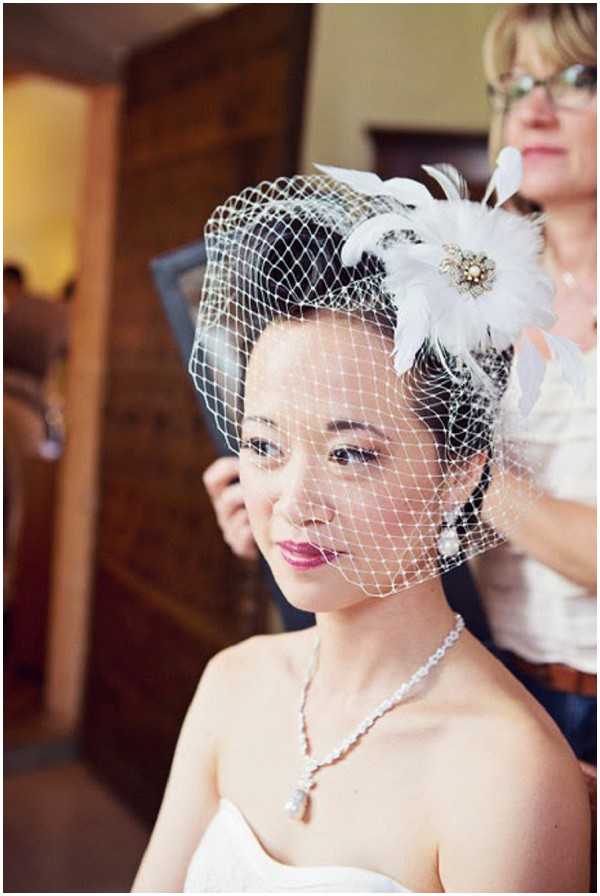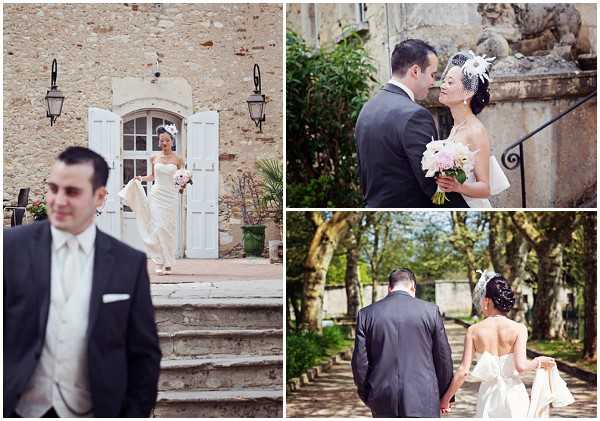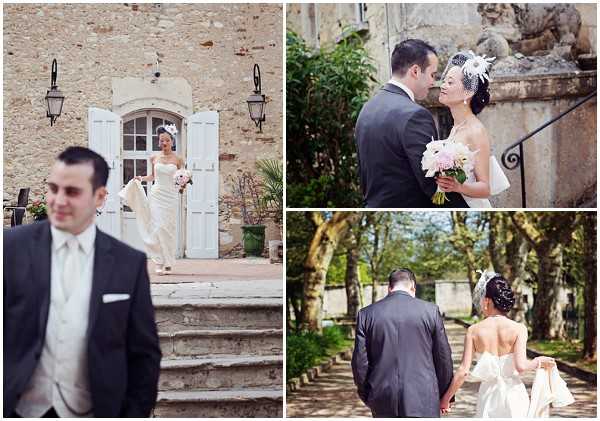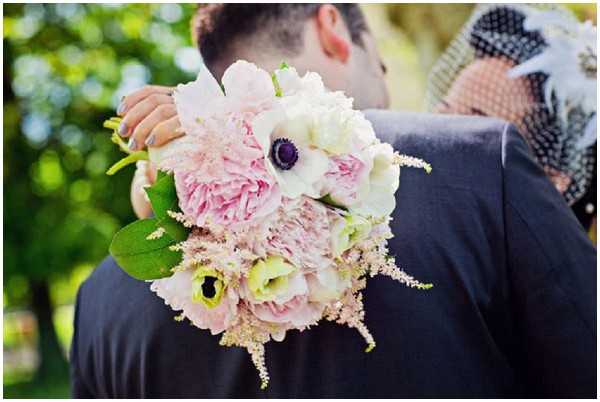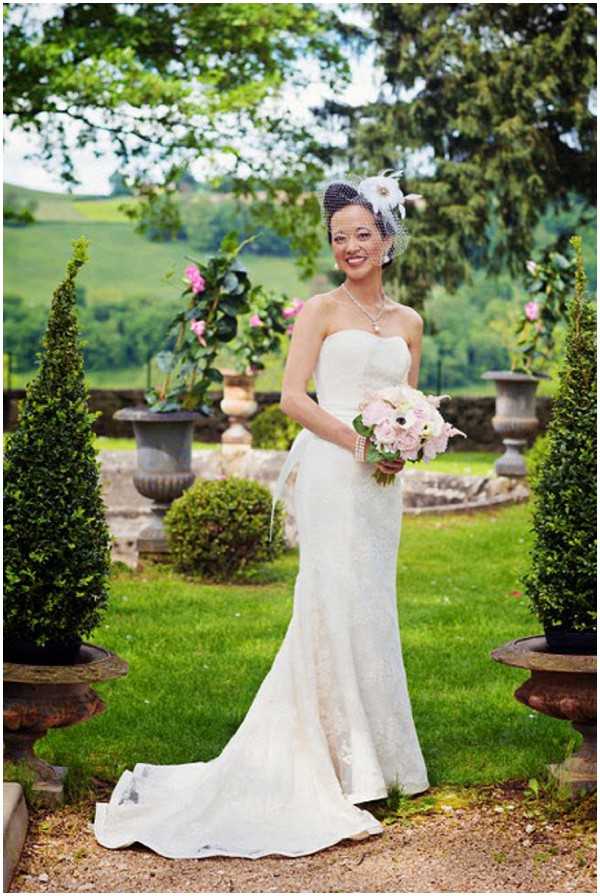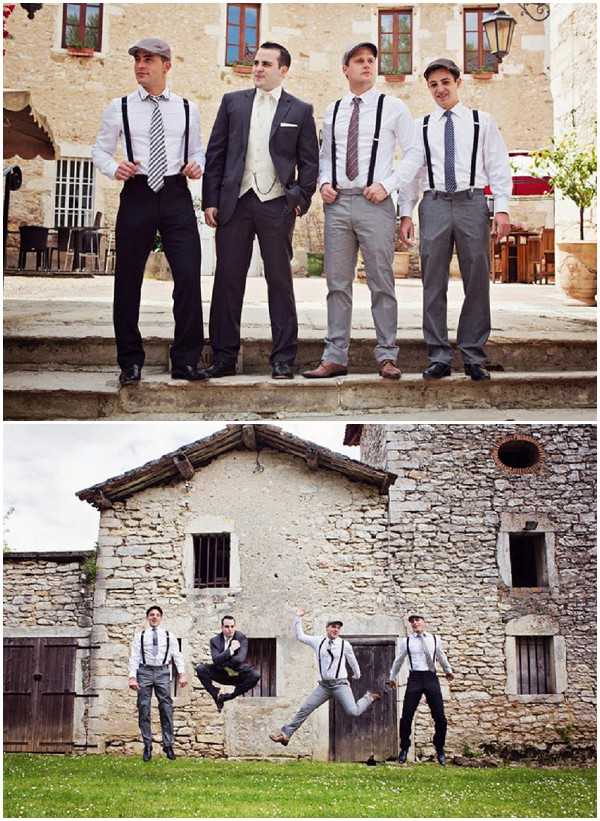 Lastly, we have 3 (half) chartreux cats, cats that all of our friends know rule our lives– thus determining our logo of replacing "the master's voice" gramophone logo from a dog to a cat.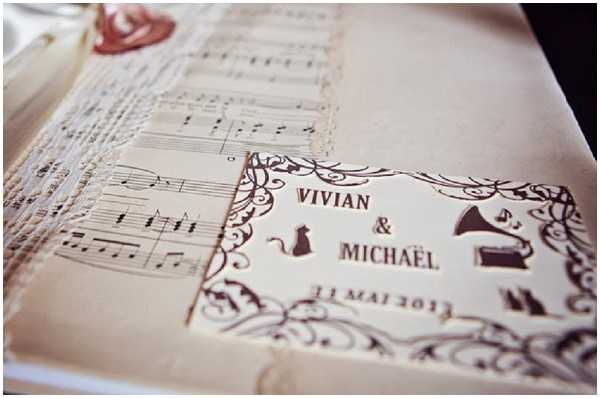 We wanted a "vintage music themed garden party," — We wanted, as much as possible to represent our local heritage– Isere or San Francisco.  Everything from the dress, Suit, newsboy caps for the groomsmen to the flowers and ivy used were either from Isere or San Francisco.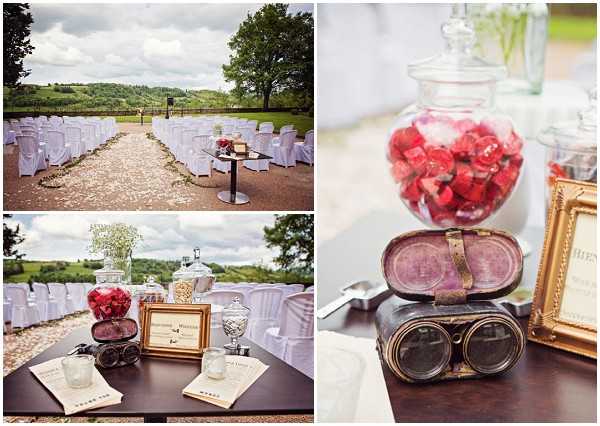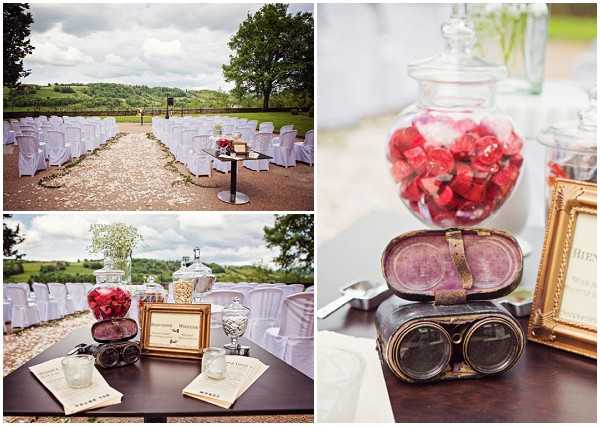 I love to craft so the wedding was very handmade. Almost all of the decorations were made from sheet music from Michael's music school in Allevard and lace , feathers, burlap and twine found in the Grenier of Michael's family's chalet.  All of the books and vinyls (it was a hoot to go through all the old french songs) were also found in the grenier. Everything from the birdcage veil to the jars of potted herbs, card box and guest book , feather brooches and feather boutonnieres were all handmade. My mother in law is also super crafty and took left over bits of the french lace from my dress to make items like the garter.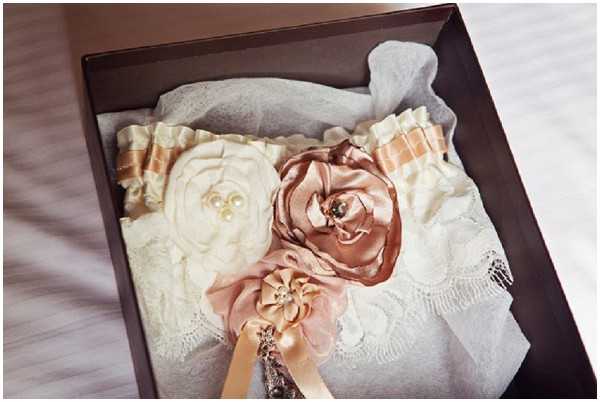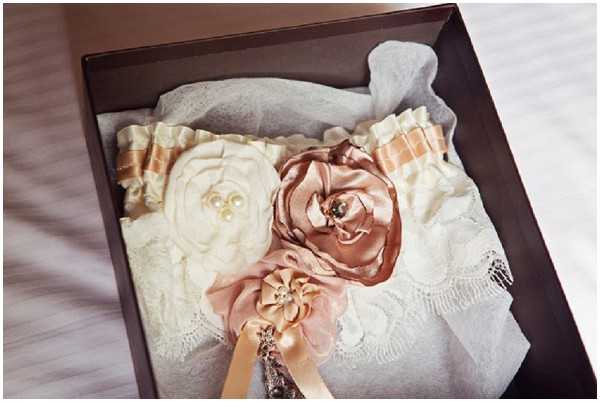 As possible we integrated "French" character and even more so locally produced items.  We wanted our American and Taiwanese guests to really soak in all that is French– Dragees, Piece Montee, Fountain de Champagne, lots of macarons, lots of duck, foie gras and local cheese, Peonies and of course, lots and lots of Champagne and Chartreuse liquor.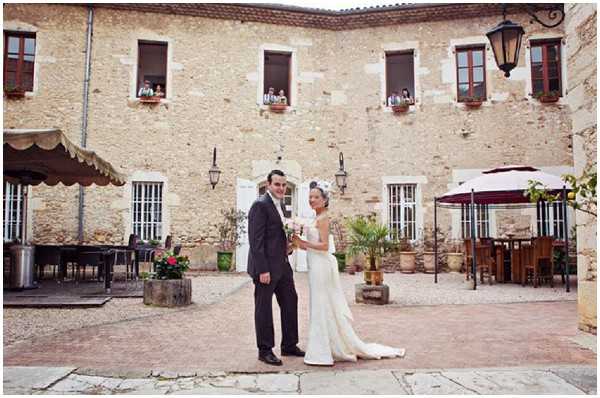 Since we already had our civil marriage in Switzerland, we had a close friend, who also married my brother 3 years earlier as our Officiant.  Robby performed the entire ceremony in French, English and Chinese.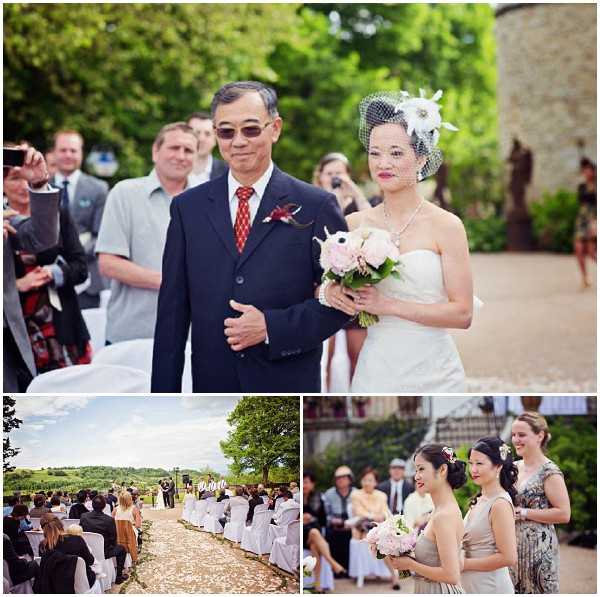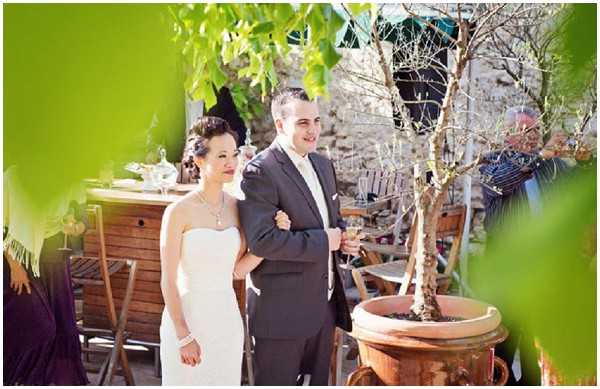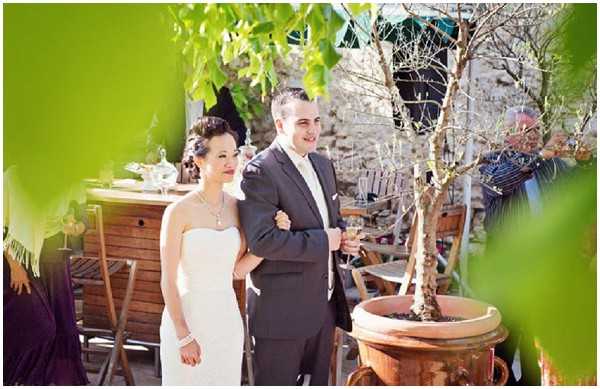 Since we made all of the decorations ourselves, we also installed all of the decorations ourselves.  Seeing French and American friends and family, despite the language barrier working together to make the wedding happen, made the wedding even more special.  I was also very lucky that I found an amazing and super professional and talented hairdresser and photographer that helped to make the vision come true.  Both of these talented ladies have done a bevy of international weddings and understand how to seamlessly intertwine French and external cultural styles.  The highlight was the Portuguese Folklore group that his mother arranged that performed during the apero as a nod to Michael's heritage.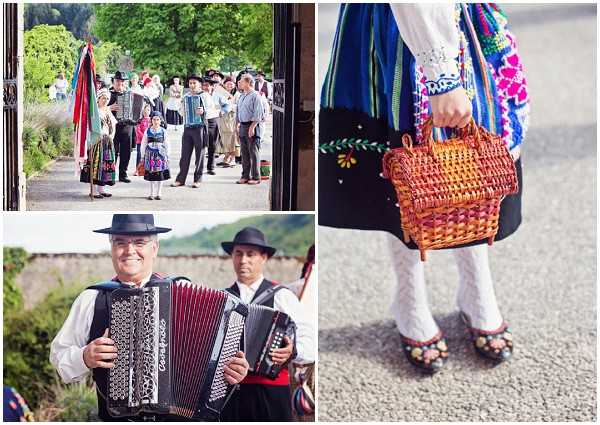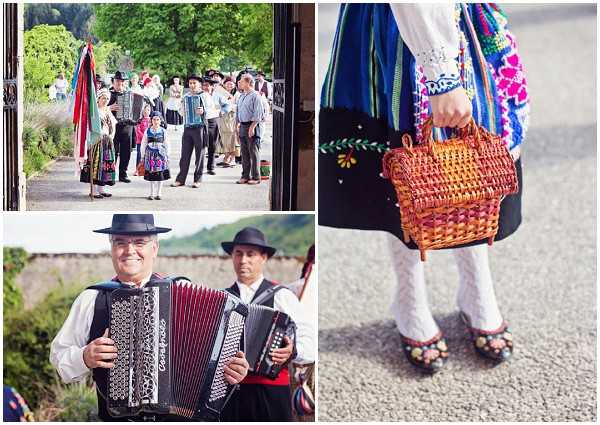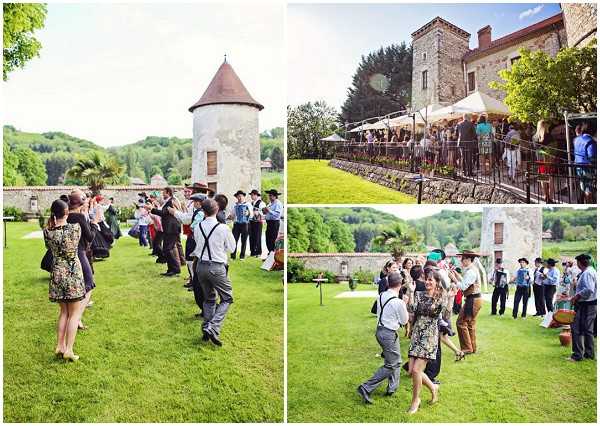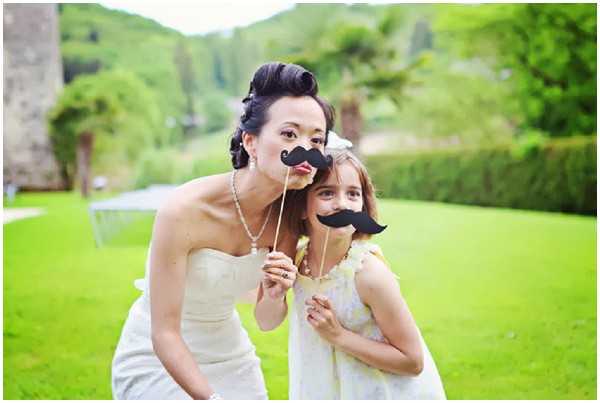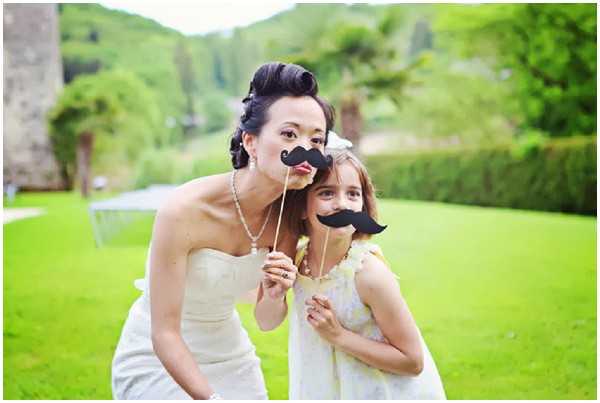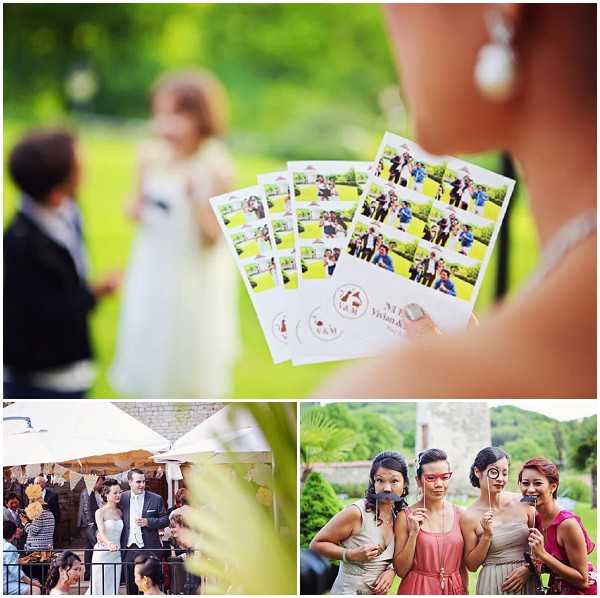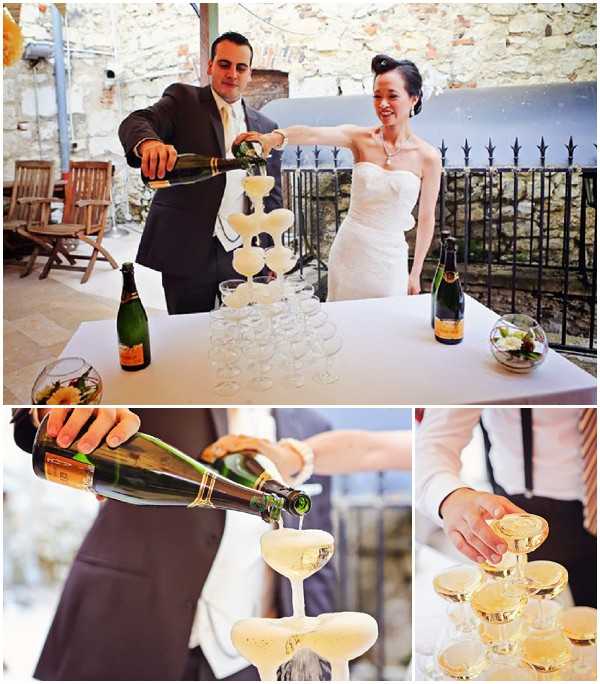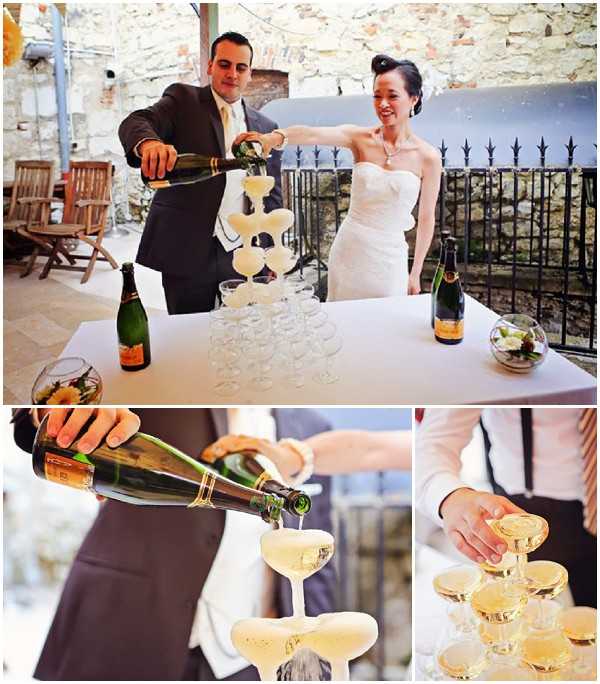 As an American trying to wedding plan in France, I do have a couple pointers for non- French people trying to plan their wedding in France.  My advice for the would be that if you are planning a destination Wedding in France, it is better to have someone speak fluent business french who understands American style weddings to help you.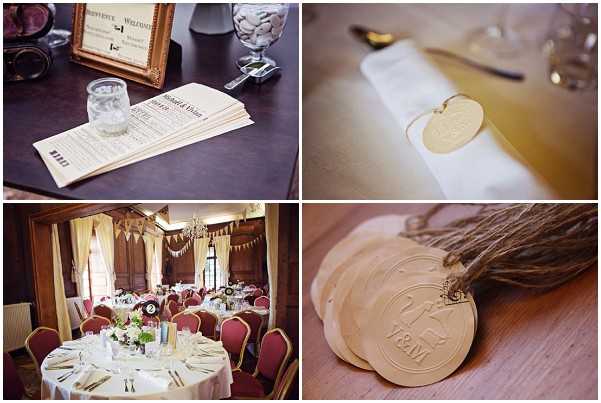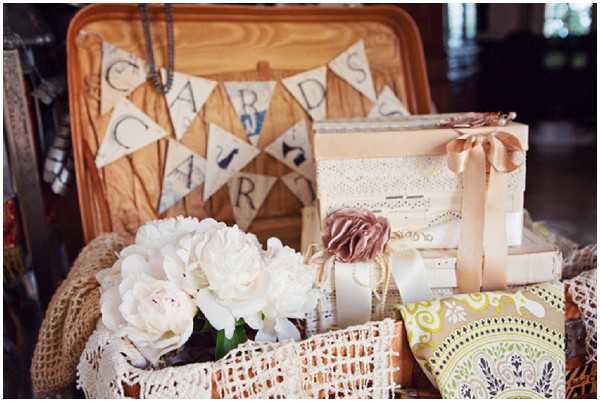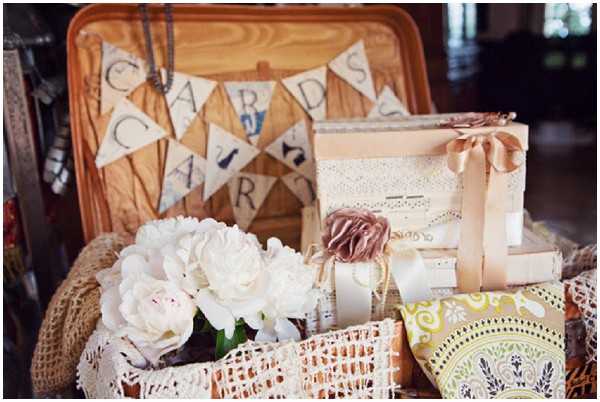 Pick a venue that has done a lot of American or foreign weddings- you will have less explaining and resistance to things that are out of norm for venue.  Our expectations and standards for weddings in America are VERY different from those of France– the venue even told us that they had never seen a wedding done to this level, even though by American standards, everything that was done was "expected"."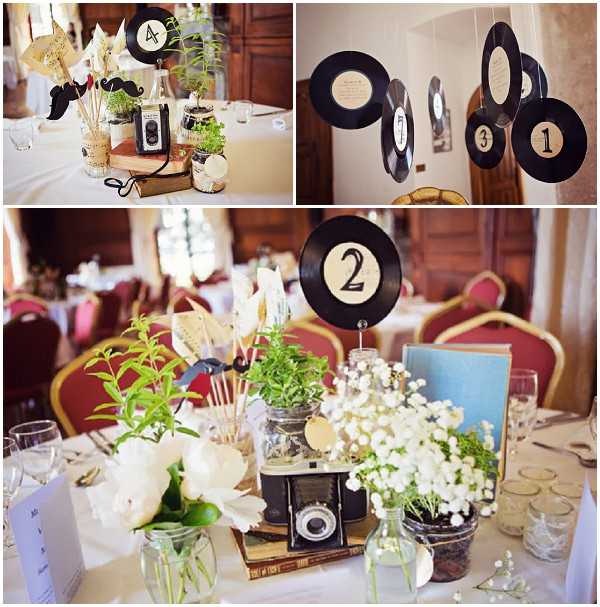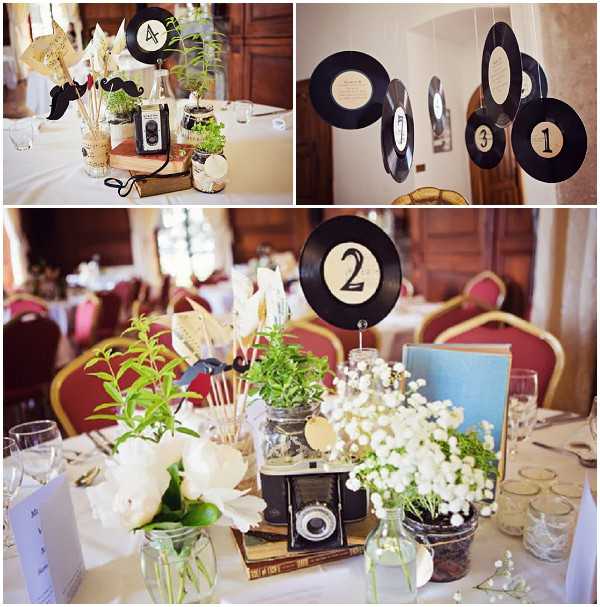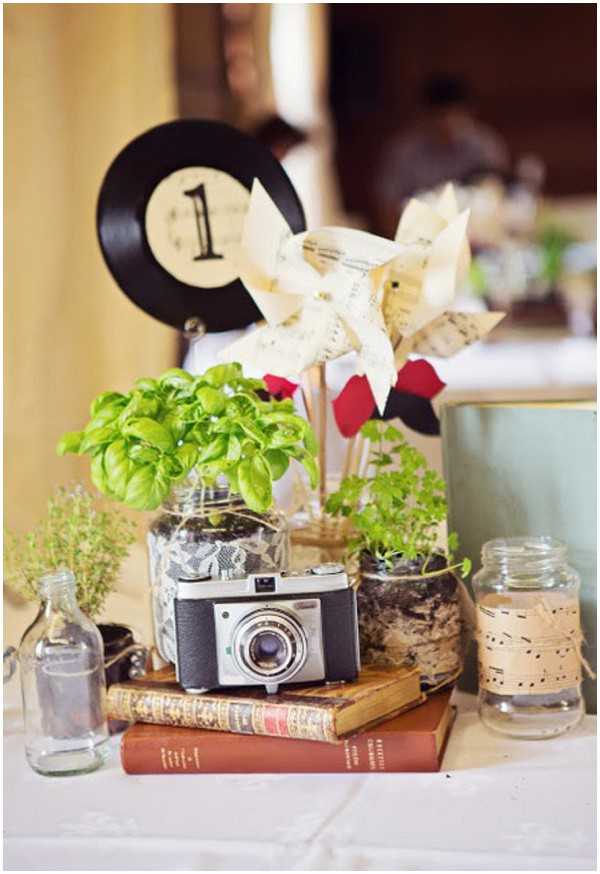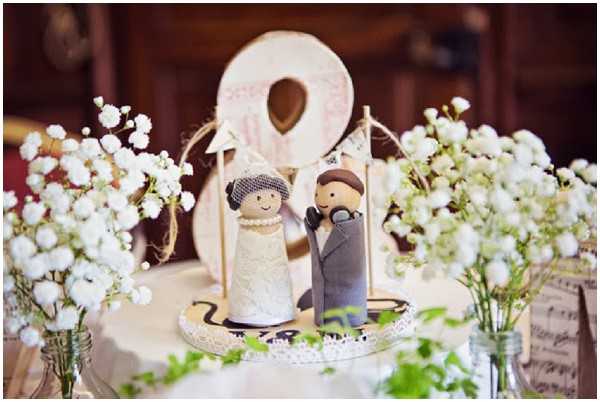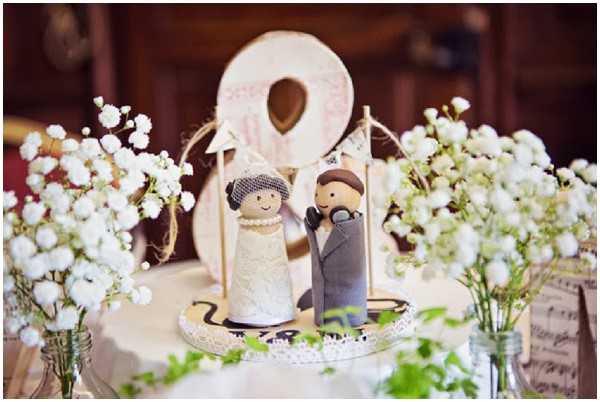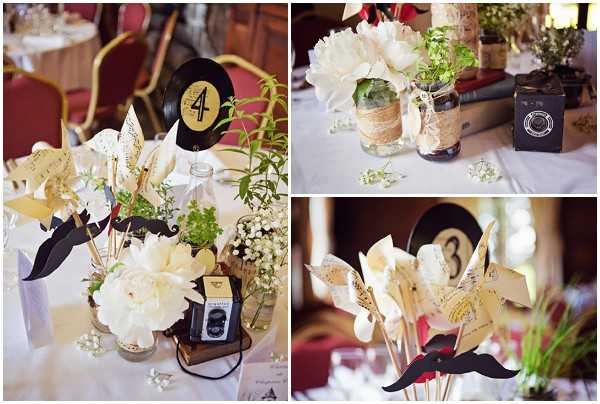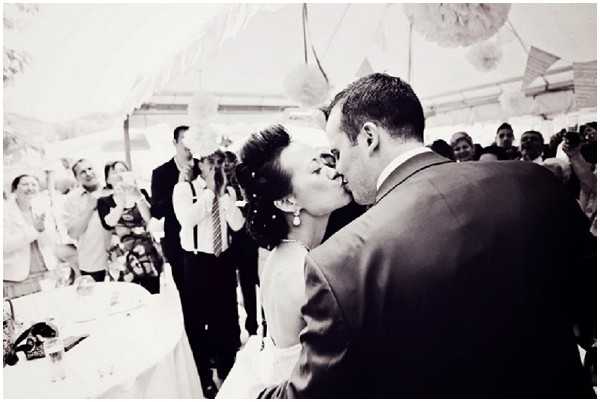 "Our wedding made us realize how lucky and blessed we are, to have so many friends and family that care about us so deeply and do everything they can to support us.   Stop, take a deep breath and really take the time to cherish this day with those that you love and love you so deeply.  In the end whatever happens, happens, but the beautiful memories that you will make will be part of you forever."


Wedding Suppliers:
Hair and Make up: Home Concept Coiffure, Lyon :
Photography: Blanc Coco Photographe, Annecy
Wedding Dress: Amy Kuschel, San Francisco; Kennedy dress
Flat caps for grooms men: Goorin Bros, San Francisco
Ties for grooms men and shoes of Groom: Banana Republic, San Francisco
Bouquets/Flowers: La Floria, Allevard Les Bains
Invitation and Logo Design in French and English: Ken Lin
Letterpress invitations: Dependable Letterpress, San Francisco
Venue: Chateau Chapeau Cornu
All other decoration and details: DIY by the bride and extended family