Another day, another photoshoot. Today we are traveling south to celebrate love on the French Riviera. The adorable couple did this photoshoot for their anniversary. Stunning views, nothing but luxury and many beautiful memories.
Studio Balzac did an amazing job capturing the beauty of the couple, the setup and the views. KS For Your Events, having an intricate eye for detail did a splendid job creating the setup and picking out the amazing outfits. And we will hand you over to them to be carried through this dreamy shoot.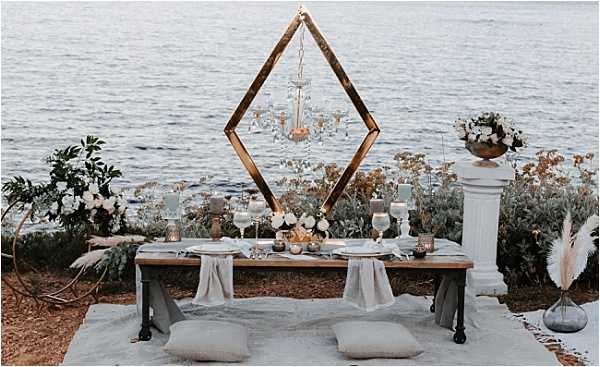 Audrey and Riccardo met at a young age. They unknowingly shared a common love for travel which is subsequently how they met, on one of their many journeys.  Inspired by their adventurous spirit, their photoshoot was an elegant and charming affair with the gorgeous South of France serving as the backdrop. The photoshoot took place at the red stones in the well-known location of Trayas, on the French Riviera. Throughout the shoot, you could hear the sound of the waves crashing against the rocks and the smell of the rising ocean mist. Audrey and Riccardo were celebrating their first anniversary and Patrick Hans wanted to recreate their elopement.
Thanks to the professionalism and eye for detail on the part of LH events, Hanene knew exactly how to make the styling and decor suit the moment perfectly.  Sonia, the planner from KS Events, provided an informed perspective and did an amazing job. With the help of Kheri Kook, Chef of the prestigious luxury hotel The Majestic Cannes located on the Croisette, the table arrangements and design were superbly executed. Audrey looked stunning in her Geraldine Blue's dress. Geraldine Blue is a brand that specializes in bohemian and eclectic apparel.  The couple also wore La.mericaine's capes which were a perfect touch. La.mericaine is a wonderful French brand specializing in capes, pouches, blankets, and cousins – absolutely awesome!
The event created such a glamorous spectacle, bystanders were drawn in by the dozens to watch. By the end of the photoshoot, Audrey and Riccardo asked us to be with them every year to celebrate their anniversary to share more beautiful memories.  The couple also asked us to create backdrops to commemorate their anniversaries. This year, the wedding theme was cotton.  The colors were muted white, beige, and ecru.  Next year's anniversary will be a leather themed and we are confident that it is going to be extremely fun as well!
Celebrating love on the French Riviera Snapshot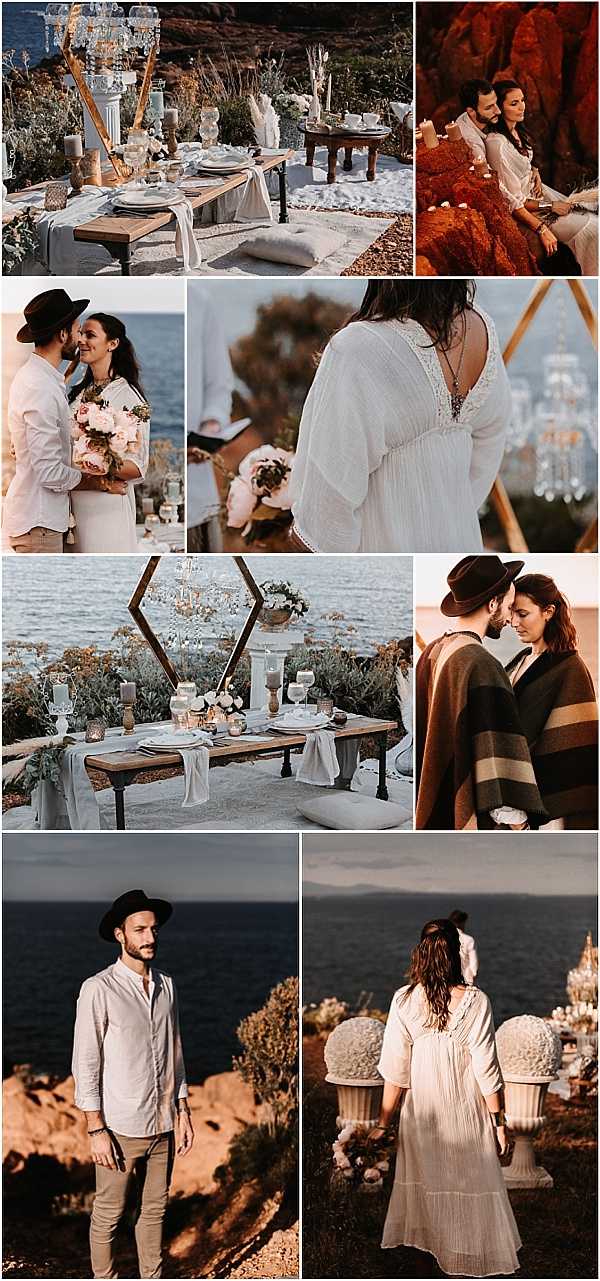 Vendors
Photographer: Studio Balzac | Planner: KS For Your Events | Decoration: lhevents | Accesories: La Mericaine | Dress: Geraldine Blue