Good Morning and today we are excited to share with you this Canadian wedding in France. This Canadian couple Stacey and Brian,  wanted lots of colour to resemble them as a whole and we love their venue choice and decor design by Leslee Urquhart at A Perfect Day. The wedding photography today is by FWS vendor Adrian Neal and the stunning location is also FWS approved Village Castigno, keep reading on for the whole of this beautiful love story of Stacey and Brian.
Stacey and Brian's wedding was a real joy to photograph. I had been suggested as their photographer by their wedding planner Leslee Urquhart from www.aperfectday.ca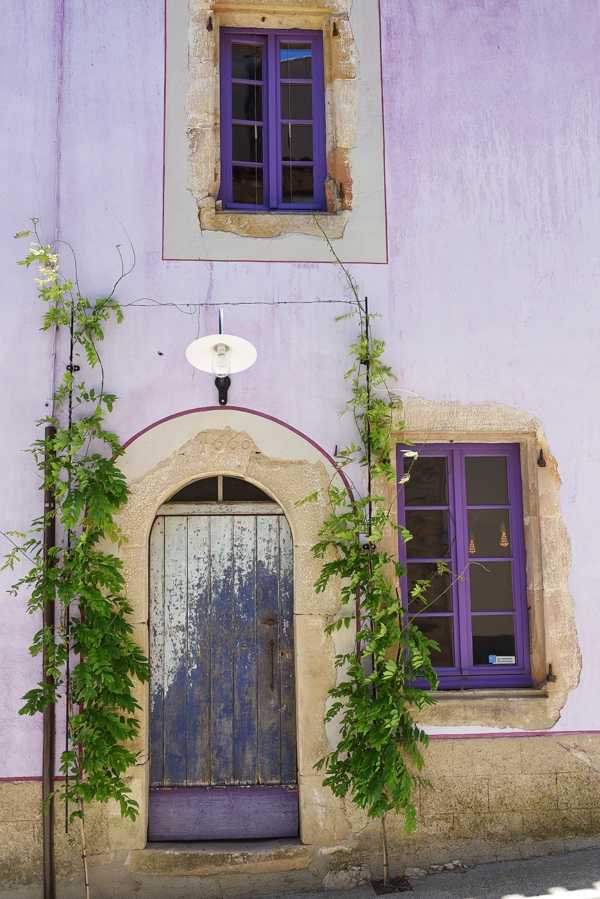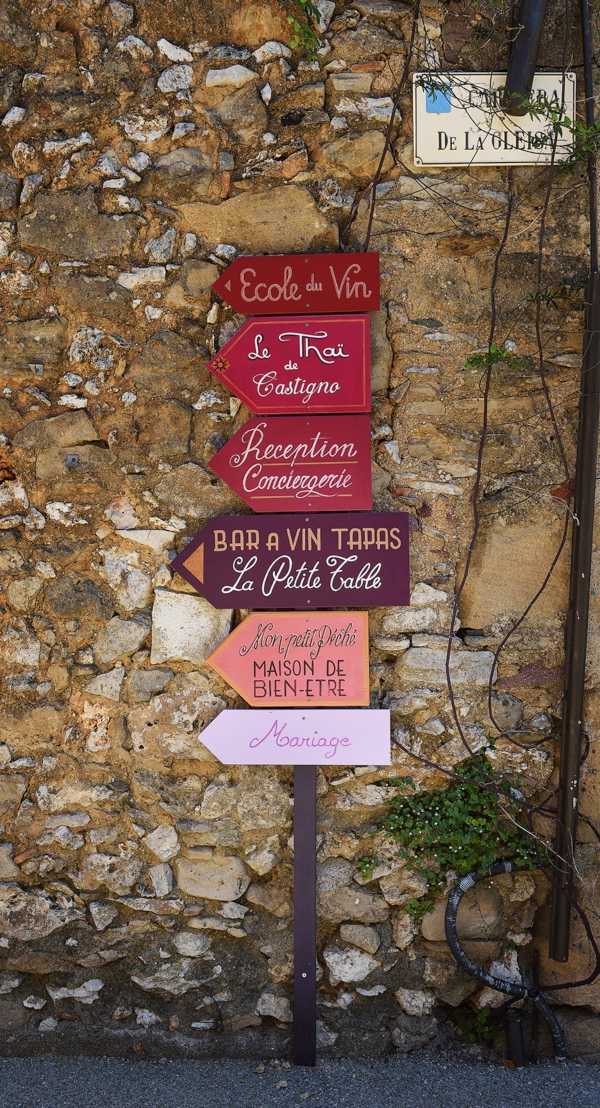 Canadians Stacey and Brian had never been to France before, so we hadn't had an opportunity to meet before their wedding, instead we chatted through their plans for their special day on Skype.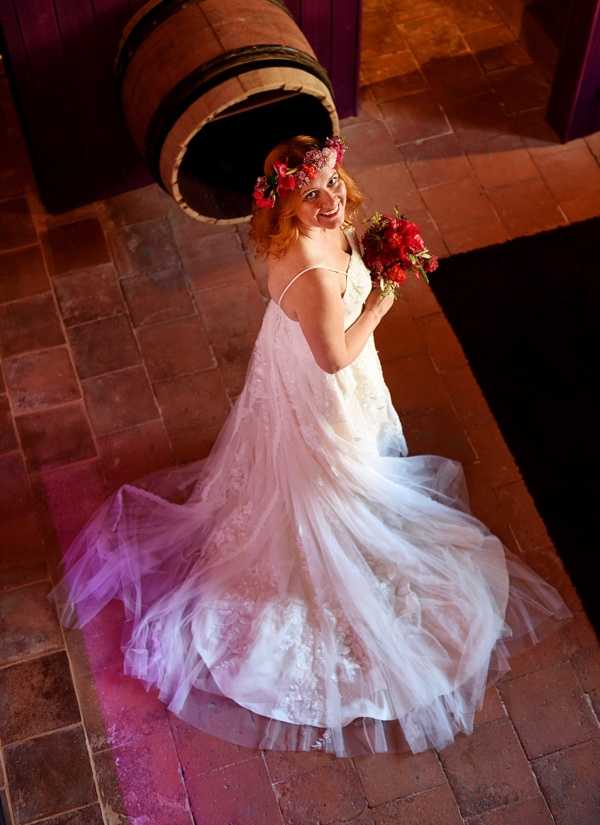 Stacey and Brian had met when Brian, a culinary professor, was asked to judge a cookery competition in Stacey's home town. Eight years later Stacey took the opportunity of the leap year tradition to propose to Brian on February 29th.
France was an easy choice for their wedding destination with its reputation for world class cuisine and the beautiful Village Castigno with its Michelin starred restaurant was to be a perfect venue for their wedding in June.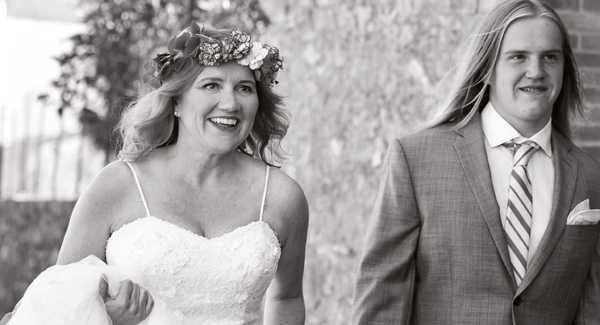 Situated in the breathtaking countryside of the Languedoc-Roussillon area of Southern France , Village Castigno, is full of vibrant red and purple coloured houses with narrow winding streets which lead out from the village square with its almost too perfect French Cafe.
Marion Petiot manages this hidden gem and nothing was too much trouble for her or her staff to provide a perfect secluded and intimate venue for Stacey, Brian and their guests who stayed in the mix of beautiful villas and houses throughout the village, so on the morning of the wedding the village awoke to the excitement of all involved.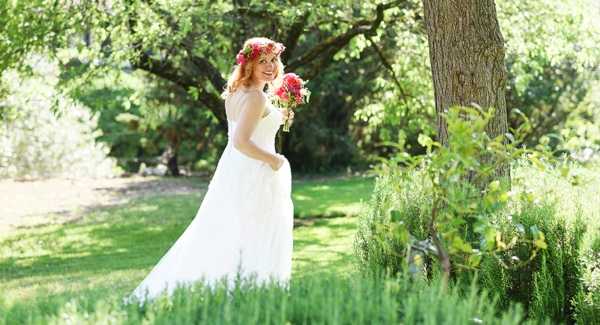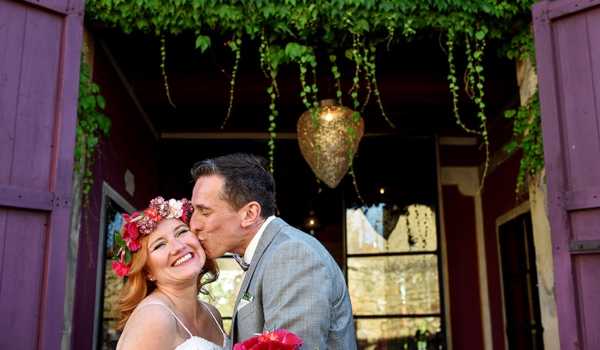 Stacey was getting ready in a lovely stone village house with beautiful beams and a vaulted ceiling, perfect to display the wedding dress for some photos. Stacey had an amazing smile as she tried on the headband of brightly coloured flowers that had been made for her by Leslee the wedding planner, also a trained florist.
Stacey and Brian's ceremony was to take place in the gardens of the Michelin starred La Table restaurant among the red parasols and the flower beds bordered by old stone walls and olive trees. I caught up with Brian for a few photos as he waited in the afternoon sunshine with his sister, also his 'best woman' for the day. A short walk through the village led Stacey to the La Table restaurant to be met by her parents before being escorted through the gardens by her son Somerton to music played on the guitar by her daughter Alex.
The ceremony was a very personal one to Stacey and Brian with their friend Kerry officiating and with vows written by the couple. The fountain trickling in the background and the dappled shade made for a really relaxed ceremony with lots of smiles and little glances along the way which always makes for some lovely photographs.
At the end of the ceremony Stacey and Brian made their way back into the gardens for canapes, drinks and a few informal photographs with family and friends.
Village Castigno has so many opportunities for beautiful images and although most of the day was to be photographed in quite a natural documentary style it was lovely that Stacey and Brian found time for me to take some photos of them both with the village as a backdrop. The photos on the Vespa scooter in full wedding attire are my own favourites!
The wedding breakfast was served in the eclectically furnished La Table Restaurant, the meal prepared by Chefs Ruben and Pieter De Maesschalck, included fresh crab with a variety of radishes and white asparagus with fresh herbs from the garden.
After the meal a few heartfelt words from Stacey made for some more photos with a lot of laughter and just a few tears. The Restaurant has some lovely little outbuildings and we couldn't resist a few photos taken inside the tiny candle lit greenhouse in the herb garden.
With dusk the evenings dancing got underway with a lively first dance from Stacey and Brian. A night time walk through the village was magical with little pools of light and shadow and a chance for just a few last photos.
We want to say a huge congratulations to Stacey and Brian, and a massive thank you to all the suppliers that have shared this Canadian Wedding in France with us.
Canadian Wedding in France Snapshot
Wedding Vendors
|
Photographer
Adrian Neal at The Studio Without Walls | 
Wedding Planner
A Perfect Day | 
Venue
Village Castigno
| 
Dress
Melissa Sweet | 
Flowers
A perfect Day Florals | 
Shoes
Expressions New England |