Hi everyone and a happy Monday to you! We hope you had a fabulous weekend of Fireworks and bonfires, or if you're keeping it traditional – we hope you have a fantastic night tonight!
Today on the blog, we have a lovely British-Canadian couple who flew just right to Provencal, France to create the most special of memories in their lives. Their wedding planner Et Voila Weddings set the stage for their spot perfect, breath-taking and romantic event. Along with Catherine O'Hara as the photographer, and other top vendors in France, their wedding is as perfect as close to home.
Let's read on the details of their wedding in the beautiful Domaine de Capelongue as shared by Et Voila Weddings.
It is with excitement that we are sharing with you the wedding pictures of Connie and Rod, a British-Canadian couple who got married in the South of France in one of the most beautiful venues in Provence.
We have been very lucky to plan their unique wedding! Very elegant and inspirational, combining Provencal authenticity and glamour – those are the words that we could describe the event!
Connie is a real dreamer and a romantic. At the same time the couple planned their wedding with their guests at the centre of every decision. It was only logical that the bride and groom chose the theme "Be our guest" from the Beauty and the Beast to accompany their couple dinner entrance, it was so French and truly magical!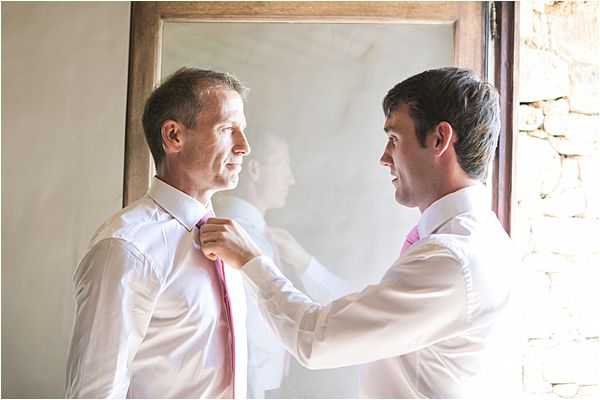 The ceremony took place overlooking amazing views over the hanging village of Bonnieux. This is one of the most breath taking views of Provence.

The chef at the venue has 2 Michelin stars. The guests were therefore served a Michelin star 4 course menu, a real treat! The couple also prepared some local foods to create a small "local buffet". This included Calissons de Provence (almond based sweets), lavender honey, aubergine paste, olive oils with bread,…
The bride had a clear idea of the style of wedding she was after: clean, elegant, sophisticated, yet in keeping with the relaxed atmosphere of Provence. Connie chose a beautifully fitted gown from Martina Liana, with a low V neckline and gorgeous lace, to which she had some extra beads added all over the lace for some extra sparkle, making it completely unique!
The decor mixed authenticity and elegance, with some calligraphy wooden signage placed around the venue, some simple cotton petal pouches adorned with gold wax seals, a Provencal hats tree at cocktails.
The couple had less than 60 guests and wanted their wedding to feel like they were inviting friends at home to celebrate their union. Their venue accommodated all of their guests on site for the whole weekend.
Anecdotes
There was so much wind on the day that the bride's veil flew off just as she reached her groom down the aisle! The veil flew over all the guests who all gasped at once. Anne-Laure, the wedding planner, managed to grab it and put it back on discretely for the rest of the ceremony.
Connie is Canadian and Rod is British. The couple met at work in London and connected over their love of food and travel! Rod introduced Connie to the satisfying feelings of sport challenges and Connie is now un-stoppable, running, cycling or swimming (sometimes all 3) every weekend. That is how they discovered Provence together, participating to a cycling challenge, and fell in love wit the area, its food and its landscapes.
Congratulations to Connie and Rod from the team at French Wedding Style!
British-Canadian wedding in Provence Snapshot

Vendors:
Photographer: Catherine O'Hara | Wedding planner: Et Voila Weddings | Flowers: Laetitia C | Venue and catering: Domaine de Capelongue | Singers duo: Becky & Belha | DJ: Baz concept | String quartet: Lady's orchestra | Celebrant: Celia