Brightening up your day with wedding celebrations from Paris on the blog, with an art deco wedding from Paris that just oozes glamour and makes me want to blog in silk gloves!
Elizabeth and Steven originally wanted a Paris destination wedding and a perhaps a casual/small Seattle party upon their return, but after looking into the marriage laws in France, they realized that the residency regulations would bar them from getting married there.
Instead of doing a courthouse wedding at home before the Paris trip, they decided to take a special trip to France for 3 weeks and celebrate just the two of them.  Then a few months later, have a full public/legal ceremony and reception in their home town of Seattle.
Elizabeth takes us through her day: "I have a deep love for France and Paris in particular, the people, food, history, antiques, design and general beauty of it all, and really wanted to share it all with Steven.  He had never been to France and experiencing it together meant a lot to me personally.  While I had been there many times, I had never been there with a man I deeply loved."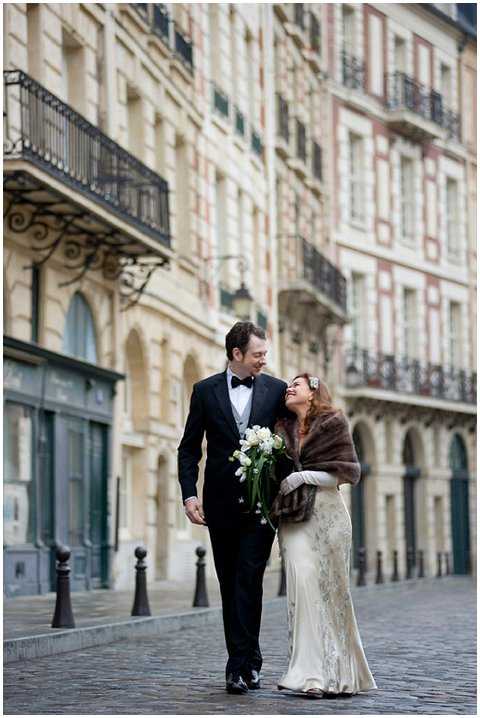 I lived in Germany near the French border for almost 4 years and spent a huge amount of time in France hitting the flea markets, antique stores and salons (shows), as I had an antiques business for years that morphed into a design business. I have a 10 year old daughter from a previous marriage and do a great deal of community volunteer work.
When I relocated to Seattle from San Diego 8 years ago, I wanted to start fresh and decided to head to a corporate life instead of an entrepreneurial one and so closed my design business.  Eventually, I ended up working for a tech firm, which is where I met Steven — we met at an office Happy Hour.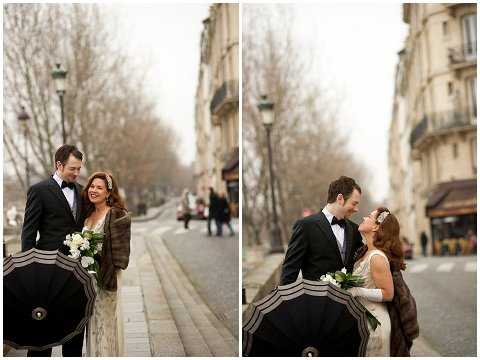 Our meeting happened right before the division I was managing got sold off to a CA firm, so we only worked for the same company a few months. Steven is still a software developer there, while I have moved on to work for a Leadership Development Consulting firm.  Our first date was on August 1, 2010 and we got engaged on September 12, 2011.
Once we got engaged we didn't want to wait a long time to get our official life together started. We both felt like we'd been waiting our whole adult lives to find a love like ours and we just wanted to make things official and get on to our amazing future life.  Corny, I know, but true.  So, we managed to plan the Paris ceremony really quickly.  It was at times pretty crazy to get things done within the time frames necessary, but we pulled it off and things went off just as we'd hoped.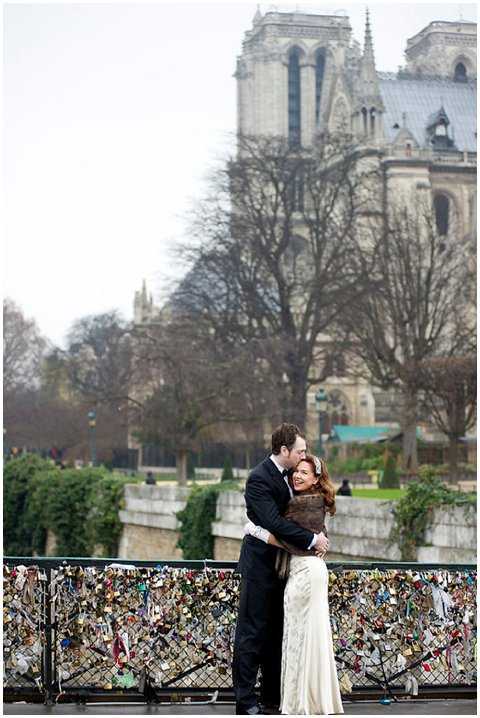 Taking the trip to France, private vows and a romantic celebration just the two of us was an incredible way to start our life together.  Our photographer in particular, made the whole experience magical and unforgettable!  Olivier Lalin has an incredible eye and also a wonderful, easy & fun way of working with you.
When we look at the photos, we feel Olivier truly captured us and our love  all with the beautiful backdrop of Paris.  He gave us photos that we will always treasure, and I might add, at a tremendous value when to comparable metropolitan photographers in the US, which would have cost 3-4 times the cost.
Parts of the planning were a bit challenging from a far… planning the ceremony, day of car service, hair and make-up stylist and the florist, but our photographer, the concierge for the apartment we stayed at the week before, and the Hotel Lutetia were all so easy to work with and incredibly helpful with other points of planning.
I'm a major Type A planner and to not be able to firmly secure the flowers and town car ahead of time took some letting go on my part, but as it turned out, both were perfect in the end!  The ceremony was also something we decided to let go of.  We'd looked into it and it was more costly and just not as easy as it would be in the U.S. where officiants are pretty much an email or call away. Instead we exchanged personal vows to each other privately. For us, this meant a great deal, so even though it was not legal we felt bound by spiritual commitment from the day we celebrated in Paris.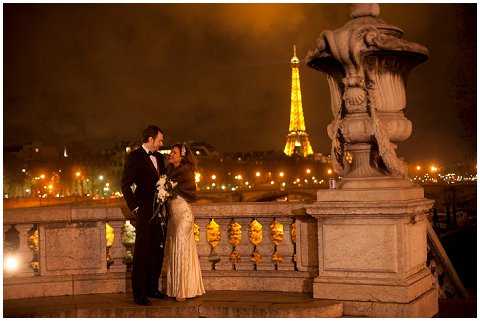 Being a former antique dealer, I love vintage details and Paris was one of the leading cities that really reflected the elegance of the culture of the Art Deco era.  Also, I fell in love with Jenny Packham's designs well before we got engaged. So, it was an easy decision to just go with her for my wardrobe as well as carry the Deco concept all the way down the line.
We like to think of the of the ceremony as our own little Midnight in Paris movie. Plus, we used some items we found at flea markets and shops while in France.   My ring is period Art Deco and a local jeweler sourced it for us when we couldn't find anything in the shops that we liked in a reasonable price range."
What a beautiful wedding and an eye for Art Deco detailing that Elizabeth has, I especially love the art deco inspired bridal hair accessories team with the Jenny Packham dress.
Monique xx
Wedding Suppliers:
Hotel: Hotel Lutetia www.lutetia-paris.com/en/
Cafe: La Palette www.cafelapaletteparis.com/en/
Reception:  Le Jules Verne www.lejulesverne-paris.com
Flowers: Moulié Fleurs www.mouliefleurs.com/english/
Wedding Planning Services: Yanique Lalin of WeddingLight Events www.weddinglightevents.com
Car Service: Victor of WeddingLight Events www.weddinglightevents.com
Photographer: Oliver Lalin of WeddingLight [email protected]
Photography/Videography Company: WeddingLight www.weddinglight.com
Wedding Dress: Jenny Packham www.jennypackham.com