The bride had 3 different pairs of  shoes for her wedding celebration – a lady after my own heart! Although Jessica and Luc live on a French Island, their home on the island of Reunion is 200km south west of Mauritius in the Indian Ocean, truly making this a destination wedding.
The couple were looking to create not your atypical Parisian wedding, but decided on a yurt wedding reception just outside Paris and the whole celebrations lasted two days, allowing their guests time to enjoy and relax into the celebrations.
Bride Jess takes us through her day: "Luc and I live on the island of Reunion and we got married last August in Paris. This is several thousand miles away, so it was a real challenge to prepare our wedding !
I spent several months to browse the web, wedding blogs, magazines, to accumulate images of inspiration to build gradually the marriage which look like us.
We first fell in love with the place: unusual, atypical and original (like us). Yurts, a few miles from Paris, the real change of scenery and our guests were in love too!
The marriage takes place over 2 days, so I chose two outfits while remaining reasonable level budget. For the city hall, I wanted a short dress that I can rely on other occasions. I just decorated my dress with a pretty headband. And for the religious ceremony, I chose a dress with just enough volume. And last but not least, a pair of shoes for the city hall, one for the religious ceremony and another one for the party ! And if the bride's dress must be white or unbleached, shoes can be colored and I took advantage!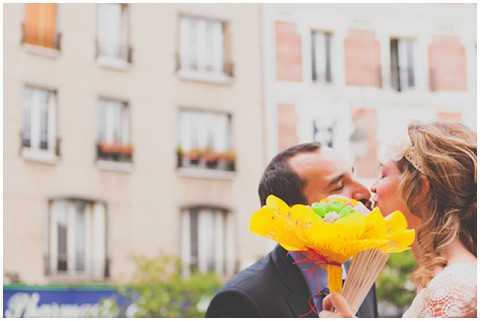 For the bridal bouquet, I also wanted something different. So I chose a candy bouquet. I like its color, energy, and pep! But you must know that with a candy bouquet in the hands, all children are around you all day long !
I came to Paris a month before the wedding to take care of the decoration, the last adjustments of organization. For the decoration, I wanted red color (to symbolize the passion, energy, fire, life) and I declined this color everywhere (bar candy, plan table, center table, and small details scattered on the tables). I'm a singer so the wedding theme was obvious: the music (center table, guestbook).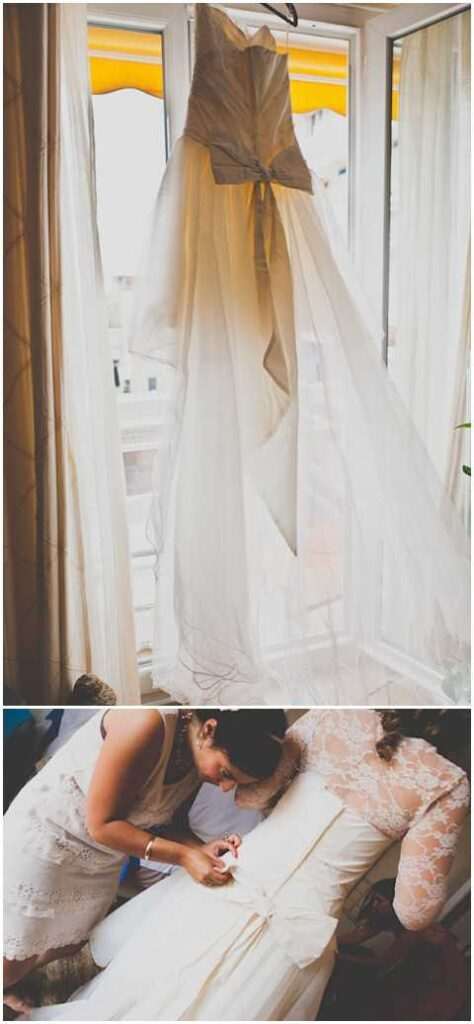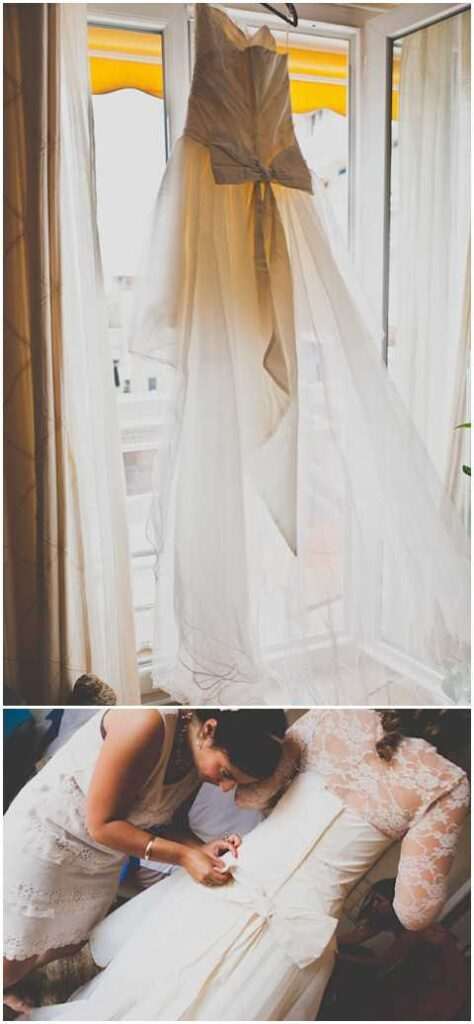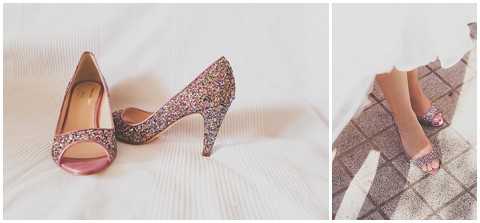 I discovered the work of MADfotos in a bridal magazine. By browsing their site and blog, I was conquered.  Her pictures of our wedding are stunning, and they allow us to relive our day on a beautiful way.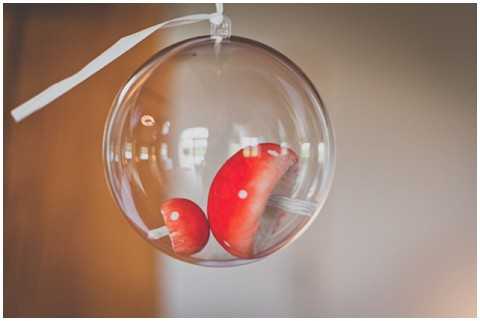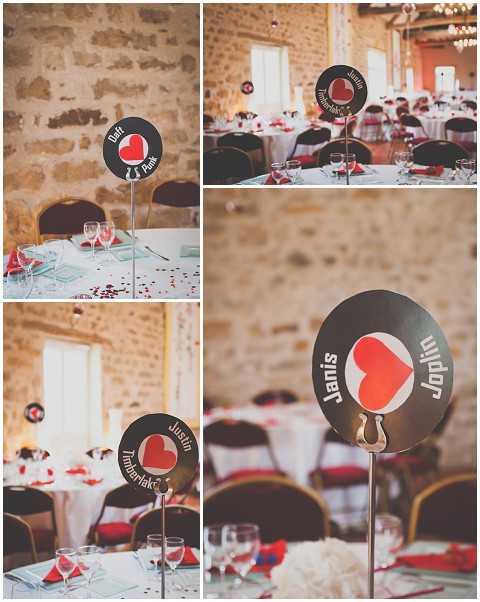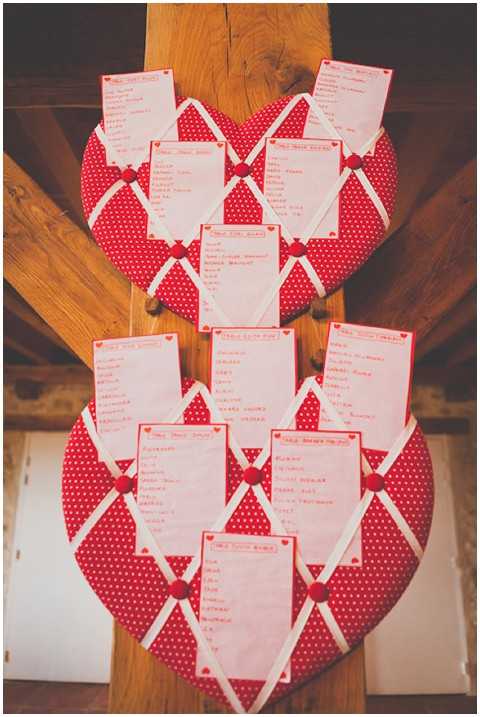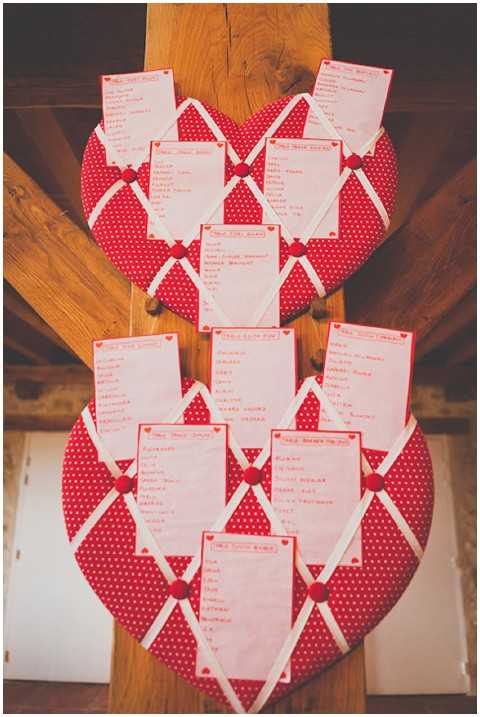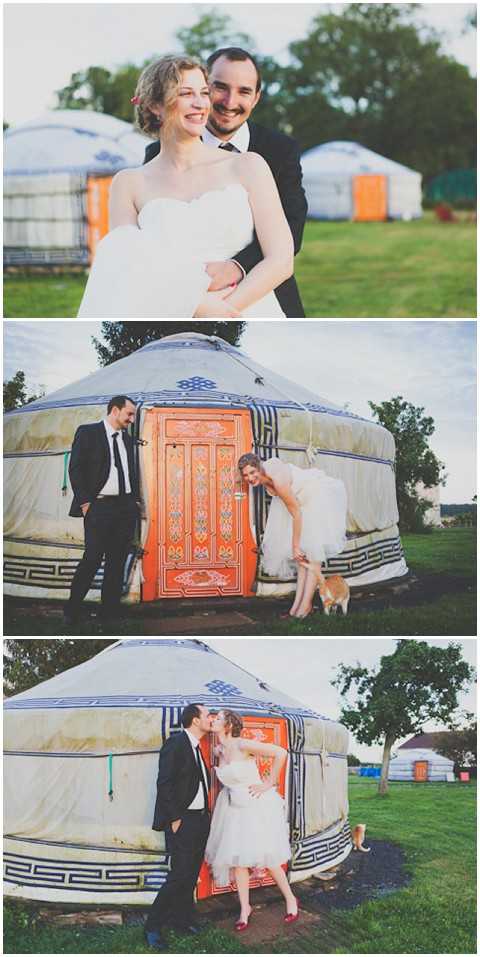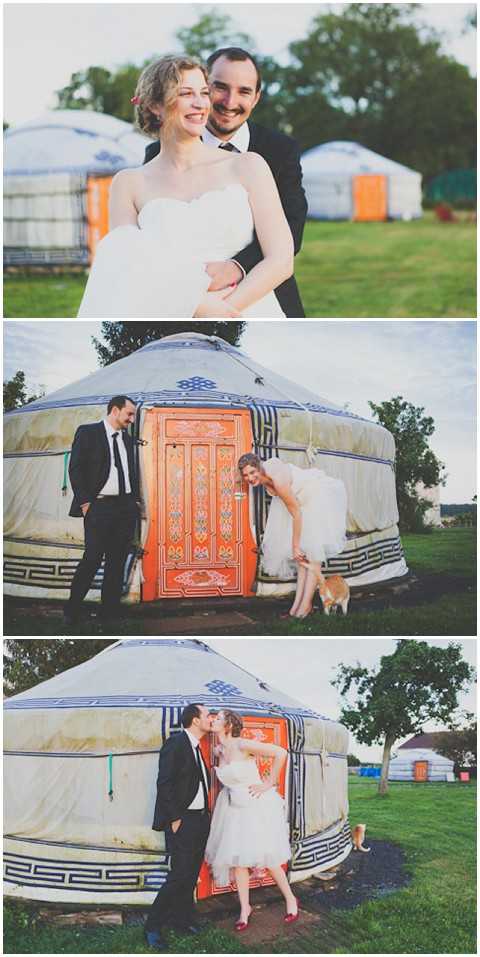 If I had to give advice to the bride and groom: organize your wedding on two days to enjoy your guests (and additionally, this is also a good pretext to multiply dresses and pairs of shoes!). Our families are scattered around the world, and see them all together for us was priceless."
The shoes, the dresses, the bouquets – well who says you have to decide on one of anything on your big day!
Monique xx
Wedding Suppliers:
Wedding Photographer : Annie from MADfotos
Wedding Venue : Nomade Lodge
Wedding dress for city hall : Sud Express
Bride's shoes :  Mélissa from Vivienne Westwood
and Galeries Lafayette
Headband : H&M
Candy bouquet : Le Petit Duc (Saint Maur des Fossés – 94)
Hair :  Annie Création Coiffure (Saint Maur des Fossés – 94)