The Estate Diamond Jewelry Collection is so vast and impressive. If you're planning a proposal and would love a fine vintage engagement ring, then this is where to look for it. The ten latest additions to their collection, in particular, are nothing short of mesmerizing.
This article will talk you through these ten rings and tell you a little bit more about each one. There are 19th-Century antique engagement rings, Art Deco style rings, and mid-century options to consider.
Did you know that before the 1940s, exchanging engagement rings as a sign of betrothal wasn't as common? In fact, most connect that period to one of struggle and turmoil worldwide.
And yes, diamonds were challenging to find in these times, but not impossible. However, platinum wasn't readily available so most jewelers used gold instead. Which brings us to the gorgeous Berge Ring. This ring features a stunning 18k white gold band very reminiscent of the 1940s.
This engagement ring has a 0.75 magnificent transitional cut diamond, I color, and VS2 clarity. Around the diamond, there is a square bezel with cut corners. The design of this classic engagement ring continues down to the metal sections.
In terms of measurements, this ring is around 5.73mm x 5.70mm x 3.23mm. With the metal bezel, the size is approximately 8.mm x 7.95mm. An engagement ring, such as the Berge Ring, is a beautiful choice for anyone who appreciates history. Someone who appreciates style without the excessive flashiness.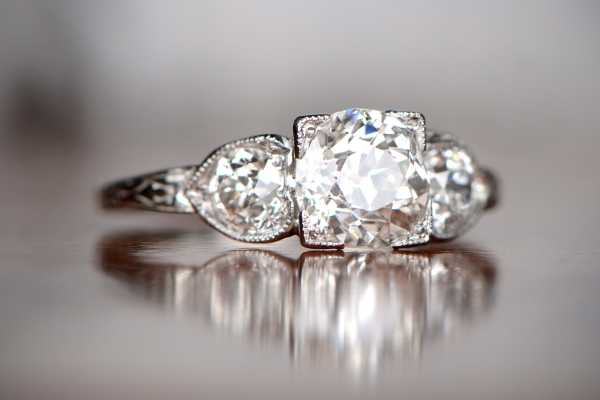 People often use the term "vintage" when it comes to expensive jewelry. This seems to especially be the case with engagement rings. The Bernex Ring is a prime example of what constitutes vintage.
Any piece of jewelry between 20 and 100 years old falls into the category. If you're a fan of Art Deco, a 1920s design style that influenced all kinds of arts, including jewelry making, the Bernex Ring is an Art Deco original.
At its very center, it features a GIA-certified 1.33-carat old European cut J color diamond. The diamond is also SI1 clarity.
If your heart is set on a platinum band, you'll appreciate that this ring's band was handcrafted in 1925. Any modern day bride who wants a touch of vintage in her wedding, and her life, might find this ring to be exactly what she needs.
Engagement ring styles haven't changed much from the 1940s to 1950. However, slowly, the emphasis on symmetry fizzled out. More bolder ring styles then became more popular.
If the engagement ring you're looking for needs to be unapologetically conspicuous and gorgeous, the mid-century Evanston Ring might be the right one for you. It features a GIA-certified 1.06 carat transitional cut diamond.
The VS1 clarity and K color are also some of the features. There are also three rows of a circular-shaped transitional cut diamond. They are set on the east and west sides of the ring; overall, it's a unique and unforgettable design.
The retro 1950s ring was made from platinum and is a fabulous choice. Also, Estate Diamond Jewelry offers resizing of this rig with no extra cost.
There are vintage engagement rings, and then there are antique engagement rings. If you want to propose with a ring from the Victorian era, the Sheffield Ring, from around 1880, is a beautiful choice.
This is a quite rare and very impressive antique engagement ring. It holds a 1.23-carat old mine cut diamond. The clarity of the diamond is SI1 and color J.
The ring resembles a flower with beautifully designed patterns, and another two old mine cut diamonds set north and west. Like most Victorian era engagement rings, the Sheffield was made from 18k yellow gold. In the mid 19th century, gold supply increased a lot.
Yellow gold was then the standard when it came to designing engagement rings. Compared to many rings from this era, the Sheffield ring stands out due to the intricacy of its design. It's a true one-of-a-kind antique engagement ring.
The Lienz Ring is another representation of the Art Deco movement that started in France in 1920. This is an original K color and VS2 clarity engagement ring.
It holds a lively 1.97-carat old European cut diamond. As with any true Art Deco ring, you immediately notice its geometric design surrounded by other diamonds.
When it comes to vintage engagement rings, the Lienz Ring stands out with its hand-engraved decoration on the inside of the platinum band. Without a doubt, 1920 was a somewhat revolutionary period for ring-making.
That is why the Art Deco engagement rings are still among the most popular options for many couples. They are all about glamour and sophistication, which is a significantly better association to the 1920s than the Great Depression that soon followed.
Big, bold, and jaw-dropping engagement rings are the choice of many. However, if you want something more delicate, soft, but equally impressive, perhaps the SouthWell Ring from around 1945 will catch your eye.
The surge in popularity when it comes to all things vintage is still going strong. And it's no different for engagement rings. But vintage merely means that the ring is at least 20-30 years old. A vintage engagement ring can come in many shapes and styles.
As for the SouthWell Ring, it means a GIA-certified 0.46-carat old G color SI1 clarity, European cut diamond. Around the shoulders, you'll also find a marquise cut diamond. And on each side of the ring, there is also a single cut diamond.
All this might make it seem like a busy engagement ring, but nothing could be further from the truth. The interesting part is that it's platinum, which was a scarce metal in the mid-1940s, right around the beginning of WW2.
There are many impressive characteristics of the Art Deco style. One of the most impressive ones is how much creativity came about in such a short period.
The Art Deco era came to an abrupt end, but it left behind some of the most impressive jewelry pieces in history. A prime example of that is the Preston Ring from around 1920. If your loved one is partial to openwork filigree, this only adds to the ring's characteristic delicacy.
The handcrafted platinum mount features a 1.08-carat old European cut diamond. The H color and VS1 clarity stone are also adorned by baguette-cut diamonds on both sides. Also, these are GIA certified diamonds, and the Estate Diamond Jewelry will provide the certificate upon request.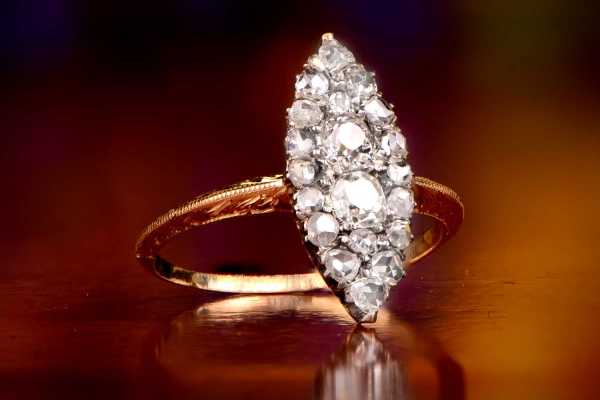 Even though the Bridgeport Ring is officially an Edwardian antique ring, it is still reminiscent of the Victorian era rings. There's one very specific reason why.
During the reign of King Edward of Britain, the oxyacetylene torch was discovered. That means that platinum became the prevalent precious metal for engagement rings.
However, the Bridgeport ring features 18k yellow gold, which was a trademark of the Victorian era. Still, this gorgeous ring was designed around the beginning of the 20th century. The yellow gold mounts two centers old mine cut diamonds and several antique rose-cut diamonds around the edges.
In total, the diamond is around 0.50 carats. The measurements are 17.72mm x 7.86mm. This ring is different from what most expect an engagement ring to look like, but in the best possible way. It's also an original, with hand-engraving across the shoulder of the ring.
If you have ever dreamed about being alive during the Great Gatsby era, then you probably appreciate some glamour in your life. And likely, you're drawn to the style of that era too.
The Fayetteville ring is an impressive Art Deco representative. The GIA-certified K color, SI1 clarity 1.67-carat old European cut diamond is bound to draw attention on anyone's finger. This platinum ring has a crown-style mount that holds the solitaire diamond in place.
The measurements are approximately 7.12mm x 7.41 x 4.80mm. While the Fayetteville ring belongs to an era that still lives on in many ways, it's also fresh and modern in some ways too.
This is the kind of ring you buy for a person who has evergreen style. It's also a perfect ring to become a family heirloom because it will never go out of style.
Every diamond comes with some imperfections. That's an important thing to keep in mind. However, the VS2 clarity diamonds' faults are very small and completely invisible to the naked eye.
That's why the Jersey Ring looks absolutely flawless and clear. This Art Deco engagement ring was handcrafted in platinum and holds a 1.32 carats, GIA-certified, H color old European cut diamond.
You also have the fine diamonds across the shoulders of the platinum mounting to add a bit more flare to the ring. This is the kind of ring that's almost impossible to say no to. It brings modern design and history together. It speaks to people of all ages and different tastes.
Choose Your Vintage Estate Diamond Ring
Undoubtedly, you have a very difficult choice to make. All ten engagement rings listed above have something unique about them and a once-off quality. The Art Deco style engagement rings dominate, and for good reason.
Regardless of how short this era lasted, it provided so much versatility in terms of engagement rings. These engagement rings also have an incredible way of fitting in seamlessly into the modern age and putting a smile on the face of anyone who wears them.
On the other hand, the Victorian and Edwardian era rings are something different and hard to resist. Wearing an antique engagement ring can make you feel like you're in court, waiting for the ruler to appear. Finally, the mid-century engagement rings are more modest but sentimental and romantic in many ways. And that's what's so special about them.
10 Must-Have Vintage Engagement Rings Snapshot
This is a sponsored post by Estate Diamond Jewelry
With a reputation for timeless elegance, singular craftsmanship, and exceptional rarity, Estate Diamond Jewelry has curated one of the world's finest collections of vintage rings and antique wedding bands.
View the entire collection at Estate Diamond Jewelry