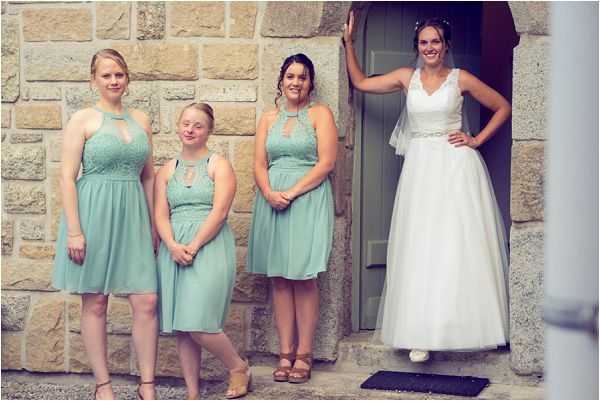 Just a hop, skip and a jump across the English Channel, a wedding in Brittany France makes the perfect short distance destination wedding from the UK. Today on the blog we join Welsh couple Hannah and Nick as they plan their family wedding in Brittany France, filled with so much character and captured by Wedding Fusion Imagery
Bride Hannah shares her memories of their big day:
"Our wedding took place in the stunning countryside of Finistère, Brittany. The venue was our own part-finished farm renovation, a series of dilapidated buildings sitting in a valley of farmland and woodland. We had moved out in June 2017 and got engaged a month later on a rocky outcrop overlooking our new French home with champagne and a picnic.
We had already settled in and made lifelong friends in our local village and it felt like the perfect setting for our wedding. If nothing else it was great motivation to ensure that we actually worked on renovations instead of sitting eating cheese and drinking wine all day.
In the end, our intentions to complete the work in time for the wedding turned out to be pure fantasy, but with some incredible last-minute efforts from our local community and our amazing friends and family, our barn was transformed from a dusty relic into a rustic venue perfect for a barn dance, feast and festival. In the months ahead of the wedding, the groom and Father of the Bride had spent weeks repairing the barn, the bride had been tending the flowers all grown from seed while other friends and family prepared miles of homemade bunting and tablecloths. In the days before the wedding, early arrivals chipped in with the final frantic preparations.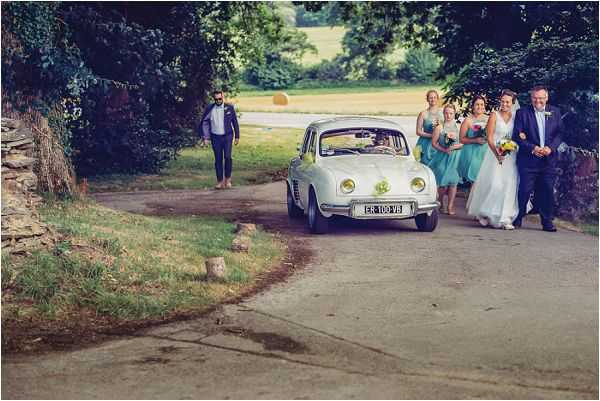 The Mother of the Bride arranged the flowers, and worked through the night to create homemade bouquets for the bridal party. We were blessed with a hardworking army that arrived early to get stuck in, and the wonderful community of Gouézec that had welcomed us with open arms, who were determined to make sure that the party they were going to tend was one to remember. It was so moving to see the concoction of different languages and cultures, of young and old, come together to help us organise and decorate our DIY venue.
I will never forget stepping back to watch everyone working together, solving problems and coming up with ingenious ideas, sometimes without even sharing a common language! Just in the nick of time we had a full festival set up right on our doorstep, including tent field, bar, stage and even some eco-toilets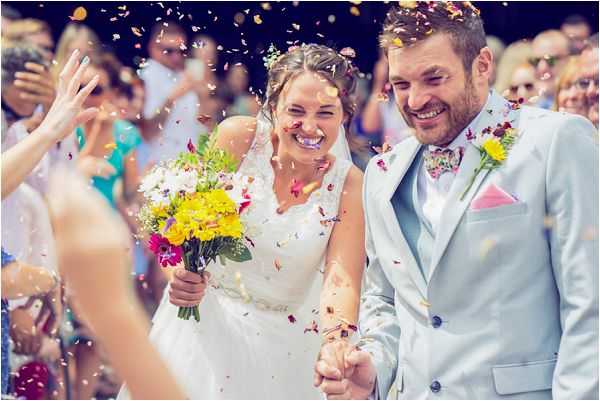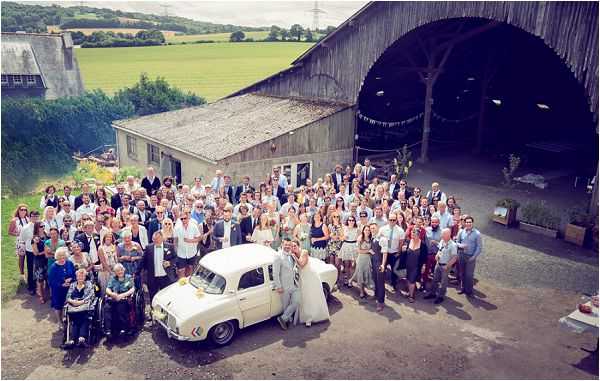 On Saturday the 28th July 2018, we were married bilingually in our own barn, by our French friend (who had married us legally the day before at the mairie), translated into English by our friend from the UK. The groom's family got ready on site, and the bridal party arrived in a classic Renault Dauphine driven by a local French builder friend, in exchange for a photo that he could submit to a classic car magazine.
Everything was a mixture of our original (Welsh, English, Irish) and adopted (French, Breton) nationalities. The delicious wedding cake was made by the bride's auntie, and decorated with a rose and a daffodil. The bride's dress and veil were from Point de Mariage in Lorient (France), while the bridesmaids' dresses were from Little Mistress (Debenhams, UK). The groomsmen were fitted out at Moss Brothers (UK). We dined our Wedding Breakfast, a delectable 'cochon grillé' (hog roast) and ratatouille, on furniture hired locally.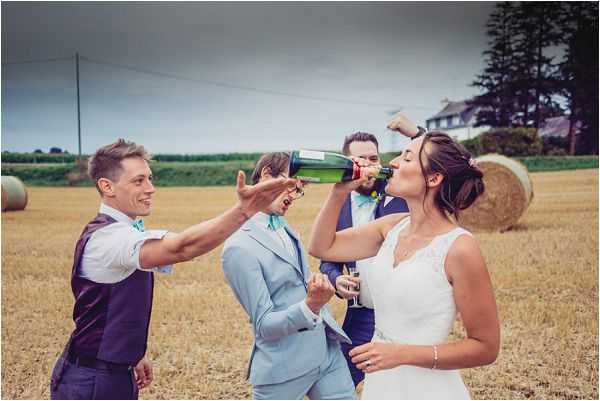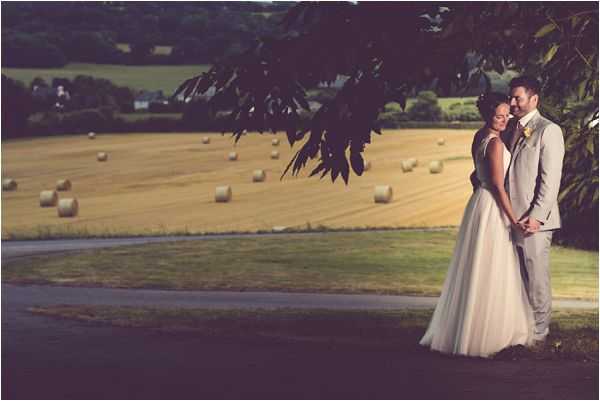 The lubrication came via a rustic bar constructed by the Father of the Bride and well-stocked by the Cave du Glazik  with Lancelot lager, local Kerné cider and various French wines. Later on, the local Pizza van, by Ty Laeti  provided hard fuel with 120 pizzas cooked and served throughout the night. The groom's brother Paddy Rogan brought over his incredible band The Hey Down Treaders for the perfect summer's eve festival, a real barn hoe-down. The atmosphere was from another world.
We could not believe our amateur efforts to arrange a wedding had been transformed by the French surroundings into a celebration from another era, where dust, bare beams and artisan beverages elevated the evening into pure enjoyment, laughter and dancing. All of this revelry was photographed perfectly by Wedding Fusion Imagery .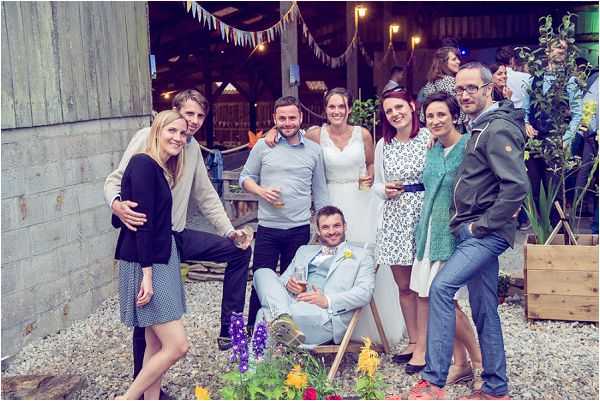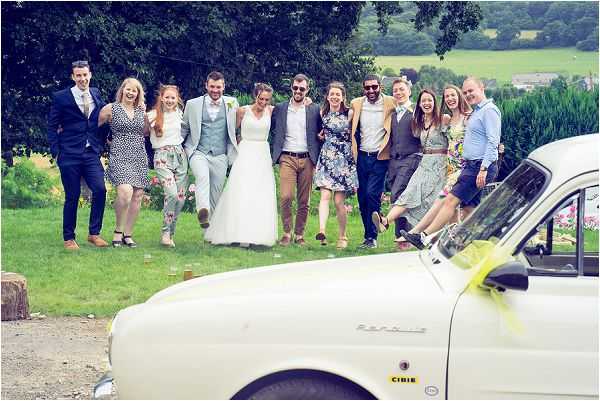 Berenice singlehandedly directed the bride's entrance and her photo style captured the feel of the whole day. We cannot thank our amazing friends and family enough for their help in creating our unique masterpiece of a wedding, which was by far the best day of our lives.
Welsh Wedding in Brittany France Snapshot

Welsh Wedding in Brittany France Vendors
Wedding Photography: Wedding Fusion Imagery | Eco-Toilets: Respecto  | Furniture Hire: LoCabriec | Wedding Drinks: Cave du Glazik | Pizza Van: Ty Laeti |