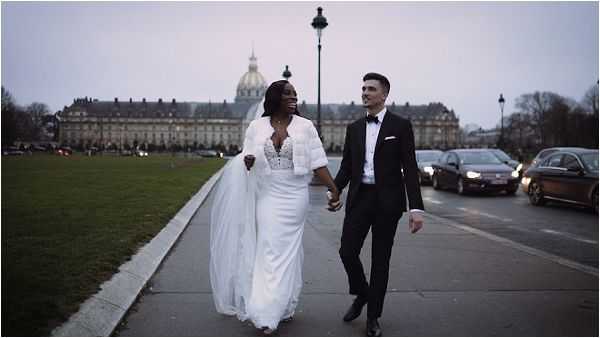 Let us focus on a world of romance and style as we are gracing FWS today with the ultra-chic wedding in Paris of Jessy and Jim, filmed by Alessandro Pardi Wedding Films . Jessy and Jim choose Paris as a superb destination wedding to fulfill their romantic dream of love.
What better wedding destination than Paris to fulfill a romantic dream of love? Love at first sight actually exists and Jessy and Jim can show it, everyone. They met in a book shop and something special immediately caught their eyes. From Tennesse, United States, they came to France with close relatives and friends to get married in a sparkling Parisian January. Really an exclusive and precious choice a winter wedding in Paris!
Jessy&Jim | Wedding in Paris from Alessandro Pardi Wedding Films on Vimeo.
Get married in la Ville Lumière is at the same time a choice of elegance, family intimacy, fun, and joy. Remember that Jessy is a talented singer who grew up in Brooklyn, which toured the world alongside Alicia Keys and nowadays successfully working a solo career. And Jim is a listed Dj! They choose Billy Folchetti and Luxe Paris Events Team to arrange everything perfectly and satisfy all the guests in their Paris experience.
The wedding day was marvelous: both intimate and full of cheerfulness! The bride wore a stylish white dress from Maggie Sottero and a pair of Jimmy Choo shoes that every bride would appreciate. …Then out through Paris to take romantic photos of their unforgettable wedding day! thanks to YellowBirdVisuals by Michaella Till.
Jessy and Jim choose Polet et Chabot to host their wedding ceremony and the wedding party. A certainty of success due to the centenary tradition that can offer to each couple the atmosphere that best fits to their needs. Elegance, romaticism, passion, brightness, and happiness. You will rarely meet with a couple so in love and with friends so joyful.
Every detail was perfectly planned, according to Billy Folchetti's style. The wedding ceremony and the wedding dinner were definitely moving and engaging: the ceremony was, in fact, officiated by a friend, the gospel singer Junior Garr. And many of the relatives and friends gave their contribution by telling something special about their relationship with the newlyweds or offering a touching blessing to the bride and groom.
Then the absolutely captivating party: an unforgettable explosion of joy, dances, and Life until dawn.  So that Jessy and Jim will keep in their hearts every single detail of such a charming and romantic experience.
Ultra-chic wedding in Paris Snapshot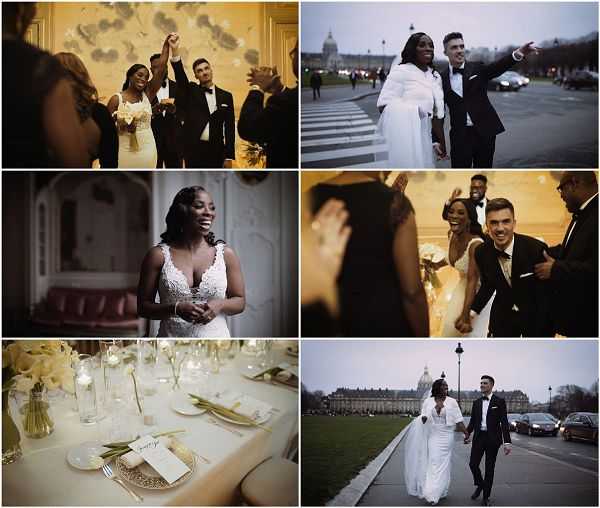 Weddings Vendors for Paris Wedding
Videography Alessandro Pardi Wedding Films | Planning/Design by Luxe X by BIlly Folchetti | Photography: Yellowbird visuals | Venue & Catering: Potel et chabot | Dress: Maggie Sottero designs |
Shoes: Jimmy Choo