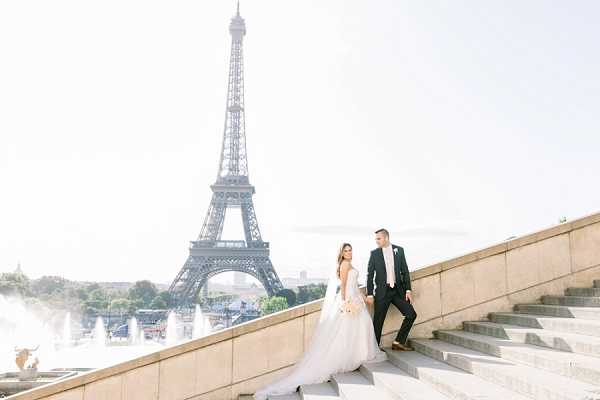 How do you spend your Sunday's? I think we'll have to step up our game after reading Nichole & Joshua's spontaneous elopement at Palais-Royal! That's right this gorgeous pair tied the knot in an intimate ceremony on a glorious Sunday in the city of lights!
Not only do we love their spirit we can't get enough of their gorgeous styling, from Nichole's dreamy La Jeune Mariee gown which she paired with nude Manolo Blahnik heels to their gorgeous hand calligraphed paper details by Marisa Made which was all perfectly captured by Daria Lorman Photography!
We'll now hand you over to wedding planner Clara of Jet Wed Co. who will be walking us through this Spontaneous Elopement at Palais-Royal…
Fashion, history, food and culture were just a few reasons Nichole & Joshua opted to run away to Paris on an early Sunday in September.
The solo ceremony in the City of Lights planned by Jet Wed Co. displayed their love for each other and the city, which the pair have long admired. The two got ready for the big day at the historic Hotel Grand Powers before a first look at a hidden courtyard.
Their morning, spur-of-the-moment vows at Palais-Royal—the childhood home of Louis XIV—show just a touch of how adventurous the couple is. How else would you follow a bachelorette party in Disney, as published in Bride's magazine?
Their intimate ceremony incorporated local vendors both from Paris and West Virginia, where the two reside. This included hand calligraphed paper details by Marisa Made in Charleston and vendor gifts from J. Q. Dickinson Salt-Works, a family-owned company that harvests salt from an ancient ocean trapped below the Appalachian Mountains.
When asked by their officiant, the Paris-based Ruffled by Grace, about their next steps the bride offered one thought. "I hope we stay adventurous and curious—about the world, each other and all life has to offer," Nichole said.
The former Miss West Virginia USA says it was important to them that they got married during this time. "Sundays are really special to us, as we often spend the mornings lounging around, making pancakes, cuddling and watching our favorite movies—disconnecting from the world but being closer together," Nichole said. "We love these days together so much it was important to us to get married on a Sunday morning."
Having an elopement rather than a traditional wedding allowed Nichole and Joshua to have a laid-back day focusing on what truly matters: becoming husband and wife.
"Marriage is a bond with someone that is not like any other. It is the one true person you know for a fact you can be yourself with without judgement," Joshua said. "It's knowing that no matter what in life you will never be alone and someone loves you, which is the greatest feeling."
After saying "I do," the couple stopped for coffee at a traditional French café and took photos around iconic Parisian landmarks such as the Louvre.
Congratulations Nichole & Joshua from everyone here at French Wedding Style!
Are you considering eloping to Paris, how about an elopement at Palais-Royal like N&J? If so you'll want to check out our incredible selection of inspiration here.
Spontaneous Elopement at Palais-Royal Snapshot

Wedding Vendors
Planner Jet Wed Co. | Photographer Daria Lorman Photography | Videographer Finding Jupiter | Celebrant Ruffled by Grace | Florist Le Fancy Deco | Stationery Marisa Made | Venue Hotel Grand Powers | Grooms Outfit Ted Baker | Brides Dress La Jeune Mariee | Accessories Sara Gabriel Veils | Shoes Manolo Blahnik | Favours J. Q. Dickinson Salt-Works