Today we have a very beautiful relationship story ending in a Romantic Wedding at a Chateau in Normandy. Château de Miserai is the perfect backdrop for this beautiful couple's perfect beginning of a long life together as husband and wife.
The story of the couple's relationship is almost as beautiful as these beautiful pictures taken by Aaron Storry. The story is told by the bride herself and we'll hand you over to her and let her do the talking and take you on a ride through this dream.
We met through a mutual friend in our hometown of Cambridge on a very drunken New Year's Eve back in 2009. At the end of the evening, the story goes a little differently depending on who you ask, but one of us demanded numbers were exchanged, then 12 months of casual dating commenced before we finally announced our official relationship status as a couple.
Eight years later the proposal came quite out of the blue on a whirlwind birthday trip to Paris. Having always remarked that proposals occurring dangerously close to birthdays and holidays were a serious cop-out (as they deserved their own special occasion), I never suspected that mine would come just a day before my 30th birthday.
The trip had been so well disguised as a big birthday blow out. When I peeled away the layers of wrapping paper surrounding my pre-birthday gift, it seemed fitting that there were photographs of us on each of my birthdays, placed in-between each layer. Then I finally got to the last layer of wrapping. Finding a photo of us the day we met and uncovered a photo album. The last thing I expected to find nestled in-between the pages was an engagement ring! Sitting on that sunny balcony with the Eiffel tower in the background. Childishly surrounded by layers of coloured wrapping paper made for a truly special moment.
Following the proposal, it seemed to be a very natural decision to want to get married in France. Although neither of us speaks French (very well) we decided very quickly that it was what we wanted to do. The weather would most likely be better. We'd be able to order Champagne directly from the Champagne houses. All the Chateau's looked like something out of a Fairy-tale.
We decided to find a venue in the north of France. It would be easier for guests traveling from the UK. We settled on a beautiful Chateau in Normandy complete with its own lake and brewery. We wanted the style to suit the venue, so the flowers and décor were all quite French, classic and romantic. Pinterest was a major help in providing ideas for the flowers and decorations. Even the dress and groomsmen outfits. I was lucky enough to have my dress made for me by my very talented aunt. We borrowed bits and pieces from different dresses to come up with a one-of-a-kind dress just for me.
It was a challenge at times, trying to organise the smaller details as the venue was an empty shell so we had to work out what we needed to bring with us, what we might be able to source in France, and what the suppliers could provide. We relied a lot on reviews and other websites to help with choosing the suppliers, so, for the most part, it was a massive gamble, but we were extremely lucky and grateful that everyone involved delivered exactly what was promised on the day.
For anyone looking to get married abroad: my advice would be to visit the area a couple of times in advance if possible. Allow time to explore possible suppliers and the finer details of the venue including accommodation and transport options for your guests. But the best thing I could advise would be to learn the language!
"Extremely professional from start to finish. We fell in love with the style of their videos after finding them online, and the one of our wedding delivered everything we hoped for and more. We both cried when watching it and had to watch it a second time immediately afterwards! The way the scenes are pieced together makes it feel like you're starring in your own feature film and having the drone footage of the venue is really cinematic. Jag was a pleasure to work with both leading up to, and on the day – he captured all the action but we barely noticed he was there. In fact by the evening I'd forgotten all about it until he came to say goodbye. I couldn't recommend Jag highly enough! Thanks for giving us something we will treasure forever." Heather and Justin x
Romantic Wedding Chateau in Normandy Snapshot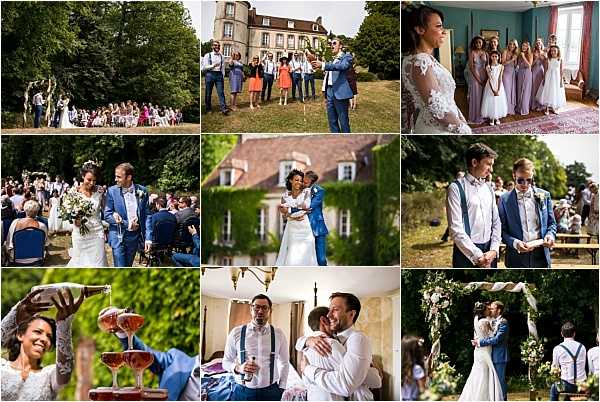 Wedding Vendors
Venue & Catering: Château de Miserai | Photographer: Aaron Storry | Videography: Story Cabin Wedding Films | DJ: Nicolas Levesque