We are off to southern France today to a little village not far from the city of Toulouse for this beautiful renaissance styled wedding at Chateau Saint Martory. From outdoor ceremony inspiration to dancing under the stars this weekend wedding has it all.
We adore our brides gorgeous sleek Alexandra Grecco gown which Ivonna paired with her Nicholas Kirkwood heels. The perfect elegant dress that will also allow you to dance the night away!
Photographers ARTEFOTO  and videographers The North Owl captured Jason and Ivonna's day perfectly, starting with this incredible capture of Chateau Saint Martory…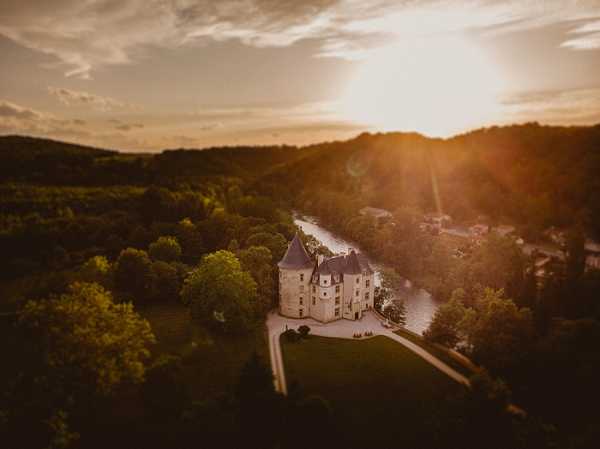 Jason and Ivonna celebrated their wedding of dreams in the majestic Chateau Saint Martory, a restored Renaissance castle in a small town in southern France. They brought from London, where they currently live, their closest family and friends to celebrate the best day of their lives.
Ivonna started the day being made up and combed by Karen & Nikki in one of the beautiful rooms of the Chateau, where they stayed the night before, with the company of their bridesmaids and the crew of photography ARTEFOTO and video The North Owl as witnesses.
Across the castle, Jason dressed next to his best men and toured the gardens of the Chateau to record some video footage before the ceremony.
Ivonna´s amazing dress was designed by Alexandra Grecco and the shoes by Nicholas Kirkwood.
The ceremony took place under a majestic tree located in the great gardens of the castle, beautifully decorated by the wedding planner Julie and enlivened with the live acoustic band called The Mad Socks.
After the emotional and funny ceremony was held, with the ritual of the rope and some beautiful vows included, a super tasty and juicy cocktail served by Globe Traiteur took place at the foot of the castle.
Next, the photography and video team took Ivonna and Jason for 30 minutes to take some beautiful video and drone shots as well as some amazing photo shots. The Chateau Saint Martory is such an impressive place that you could spend 2 hours taking beautiful photos and videos but the team prevailed that the couple enjoyed their cocktail with their friends and family.
After that, dinner took place in a magical place within the domains of the castle called "farm house". They ate and drank until they started an amazing first dance that Jason and Ivonna had thoroughly rehearsed. They danced until almost dawn and had a great time!
The day after they enjoyed a pool party in the swimming pool of the Chateau, with ice creams and lots of food included. Really, this was one of the most epic and perfect weddings we have seen in years!
Congratulations Jason and Ivonna from everyone here at French Wedding Style!
For even more from this renaissance styled wedding at Chateau Saint Martory check out their wedding film created by The North Owl
Renaissance styled wedding at Chateau Saint Martory Snapshot
Wedding Vendors
Photographers ARTEFOTO | Videographers The North Owl | Venue Chateau Saint Martory | Dress Alexandra Grecco | Shoes Nicholas Kirkwood  | Wedding planner Julie | Catering & cake Globe Traiteur | Acoustic Band The Mad Socks | Make up & Hair Karen & Nikki