Today we are off to the most romantic city in France for an intimate wedding in Paris. Our lovely duo Sean and Aaron tied the knot in an outdoor ceremony with incredible views of the Eiffel Tower!
Their day was planned and captured by DO IT PARIS WAY, we love their artistic yet romantic photos that show their adventure around the city of lights! We can't think of a better city to explore as newlyweds than this stylish city.
We'll now pass you over to Helene of DO IT PARIS WAY who will be walking us through this intimate wedding in Paris…
Even a little Parisian rain couldn't stop this couple's special day from being so wonderful and unforgettable. Fortunately, the weather was fine, and Sean and Aaron had a beautiful outdoor wedding. We created this elopement with sky blue, pastel blue and pine green color palette.
How did it all start?
Sean : So we kind of decided that we had wanted to do something special with just the two of us – and we also knew we wanted to travel abroad both to London and Paris. Paris being the city of light and one of the most romantic destinations in the world we were leaning more towards Paris. Subsequently after stumbling onto your website we knew this was exactly what we wanted to do – something just the 2 of us, but having the ability to have pictures and potentially video to share with out loved ones made this one of the easiest decisions we made!
If you want the same nice little Paris elopement, you can take some notes from this couple. A touching and romantic ceremony, sparkling Champagne and delicious french pastries, and of course a lot of love – this is what reflected their wonderful union on their big day.
France is one of the most favorite countries of Sean and Aaron, and they traveled from the United States to marry in this fabulous place. For their ceremony, they chose location that offered stunning views of the Eiffel Tower – Trocadero perfect for their wedding in Paris.
Aaron – "Some of our most favorite memories were aimlessly roaming the city together and stumbling upon various patisserie's, cafes, little romantic spots – really taking in the city for all it has to offer. One of the things we enjoyed so much was being able to have things that we had previously scheduled – but also being able to take time and just walk and live like Parisians."
This is exactly how I imagine a beautiful yet private and intimate just-for-two elopement to Paris.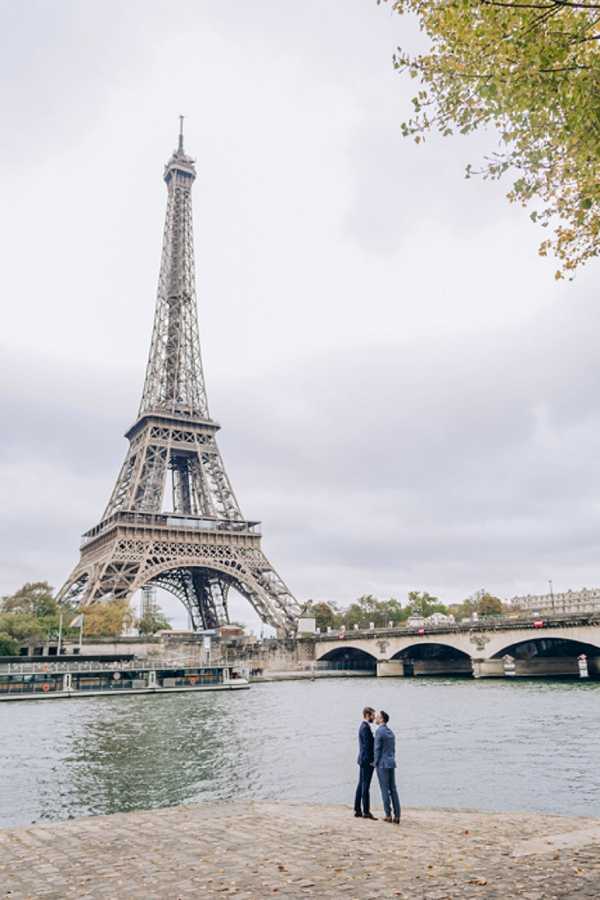 Congratulations Sean and Aaron on your beautiful wedding in Paris from everyone here at FWS!
For even more wedding in Paris inspiration check out:
SAINT JAMES HOTEL PARIS ENGAGEMENT LOVE STORY
Intimate wedding in Paris Snapshot
Wedding Vendors
Planner DO IT PARIS WAY | Grooms Outfits Ted Baker | Accessories Cartier rings | Photographer DO IT PARIS WAY | Florist Reflets Fleurs