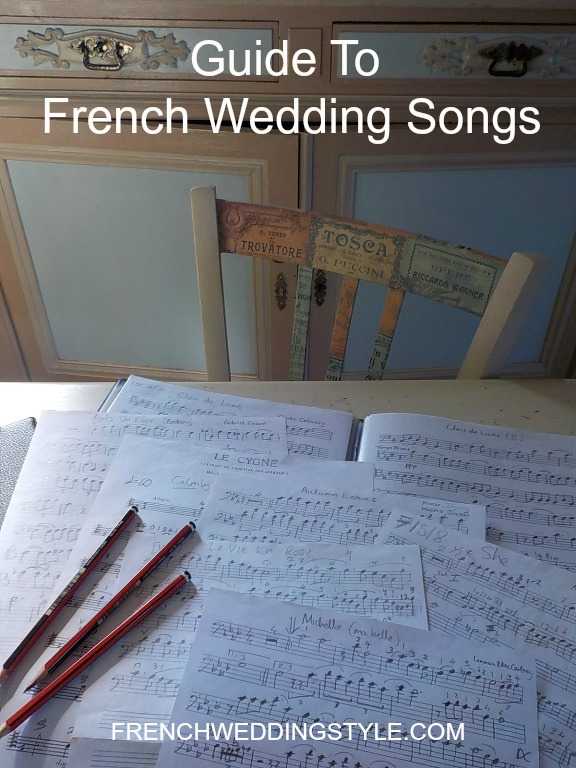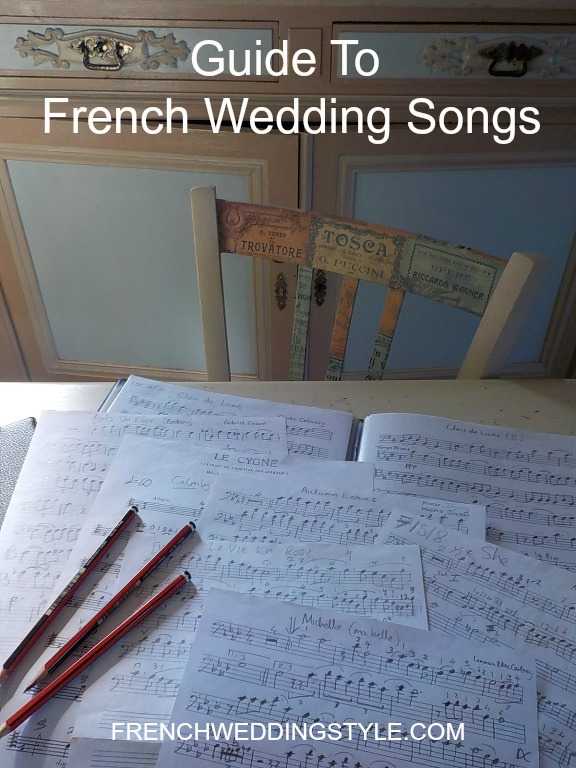 It is time for a little musical interlude today as with the help of Samantha Bramley, classically-trained solo 'cellist providing bespoke entertainment for weddings and events, we are looking at French Songs that are perfect to add a little je ne sais quoi to your wedding day.
French Songs perfect for a Wedding
Paris – the city of romance; French – the language of love: Whether you're getting married in France or just want to add some French Wedding Style to your Big Day, here are four ways to incorporate some musical 'je ne sais quoi' into your nuptials:
La Chanson Française
With his inimitable warbling, nonchalant style, Charles Tremet's '
La Mer'
epitomizes the French
chanson
. Sinatra, Bobby Darin, Robbie Williams and the surprisingly good Kevin Spacey have all had a go at the English version 'Beyond the Sea', but the
Version Originale
surpasses all pretenders.  For me you just can't substitute the imagery of '
moutons blancs'
, but maybe I'm an incurable romantic…
There's nothing more à la Française than 'La Vie en Rose' by Edith Piaf and it's just perfect for such a romantic occasion. Expect an impromptu sing-a-long wherever you are.
A beloved jazz standard and rather French in origin, 'Autumn Leaves'/'Les Feuilles Mortes' by Jacques Prevert/Joseph Kosma may be a little melancholic – more about lost than new love – but is another number guaranteeing audience participation, especially towards the end of your cocktail hour…
Whatever you do, don't overlook 'Ne me quittes pas' by Jacques Brel. His yearning, almost desperate delivery cannot be surpassed – 'Don't leave me,' he implores. With a voice like that? Jamais Jacques, jamais…
A Modern Take
My absolute favourite, although actually by American band Pink Martini, 'Sympathique' may not have a traditional wedding song sentiment (I just want to forget him, and then smoke…), but it's undeniably French in feel – so much so that French workers have adopted it as a strike anthem. (Je ne veux pas travailler = I don't want to work…!)
A true early 20th Century classic, the simple and charming 'Parlez-moi d'Amour' has been seductively covered by Piaf, Dalida and Juliette Greco. For a contemporary sound which remains true to the Lucienne Boyer original version, try the Linda Ronstadt/Ann Savoy duet.
With real French credentials, 'Pour que tu m'aimes encore' was penned by Jean-Jacques Goldman, and sold more than 4 million copies worldwide, making it one of Canadian songbird Celine Dion's most successful French language songs. Their duet has a certain frisson too…
I could be pushing it here, but '
Michelle
' by The Beatles falls into the category of 'songs incorporating random French lyrics' and if all else fails, it's a nod in the right direction…
The Classical Touch
De rigeur for your ceremony 'cellist, '
Le Cygne'
(The Swan) by Saint-Saëns is one of the most famous classical romantic pieces, and at only 3 minutes  is perfect for a processional.
Arguably Debussy's most famous piano piece, 'Clair de Lune' has been arranged for practically every combination of instruments imaginable, rendering it perfect for a live performance. With its gently drifting sostenuto melody, who could fail to be transported to the scene of a romantic moonlit assignation?
For the Showbiz Couple
For the perfect crossover, try '
Come What May.
' Originally intended for the soundtrack of Baz Luhrmann's 'Romeo & Juliet,' it eventually found fame in his cinematic classic 'Moulin Rouge' and has been covered by crossover greats like Il Divo, Lesley Garrett/Michael Ball and Kathryn Jenkins/Placido Domingo to name-drop but a few. What could be finer?
Love musical theatre? Why not have one of the iconic female leads 'I Dreamed a Dream' (made (in)famous by SuBo) or the beautiful 'On My Own' from Les Misérables? Just don't listen too closely to the lyrics…
Currently trending in the #pseudofrenchsongs category is, bien sûr, 'Lady Marmalade'. Whether you're Team Moulin Rouge or Team Patti LaBelle, what could be more appropriate? 'Voulez-vous coucher avec moi ce soir?' Oooh la la! (Et Bonne Nuit…)
Don't forget it is never to early to book your desired entertainer. To find out more about Samantha Bramley's services visit www.weddingcellist.wordpress.com