Enzoani Elegance: A French Destination Wedding Dream
Today we travel back down to the familiar southeastern region of Provence for a destination wedding with a beautiful Enzoani Bride. She's covered in beautiful accessories for Tiffany's and Swarovski.
The Enzoani Bride put so much effort into getting this wedding together with the amazing help of the wonderful team of  Domiane Michaud. The bride remembers this day all too fondly and is very keen on telling you about the most beautiful day of her life and the story that goes with it.
Jonny first introduced me to the South of France in August 2013. I was blown away by the gorgeous weather, the sweeping vineyards, the fairy-tale castles, and the stunning sunflowers – could this place be real? After getting engaged in May 2017, we both immediately knew we wanted to get married in Carcassonne.
We've known the family at our wedding venue, Domaine Michaud, since our first visit to France. We dined there some 7 years ago. We've gone back most years since and have grown to love the rustic and charming domain. The wonderful, kind, and talented Danen family that owns it. We always wanted to get married there but thought we would never be able to afford such a stunning venue. The Danen family went over and above to fit everything we wanted into our budget and worked tirelessly to make our dreams come true.
The wedding was over two years in the making, I loved planning every detail and spending every spare moment I had on dreaming about our big day. Part of this including researching suppliers, and I was lucky to find an amazing team that supported us up to, and of course on our big day. We chose Katy for our photography, as we loved her style – it was relaxed, yet tasteful and she had an eye for a beautiful shot. We based the wedding on a theme of 'Rustic Romance' – soft pastels, delicate touches, wild blooms – all inspired by the beauty of the natural world.
Of course, my dress had to fit with the theme. I probably tried on close to 30 dresses before I found 'the one'. A beautiful, sleek and fitted Enzoani gown with sheer lace, super-long train. It was straight out of a fairly-tale and I fell in love with it immediately. After a restless night's sleep on the wedding eve, we woke to a beautiful, clear and sunny day. Having had wild storms in the days before – this surely had to be a good sign! Getting ready with my favorite ladies was one of the highlights of the day. We sipped on champagne and ate croissants and fresh fruit while chatting about the day I had waited my entire life for (I had to keep pinching myself so I knew it was real!)
My wonderful mother and mother-in-law painstakingly steamed my dress to iron out the creases, while my glowing bridesmaids and I sipped the hours away in a haze of excitement. I loved my hair and make-up on the day, Annette was amazing, so patient and a perfectionist and Freya ensured we all looked so natural and glowing. I had always anticipated my father seeing me in my wedding dress for the first time. As the eldest child in the family and is very close to my parents, I knew it would be an emotional moment.
As soon as he walked in the whole room filled with emotion and my father and I cried as we hugged each other in a memory I will treasure for the rest of my life.
So then, it was time.
My mother and mother in law to be walked down the aisle first. Closely followed by our super cute nieces and nephews (more twins!)  I followed my bridesmaids into the hall and down the stairs of the grand entrance hall. All the while holding onto my father so tightly, with my legs shaking like jelly.  I could hear the acoustic singer (a family friend we flew over from the UK) playing Tenerife Sea, by Ed Sheeran and the rush of emotion that came over me added to the anticipation and nerves. The moment was here – standing at the door of Domaine Michaud, I could see Jonny. His back was turned.
As the music began to play again, my father and I walked out to the biggest, warmest smiles from our amazing friends and family, all 65 of them that so kindly traveled the distance to share our special day with us. When Jonny turned around, I could see tears in his eyes – he was looking as handsome as I had ever seen him.
The ceremony was just perfect. We had the most wonderful team around us from Domaine Michaud and our celebrant Raymond and his wife Cherry. The flowers were the most beautiful I had ever seen and everything just came together so well on the day – those years of planning had paid off! After the ceremony, Jonny and I were surprised by Jonny's parents who had organized for a local man with a classic French car – a Deux Chevaux – to pick us up and drive us to the sunflower fields for some photos.
Walking through the fields in my wedding dress, with the wind in my hair and my new husband's hand in mine was like a dream come true. We arrived back at Domaine Michaud and entered our Wedding Breakfast to 'The Greatest Show' – the title track from The Greatest Showman – one of our favorite films. Which was so much fun, and we high-fived our friends as we walked through.
Our meal was incredible. We had cod with chorizo ​​to start, then a hog roast for the main course, followed by a chocolate dessert.
Then we had our first dance, outside around the pool as the sunset over the valley – so dreamy!  The after-party followed, with a group of swimmers let's face it. We were always going to end up jumping in the pool! I luckily had a white bikini close by so slipped into that to avoid drowning in my uber-heavy dress! James Carr was our DJ and really got the party going with some old and new songs, well-tailored to our guests.
Toward the end of the evening, the head chef at Domaine Michaud brought out our wedding cake. A Croquembouche (tower of profiteroles) and instead of cutting the cake. We each bit off a profiterole which was great fun for us and our guests to then have a go at afterwards too!  The whole day was a dream come true, every detail was perfect and it was filled with so much love – I just wish we could do it all again!
Enzoani Bride for Destination Wedding in France Snapshot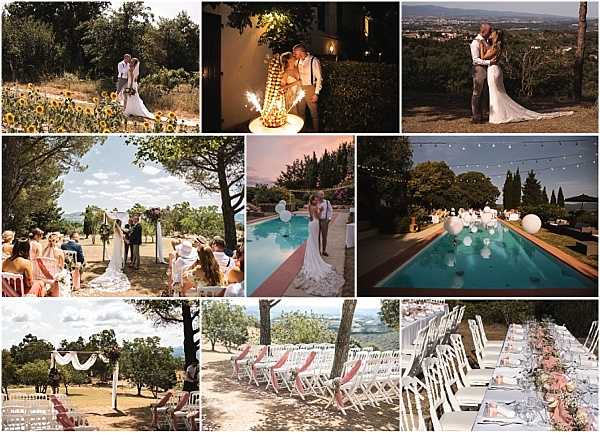 Enzoani Bride for Destination Wedding in France Vendors
Bride's Dress:  Enzoani  | Venue:  Domiane Michaud  | Accessories: Tiffany  | Bridesmaid's Dress:  Jenny Packham  | Celebrant:  Weddings Words and Wishes  | Entertainment:  James Carr  | Entertainment:  Amy Griffiths | Florist:  Flowers & Shades | Grooms Outfit:  Hugo Boss | Hair:  Annette Carr | Lead Photographer: Katy Webb | Make Up:  Freya Mills | Shoes:  Jimmy Choo | Accessories:  Swarovski  | Stationery:  Abi Pate  | Videographer:  Gorgeous Films