Today we are lucky enough to share this Paris Destination Elopement with you. This beautiful couple with a truly romantic story that met in Paris, got married in the US but their hearts were still in Paris. They celebrated their elopement in true style and documented it perfectly with the help of Sandy Cluzaud .
THE SECRET OF INDIRIHYA  did an amazing job at organizing this chic occasion. She helped the couple arrange everything from their outfits by  Chris Von Martial  to the smallest details in the bouquet by  Estelle Rouille . But no one can tell you this story better than the planner herself so we will let her do the talking.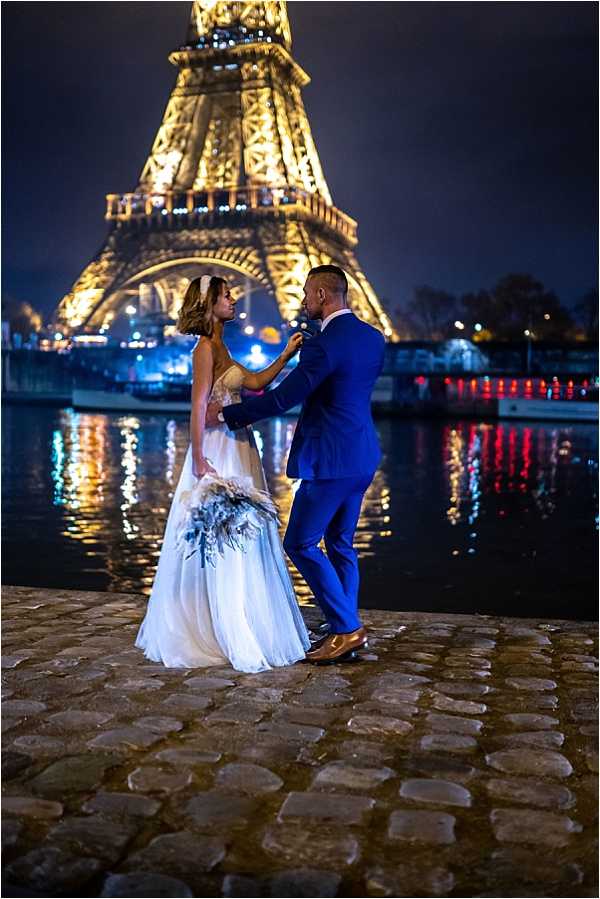 Céline and Ezrial met in a famous auction house in Paris. The funny part was that they were fighting for the same item, a pen. 3 years after their "love at first sight", Ezrial declared his flame to Céline by sending her a letter asking her to marry him. Besides having gotten married civilly in the US, they could not resist coming back to the city where they first met to seal their love. My designer styled a table for two with transparent elements and candles for romance and warmth. The transparency like water or ice that freezes like a portrait frozen in the mirror of time.
Blue reminds them of the pretty blue roof of Paris and it's also the color of Ezrial's eyes. Céline once told me that those blue eyes had struck her down a little bit.
As they live in the United States but own their Parisian flat in central Paris. It was obvious for them to get prepared "at home" and celebrate their elopement there. From the boudoir session to the late-night couple photoshoot session in Place Vendôme, at the core of Paris; every detail, every aspect of their Elopement was pure and delicate.
The bride wanted her dream dress to be modern, glamor, and sexy, with transparency. A light and modern hair and make-up style. As for Ezrial, he wanted to be elegant and modern. When I advised them few designers, they were amused by Chris Von Martial branding style. Christina, as her real name used to create only for men. And at the first meeting at her showroom near the famous Galeries Lafayette, both Céline & Ezrial found their wedding dress and tuxedo.
The favorite memories of the day:
THE BRIDAL BOUQUET:
Céline asked me to bring the bridal bouquet to her since her family was not present, she wanted me to play that role. It is a very strong and meaningful gesture.
THE MOMENT THEY BECOME FOREVER:
Few know that I am a Spiritual Celebrant. Céline and Ezrial knew though, and they insisted for me to guide them, the spiritual ceremony was emotional and magnificent.
THE LATE-NIGHT PHOTOSHOOT SESSION:
After the dinner prepared by a private chef, we had planned to continue the couple photoshoot in Paris by night.
Favorite memory ever, if you could see them place Vendôme, playing like kids, trying to model in front of the Chanel door, making jokes, trying to dance when they don't know how to dance at all … being relaxed. If you could see them in front of the Ritz, living their fairy tale. That was magical.
My main inspiration behind that day was Céline & Ezrial themselves. Their love story, the way they met, their positive energy. I immediately felt a very strong love between these two beings. An unfailing complicity, it's so rare. They didn't give me a gift, they started by telling me everything they didn't like and it was a great challenge for me.
If I could give you any advice, it would be to follow your heart in every step, every tiny thing you are doing. Your wedding planner will stand by you and create the celebration you deserve. Share your fears with your planner, never hesitate to express your feeling. An elopement is not for everyone, still it can be magic and romantic.
Chic Paris Destination Elopement Snapshot
Paris Destination Elopement Vendors
Celebrant:  Anaïde | Planner:  THE SECRET OF INDIRIHYA | Decoration:  Noha Rahli | Lead Photographer:  Sandy Cluzaud  | Videographer:  Sandy Cluzaud  | Videographer:  Defrance Productions  | Florist:  Estelle Rouille | Brides Dress:  Chris Von Martial | Grooms outfit: Chris Von Martial  | Make Up: Yat Beauty  | Accessories: Hera designs London  | Stationery: Corlia Calligraphy  | Shoes: Jimmy Choo  | Entertainment: Rafael Carmo  | Cakes: Au Paradis Sucré  | Catering: Sam Kan Kook