Hello French Wedding Style readers, todays post is filled with a few of our favourite things… talented FWS vendors, a pretty lace gown and red velvet cake (yes you heard us correctly!).
This collaboration includes not one, not two but three of our valued FWS vendors. Let me introduce you to them…
Firstly I'd like to introduce you to wedding planner Mademoiselle Chahnez who came up with the vision for the day. Chahnez is in love with weddings, her perfectionist nature helps greatly with her daily responsibilities of wedding planning. Chahnez will organize your wedding and be at your disposal with all her knowledge and expertise and a measure of good humour.
The second of our vendors is talented wedding photography Jess Martinez Photography who resides in France and captures weddings all over the country. He discovered photography at a young age and now loves capturing his clients special moments.
Not only was the day captured by Jess but his skilled wife destination wedding videographer Simply Lovely Video was there to capture a wedding film of the day too. This husband and wife team are truly passionate about storytelling as you can see.
I'll now pass you over to Mademoiselle Chahnez who will be walking us through her enchanted forest styled shoot…
"The whole story came with a "what if". I met up with Louis Patissier a talented cake designer, for a chat, that we finished with "what if we do an inspirational shoot together?" And of course I was all into it!
So, everything started with a cake, and the most generous and passionate people I have met, mostly coming from Provence."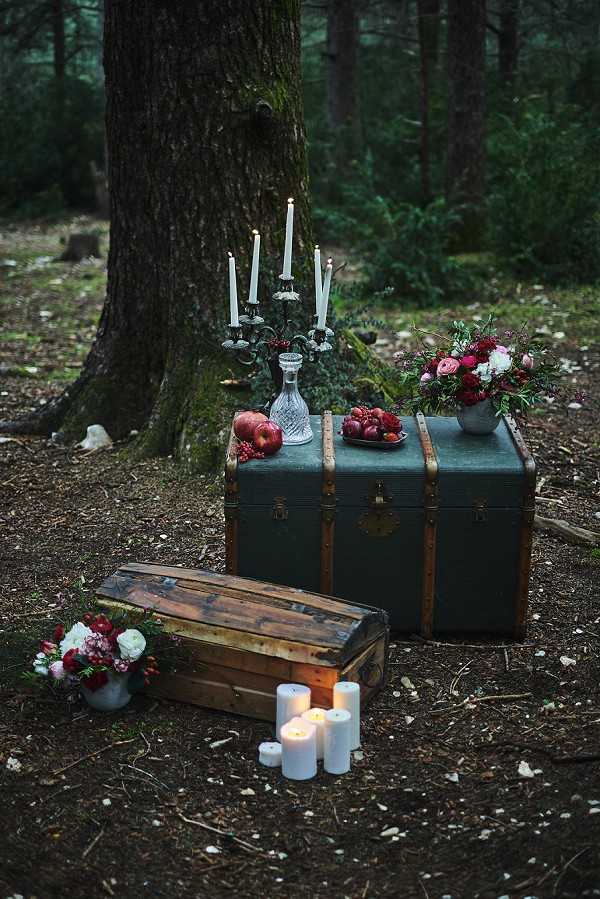 "The wedding cake was central, and inspired it all. I am from a long time convinced that naked cakes are elegant, sober, and generous! Then the Red velvet came to my mind, associated to Tim Burton, don't ask why, I call it instantaneous inspiration."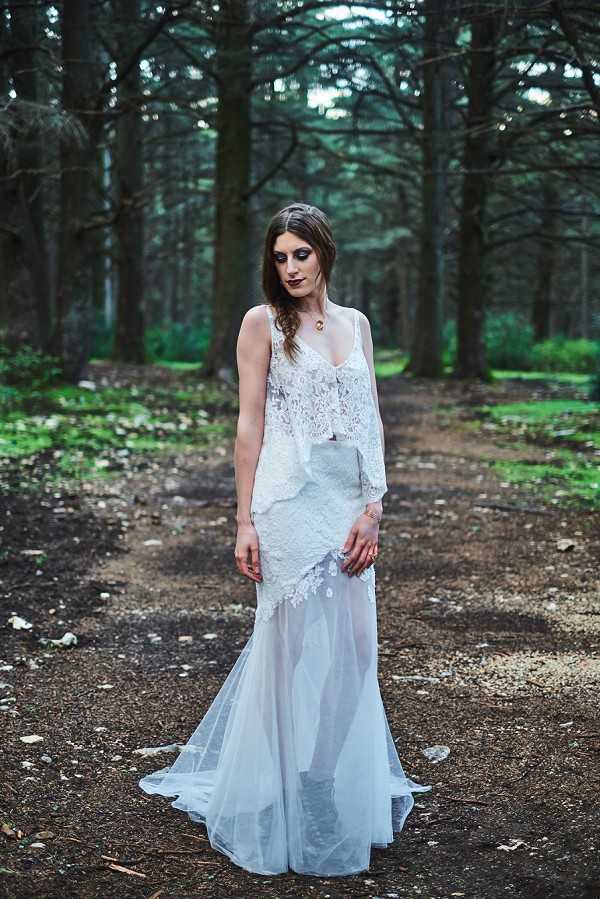 "Then the adventure started, with those two elements, a red velvet wedding cake and Tim Burton theme. I love the way he works with light and darkness, and I discovered later that all my partner loved the same thing, yes! We were connected!"
"The first thing, after the cake, we identified the colours, we had greenery, Red dahlia and a hint of concrete grey. Also, we chose to mix of velvet and sweet textures with much more hard ones. Indeed, the theme, the colours and texture highlight that a wife and husband relationship is a question of how you handle your couple, I mean with a rocky hand in a velvet glove, a strong couple in a sweet and tender (soft) relationship. Our gorgeous model couple is in real life a couple knows that perfectly."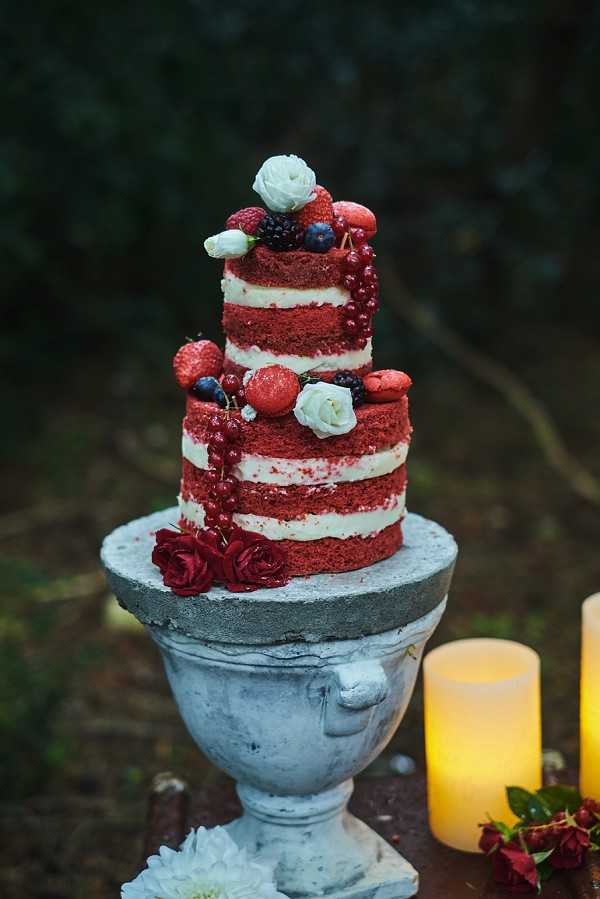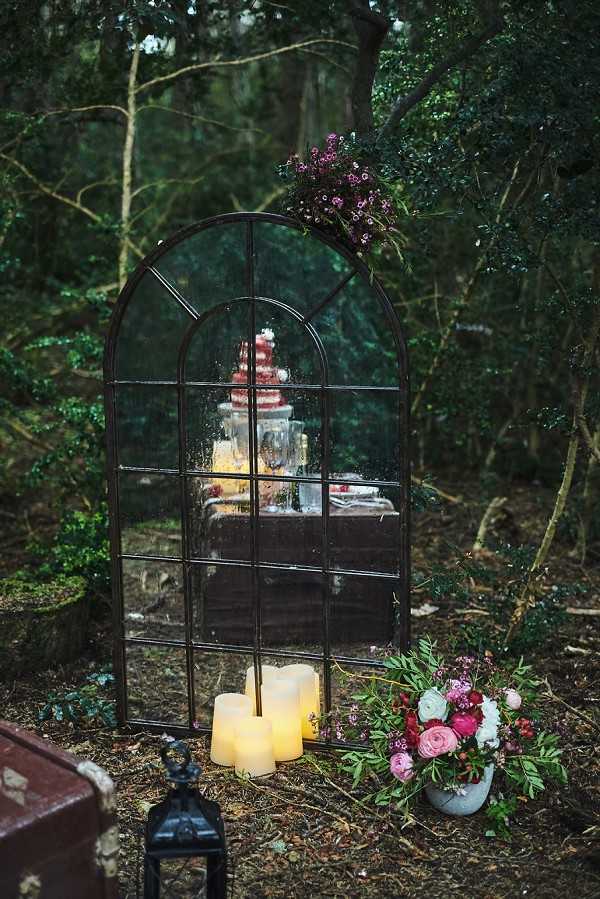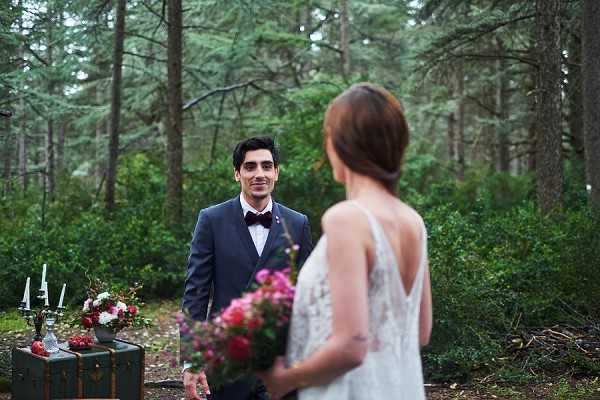 "As a playground, we have chosen a forest, not just any forest, it is the famous Lubéron cedar forest, Oh yes! In Provence, there are not only lavender and thyme fields, there is great and majestic forest. We wanted a dark and Tim Burton-ish atmosphere, which the forest offered to us. Nevertheless, we had an unexpected guest, a tiny bit of rain that enhanced the vibe, with fog, we felt blessed, and felt like Tim Burton himself was guiding us."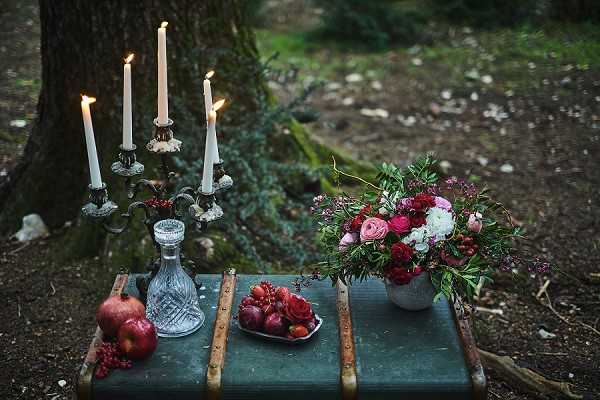 "The team, built for this particular day, was made of passionate, professional and crazy people, they all contributed in the project to make it real. The dress I have chosen was created by Manon Gontero, a talented wedding dress creator from Marseille. I love that dress because with it the womans body is magnified, the self-confidence boosted and…sooo sexy. Moreover, the Calais lace used gives a throwback feeling, still, in a very modern design – I love that contrast and nostalgia."
"To perfectly match with this fantastic dress, I could not choose any other suit, created by Chris von Martial. Her style is classic garment with the best quality, but to push the boundaries in design, colour and style. I loved the design that on the quick look seems traditional, but if you stare at it, you see how un-traditional it is."
"The make up was dark and chic, made by Aurelie Blond. First, to match the Tim Burton style, but more importantly, to show you brides-to-be, that wedding make up is not mandatory nude, since you are, ladies, comfortable with make up. My advice, this is your day, do what you like, but still with elegance, and matching your personality."
"Elegance and luxury are points that are important to us, thats why in the team we had a great Marseille jeweller Sébastien Corpace, and an amazing Champagne provided by La Comtesse A. To enhance and make that shoot unique, a great collaboration born between Rita our wedding designer Okiss Wedding and Oravis Furn a wedding rental specialist, Rita and her crazy creativity boosted by Oravis furn and products."
"Last but not least, our videographer and photographer, Yoanna and Jess (also a couple in real life) had the great mission to capture those moments, in very particular conditions and they did it perfectly, didn't they?"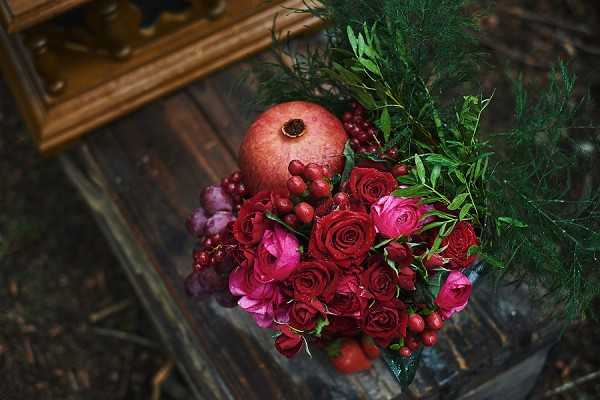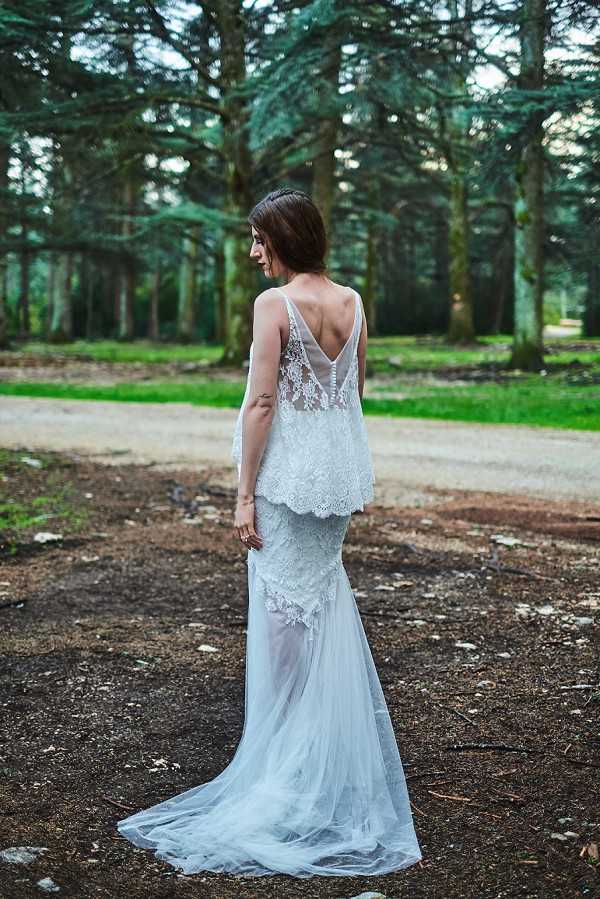 "Concerning me, Mademoiselle Chahnez, first, I enjoyed scenography everything I had in mind, I had great pleasure selecting my team, and I loved coordinating and organizing this wonderful day. There are no words to explain how great it is to work with such a passionate, creative and crazy team: This is my reward!"
For even more inspiration check out this stunning woodland shoot captured by another talented photographer and French Wedding Style vendor.
Red Velvet Enchanted Forest Styled Shoot Snapshot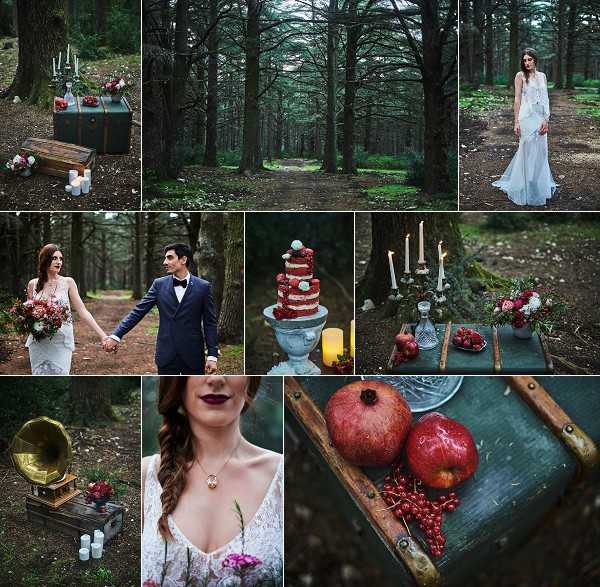 Wedding Vendors
Photographer: Jess Martinez Photography | Videographer: Simply Lovely Photo + Film | Wedding Planner: Mademoiselle Chahnez | Wedding Design: Okiss Wedding | Wedding Dress: Manon Gontero | Hair and Make Up: Aurelie Blond | Jewellery: Corpace | Suit and Tuxedo: Chris von Martial | Wedding Cake: Louis Patissier | Champagne: Comtesse A | Models: Manon Pintir Venceslas | Rental: Oravis Furn
Save