Today's post was inspired by a tweet from Joyce Connor from Brides and Beauty (lovely lady, great sense of humour and well worth reading her blog) alerting me to the wonderous craftmanship and sheer beautiful of the haute couture parasols as exquisite accessories designed and created at Parasolerie Heurtault.
Michel Heurtault the designer and craftsman behind Parasolerie Heurtault, has emerged as the greatest designer of parasols and umbrellas of French Haute Couture. As soon as I viewed Michel's designs I knew that I had to find out more about Michel, his inspiration and Parasolerie Heurtault especially for weddings.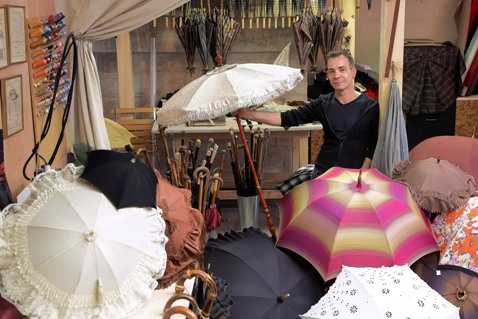 Michel has been passionate about parasols and umbrellas since he was a kid. He has always been interested and fascinated about the history of fashion and especially interested in the evolution of fabrics, materials and the transformation of designing techniques. Michel finds in the design of an umbrella, all his centers of interests unified in one unique object. Mr. Heurtault loves the intriguing diversity of forms and shapes that one can give working on the tension of the fabrics assembled on a chosen structure.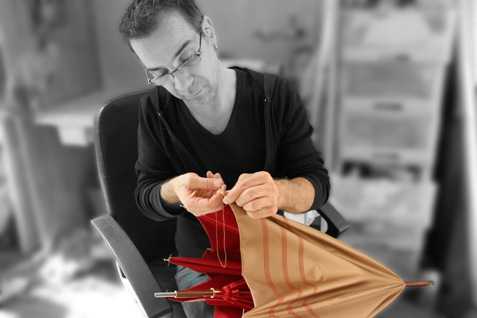 Michel has studied on his own from antique pieces how the parasol and umbrella's shapes have evolved and which techniques have been used to create them. This is the foundation of my knowledge. "From a pagoda shape to a Japanese parasol style, every shape is possible, there is a large potential I love to explore to design and create new objects" Michel says. His 20 years career as a historical costumes designer gave him the knowledge of history of fashion, working on any forms, styles and shapes. As a famous corset designer for the haute couture, designing and providing corsets for Dior, he learned passionately the delicate and precise technique of the perfect tension between the frame and the fabric, this expertise is required to get the perfect tension on a specific shape of the umbrella canopy.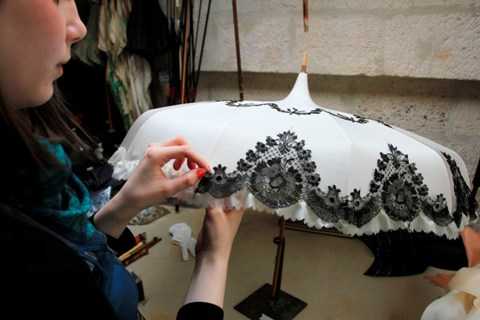 When looking at the design and inspiration for a parasol Michel is usually inspired by reading books, he imagines the umbrellas and parasols for his characters.  He can also create a design looking at a dress,  a person in the street dressed specifically. Is all  about style,  and creating an object that match  perfectly the  style.
Michel finds vintage, handles, frames usually on  the flea market, but  he also have a fan based who knows that he is passionate  about  umbrellas and they are hunting for him,  more and more  we also have been receiving old umbrellas and parasols as a gift  from people from all over the world, knowing  Michel is the connoisseur.
Approximately how long does it take to actually make each parasol?    
It depends of the level of sophistication of the object. It goes from a full half day to couple of days depending of the complexity or the originality of the creation.  Michel: "I have worked on extremely sophisticated creation during more than 80 hours for an outstanding to measure object."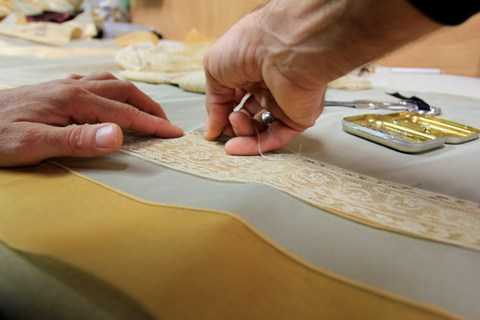 What is the most popular  design of parasol/umbrella that people ask you to create?    
For the  brides, the most popular parasol is the "Longchamp" with the ostrich feathers but obviously very expensive as it is an    extremely complicated work, the Southampton parasol then is the most ordered as it can be created bespoke  with a variation  of colors for the canopy and the silk lining.
The most popular umbrella for European women is  the "Enghein" and the "Sixties"
If a bride based outside of Paris wanted to commission parasols for her wedding day, how would this be achieved and  what price do bespoke parasols start from?    
For a bride based out of Paris,  she would have to send us the details of her  dress and explain the style of parasol she wants, with 6 months in advance,  we would create proposals  with variation of style and finish with prices and details.
Choice comes with various handle style, laces, silk, lining and finish such as initials engraved on gold or silver ring on the parasol. When the choice is made,  then we can create bespoke the perfect bridal parasol matching thestyle.It is  very important  for us to  find  the right colour of fabric  and laces matching the  dress  so  the  creation is  perfect.  We  do  ship  all over  the world with international career.
Michel's favourite umbrella currently is the Montesquiou umbrella, because  it is  the most sophisticated creation but because it represents elegance and style as  opposed to mass  production disposable umbrellas.    Elegant people today cannot find high quality umbrella matching their haute couture dress and style,  it  was  time  to  change  this.    Michel says  "Sometime  I  see  a  extremely  well  dress  woman  walking  in the street  of  Paris,  with  amazing  shoes,  dress,  bag,  haircut  but  carrying an ugly folding umbrella,  it is such a shame".
The oldest Michel has restored so far  is  a 1790 umbrella,  whalebone  ribs frame that was completely  restored, a new precious silk canopy and replacement of broken whalebone ribs.
Since the opening of  the atelier, Michel  has  a dozen of  trainees  every years from all fashion and costume design schools coming from everywhere  in  France,  they  learned during  a  couple  weeks  training  the work  of designing  and  creating  parasols   and umbrellas.
Since 2011,  Michel  is  passing  his  knowledge to  an   apprentice  permanently  based at  the atelier;  Andrea  is learning everything  so   the knowledge  is  passed  on  for the future.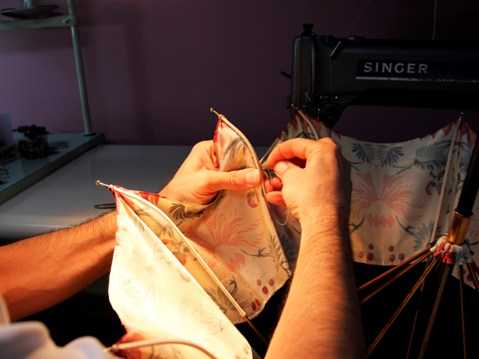 The  ambition  for  Parasolerie  Heurtault  is  to become known in the world  of  craftsmanship worldwide  to  defend the knowhow and quality work  handmade  so people  will reduce consuming  disposable  umbrellas.
I am sure to go and make an appointment for Parasolerie  Heurtault when I am next in France or alternatively visit their website for more gorgous products www.parasolerieheurtault.com